Raf Simons Riffs On Americana for His Calvin Klein Debut
"It's the future, the past, Art Deco, the city, the American West… all of these things and none of these things."
Leave it to Raf Simons, a non-American designer who recently defected to New York when he was hired as Calvin Klein's first chief creative officer, to be the first big name this week to use his runway as a platform to comment on the state of our nation. Since moving stateside to overhaul the famous label, Simons — coming off a three-year stint as Dior's creative director — has had industry insiders buzzing with anticipation, as they're counting on him to bring some much-needed excitement and innovation back to the New York fashion scene. With his appreciation for art, counterculture, underground music and industrial design, Simons seems like just the man to do it, and if the turnout of his runway debut on Friday was any indication, he is already on the right track.
With Gwyneth Paltrow, A$AP Rocky, Sofia Coppola and former CK faces Brooke Shields and Christy Turlington looking on from the front row, Simons presented a collection that he called an homage to America — more specifically, a celebration of its diversity. "It reflects the environment… all of these different people with different styles and dress codes," he wrote in the show notes. "It's the future, the past, Art Deco, the city, the American West… all of these things and none of these things. Not one era, not one thing, not one look. It is the coming together of different characters and different individuals like America itself." Set underneath an art installation by Sterling Ruby that featured flags, swatches of denim, majorette fringe and more, the first model emerged to the sound of David Bowie's "This Is Not America" — a less-than-subtle political statement — wearing a red, white and blue workwear-inspired look.
Simons' minimal, modern take on American style incorporated plenty of familiar (and at times nostalgic) elements: both men's and women's looks were styled with metal-toed cowboy boots; relaxed trousers featured marching-band stripes; chunky varsity sweaters were deconstructed with sheer bodices; oversize aviator jackets were adorned with floral embroidery; and a range of outerwear recalled old-school quilts just like those you'd find on a Midwestern grandmother's couch. Classic suiting for both sexes was relaxed, and the brand's famed denim was crisp and cut straight. Gone was the minimal, slinky eveningwear that dominated red carpets for the past decade; in its place came dresses made from feathers and see-through plastic. (The latter also coated outerwear like a built-in rain slicker.) Other standouts included an American flag wrap skirt that peeked out from underneath a floral coat and shearling-lined leather jackets that looked like they'd only get better with age.
The casting by Ashley Brokaw hit the right notes for Simons's theme of diversity, and the soundtrack bordered on mournful, thanks to a heavy cover of "I Wanna Be Sedated" and the '50s hit "I Only Have Eyes for You" — an apt reflection of the industry's general mood heading into fashion month. The clothing definitely veered toward the "high fashion" end of the spectrum — which might alienate customers who aren't used to Simons's European, gender-fluid aesthetic and ad campaigns starring little-known models instead of Justin Bieber or Kendall Jenner — but CK likely has plenty of commercial options in the works for when the collection goes to market.
When Simons and Creative Director Pieter Mulier came out to take their bow, the entire crowd stood and cheered, making for one hell of a reception for the New York newcomers. While the country is unquestionably in an abysmal place politically right now, at least the new guard at Calvin Klein gave everyone in the room a reason to be stoked on American fashion again, even if only for the length of a runway show.
See every look from the Calvin Klein fall 2017 collection in the gallery below.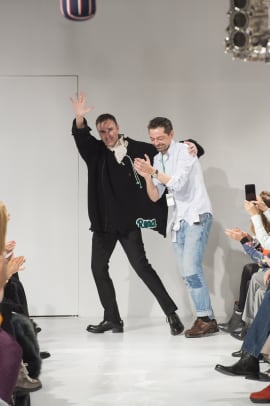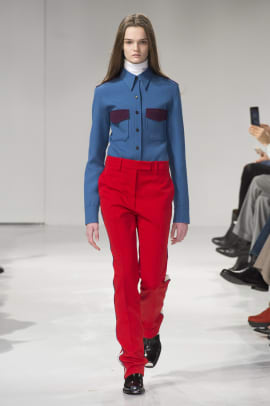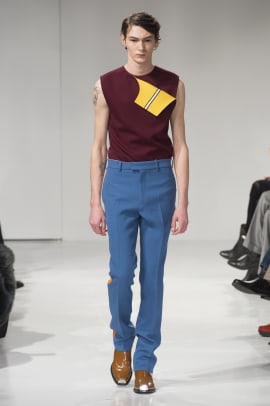 Never miss the latest fashion industry news. Sign up for the Fashionista daily newsletter.