How Chris Stamp Took Stampd From a College Business Plan to a CFDA/'Vogue' Fashion Fund Finalist
The Los Angeles-based designer keeps things moving with his fashion label-turned-lifestyle brand.
In our long-running series, "How I'm Making It," we talk to people making a living in the fashion and beauty industries about how they broke in and found success.
The initial concept for Stampd came up during Chris Stamp's senior year of college, when he wrote up a business plan for a custom footwear brand. By 2009, Stamp was selling hand-painted Chuck Taylors out of his own apartment. In 2011, he parted ways with his business partner and pivoted the brand. While holding a production company job, he relaunched Stampd as a direct-to-consumer accessories line. "It was me doing just about everything," Stamp told Fashionista in an interview over the phone from Los Angeles. "From designing to taking photos to the website, opening a bank account and paying for the first PO."
Though Stamp has been running his lifestyle brand with a team of 25 members for more than five years — offering anything from apparel and footwear to tote bags and Post-It notes — 2016 included its fair share of milestones for the West-Coast brand. In April 2016, he opened Stampd's first store on one of his favorite streets in LA (La Brea between First and Second streets), where he transformed a 1,400 square-foot former acting studio into a sleek, minimal and Scandinavian-inspired retail space. "It was always important for me to try and reconnect to that customer and give them an experience that wasn't just digital," says Stamp.
That following summer, he was a finalist for the CFDA/Vogue Fashion Fund and at the end of last year, Stampd expanded into women's wear. "It was a fully styled men's collection worn on women," explains Stamp, who sized down Stampd's key pieces for the female set. "About 20 percent of our customers are women and we don't really have that big of an offering yet." By fall, Stamp hopes to launch a collection that's more specific in design and driven directly toward women. 
Ahead of Stampd's fall 2017 presentation, which debuts on Thursday afternoon at New York Fashion Week: Men's, we spoke with Stamp about how he got interested in fashion, the rewards and challenges that come with expanding a brand and what he's learned along the way.
How did you get interested in fashion?
I think initially it wasn't so much fashion, it was just art in general. It was drawing and painting. I would always see my mom sketching her line sheets in the '80s and early '90s, when they would have to literally draw everything by hand. I always had a fascination with picking up a pencil, whatever it may be, and drawing it down. It was an appreciation for the arts.
When I moved to San Diego from Aspen, Colo., I grew up surfing and was really heavy into surf culture. I was sponsored by a brand called Red Fin, and that was the first time I'd been at a big clothing office. I saw the entire process. I was 15 or 16 years old. I was just like, "Damn, I like this." I like being able to have new styles and see everything from start to finish. They were super open to taking me to the warehouse and making me feel special and stoked at the time. I think that's when it kind of started.
How did you approach the relaunch of Stampd?
I don't know if I thought about the challenges. I thought, this is what I want to do and what I have fun doing, and it took a life of its own. Rather than being super calculated from the back end, like "Okay, we're really going to do this, this is going to happen," type of thing. I was more like, "No, this is what I want to do." I want to start making stuff and incorporate a whole level of commerce and kind of see what happens. That was like six years ago.
What were your first products when you relaunched?
It was just snapback hats. It was super specific. We only had one or two styles, online only. It was super tight; a completely different thing. Slowly, I started to grow the accessories division, making things that I enjoyed and that were cool to me — art pieces. Then we slowly got into clothing. From one or two pieces of clothing, it started to become a full collection.
What's your thought process behind expanding into another category? What makes you comfortable to do that?
I don't know if I'm ever really comfortable with what we do. It's a natural evolution. I think just trying to stay elevated and to think differently and to constantly to be evolving. My tastes are constantly evolving, so anything that I make is going to be constantly evolving. I'm not going to stay complacent with a certain thing that's doing well until it is driven into the ground. I'm very much on to the next thing. That's what keeps me inspired and excited; I think I wouldn't be happy just making art, clothes, whatever it may be, if I wasn't constantly challenging myself about making something better or elevated.
In an interview with Complex in 2014, you talked about the challenges that come with an expanding team and brand. Have you come across other challenges at this point?
I feel like the challenges that I'm facing now are on a different level than they were previously. We've grown the business and we opened a store last year. I opened a completely new division of what we're doing and a whole new team, and that's a whole different level of responsibility. Understanding everything as a whole, that it's not just me anymore. It's way beyond that. It's making sure that we work smart and efficiently, thinking and trying to think as differently as we can.
You've also done a number collaborations with different brands — Puma, Vans, Gap and The Surf Lodge in Montauk. What have you learned about yourself or your company along the way?
I just want to stay inspired. I want to stay doing things creatively, whether the medium is art, clothing or photography. As long as I'm working, I feel like I'm going to feel inspired and continue to push the boundaries for myself and see what I feel like is possible. I think that's kind of how a lot of those collaborations came to life, too; I was doing things that I liked. I've been wearing Vans and Puma since I was a little kid, and then to come full circle and release something with them on that level is insane to me.
This interview has been edited and condensed for clarity.
See Stampd's fall 2017 collection from New York Fashion Week: Men's in the gallery below.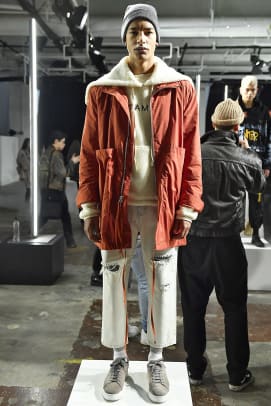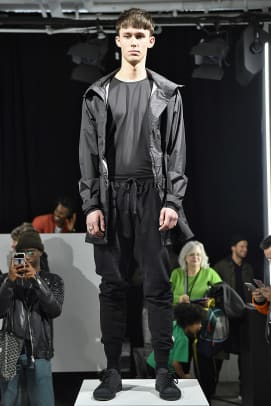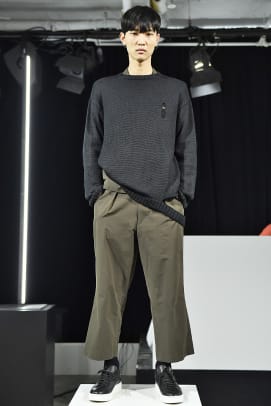 Want more Fashionista? Sign up for our daily newsletter and get us directly in your inbox.