Dolce & Gabbana Continues to Up Its Own Ante With Millennials, Bloggers and Celebrity Offspring for Fall
The Italian house is *not* going to settle for anything less than the biggest blow out in Milan.
Dolce & Gabbana's Fall 2017 show had everything: millennials, bloggers, every celebrity offspring in the modeling industry, a concert by Austin Mahone, Justin Bieber T-shirts, a dog, Pamela Anderson in the front row, glasses of sparkling rosé...
In short, Dolce & Gabbana is not going to settle for anything less than the biggest blow out fashion show in Milan — maybe even in Europe. It all started with the brand's announcement that a whole host of influencers and friends of the house would be walking in the show on Sunday. Pre-show, it was an all-Justin Bieber soundtrack that left guests wondering if he would be taking the stage at the piano set toward the back. He would not — that honor went to Austin Mahone — but he did appear on a trio of T-shirts dedicated to the Canadian pop star.
Speaking of Mahone, he performed brilliantly, walking up and down the runway, interacting with the models (to some of their chagrin, and to others's delight) and the audience. Mahone is a seriously charming pop star and probably deserves to be more famous than he is. The flip side of that was his dynamic style of performing made it almost impossible to pay attention to the clothes. In fact, I couldn't really tell you what the theme of the collection was: In addition to the aforementioned Bieber tees, there were "Queen of Hearts" motifs, nods to outer space, plenty of leopard print and lots of Dolce & Gabbana signatures like lace, florals and Mary Jane pumps.
That's about as far as I got. Otherwise, I was watching Mahone or the front row packed with #ProudMommys Christie Brinkley, Rene Russo, Lisa Rinna and Pamela Anderson (plus #ProudDaddy Jamie Foxx). Each would cheer as their respective offspring took the runway; Fashionista favorite Sailor Brinkley Cook was especially adorable, blowing her mom a kiss as Brinkley filmed her on her iPhone. And the famous kids weren't the only ones getting cheers. A group of employees clapped and whooped for various friends of Dolce & Gabbana; even the Vogue crew gave it up for Tabitha Simmons.
But let's talk about the runway lineup for a second: This season, Dolce & Gabbana truly outdid itself with the casting. It was, to put it mildly, expansive, including (but somehow not limited to): Brinkley-Cook, Corinne Foxx (daughter of Jamie), Rose Gilroy (daughter of Rene Russo), Delilah Bell Hamlin (daughter of Lisa Rinna), Dylan Lee (son of Anderson), Mackinley and Chase Hill (sister and brother of Taylor Hill), Ella and Alexander Richards (daughters of Keith Richards), Isabel Getty (great-granddaughter of American oil tycoon Jean Paul Getty), Marjorie, Lori, Amanda and Jason Harvey (wife, daughters and son of Steve Harvey), as well as Pyper America, Starlie, Daisy and Lucky Blue Smith, Sarah Snyder, Thylane Blondeau, Luka Sabbat, Sonia and Beata Ben Ammar, Anaïs Gallagher, Harley Viera-Newton, Aimee Song, Gabriel Kane Day Lewis, Maddi Waterhouse, Rafferty Law, Pixie Lott, Kristina Bazan, Shea Marie, Sofia Richie and Princess Maria-Olympia of Greece.
At the end of the show, all the models joined Mahone alongside Domenico Dolce and Stefano Gabbana on the runway one last time. Doors at the backs of the seating opened and waiters with glasses of rosé came streaming into the crowd. It was one hell of a good time; I didn't stop smiling the entire show. Maybe Dolce & Gabbana are more worried about selling a vision than selling clothes (a vision sells lots of perfume and accessories to the millennial crowd, after all), but they would hardly be alone in that. And honestly, to quote the millennials: IFW the vision, D&G fam, let's build.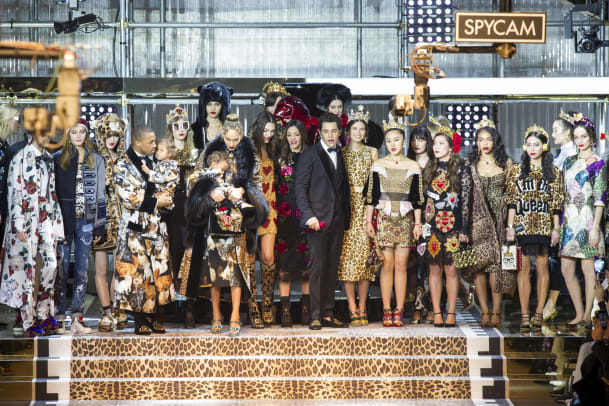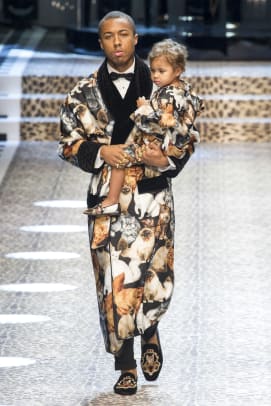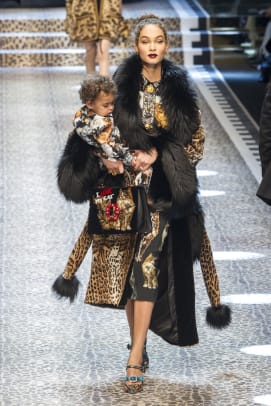 Never miss the latest fashion industry news. Sign up for the Fashionista daily newsletter.