Buzzy Australian Label Ex Infinitas Is Nailing Ugly-Chic for Men
With two collections under his belt, designer Lukas Vincent is already drawing comparisons to Gosha Rubchinskiy and Vetements.
In the current state of fashion, calling something "ugly" isn't necessarily an insult. Today's industry darlings, like Gucci's Alessandro Michele and Demna Gvasalia of Vetements and Balenciaga, have pushed the notion of clothes "so wrong, they're right" to such extremes that an argument that they're simply trolling critics and consumers alike isn't hard to support. Designer Lukas Vincent of newbie Australian label Ex Infinitas understands the appeal well.
"Sometimes things are so horrible that you can't stop staring at them," he says. "That was my approach to those red boots."
The footwear in question is a pair of shaggy, fire-engine red boots for fall 2017 created in collaboration with Ugg. The fellow Aussie brand has a different history Down Under than it does Stateside, where it's best known as a fashion fad-turned-faux pas. "In the '70s, the Ugg was the original surf boot," Vincent explains. "Some people absolutely hate Ugg boots — with reason — but it's a way to bring that into this refined space and make them a bit more elevated. The idea of having slippers with your boardshorts on, with a robe, is quite perfect, I think."
Giving surf gear a high-end, louche upgrade is the concept upon which Vincent founded Ex Infinitas. After a few odd jobs in fashion in New York and Paris, the designer, now 34, moved back to his small, low-income, coastal hometown outside of Melbourne. His first stab at designing on his own came with a simple collection of tees and denim that didn't get much traction. He went back to the drawing board and decided to lean all the way in on what he calls a "quintessentially Australian aesthetic," based on the untapped well of inspiration he observed for years right outside his front door. "When I moved back, I started to see my upbringing in a new light, through the eyes of a designer," he says. "It's almost a little bit too obvious to me."
"I'm really borrowing from the culture, and just delivering it back to the North," he continues. "There are going to be plenty of people that will never go to Australia, purely because it's too far, but I think it's quite healthy for the imagination. It inspires people to dream about what Australia could be like."
The Australia of Ex Infinitas is a world in which aimless young men lounge around in extra-long orange hoodies and printed robes crafted from luxe Italian fabrics, paired with platform shower slides. Think the cast of "Kids" with accents and no credit limit. If it's an opposing view to the Woke Teen activists taking over Instagram today, it's not one rooted in pure fantasy. Vincent works with street casting directors and Fabien Montique, Kanye West's photographer of choice, to lend some more credibility to his lookbooks and overall brand narrative.
"After I shot that [spring 2017] lookbook, I was sitting in a café in Paris, and I saw one of the models walking past," he recalls. "He had a beer in one hand, a cigarette in the other. I thought, 'Gee, how spot-on was the casting for this?' They're just hanging out, smoking a joint and having a beer, doing what kids do, I guess."
If Vincent's designs can't be described as ugly, per se, they can be described as artfully mundane, in the vein of Russian skatewear sensei Gosha Rubchinskiy — a designer to whom Vincent has earned an early comparison, along with, yes, Vetements. His sensibility also awarded him top honors in the Australian Woolmark Prize competition, and a chance to compete against other regional winners for the international title in Paris earlier this week. (Vincent presented his collection the week of our interview, but ultimately lost out to British label Cottweiler.)
Vincent acknowledges that jumping from having produced only a single collection to competing for an award previously won by Yves Saint Laurent and Karl Lagerfeld is a huge leap. "It went from naught to 100 pretty quick," he says. But, he isn't slowing down. Ex Infinitas will be available in the U.S. for the first time next month, at Los Angeles boutique H. Lorenzo, and he's planning his first runway show for Sydney Fashion Week in May.
The Ex Infinitas is also looking for more adventure on a global scale; in addition to the overgrown Uggs, Vincent turned to the world of Arctic surfing to bridge the gap between his beach-bum muses and cold-weather clothing. "If you go into any surf shop in Australia, you'll see snow gear hanging right beside the surf gear," he says. And it remains appealingly ugly—a quality that, Vincent notes, has worked for designers well beyond the off-kilter flavors of the moment.
"Miuccia Prada, the way that she creates, is that she starts with something that she hates essentially," he says. "I think that is certainly the way that I try to work, as well."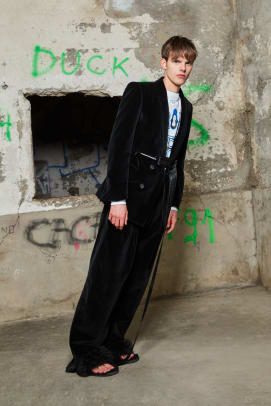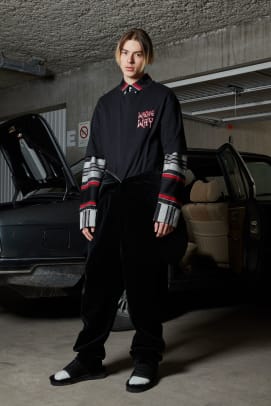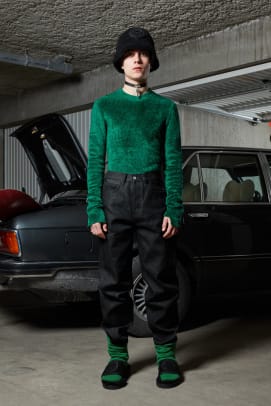 Never miss the latest fashion industry news. Sign up for the Fashionista daily newsletter.