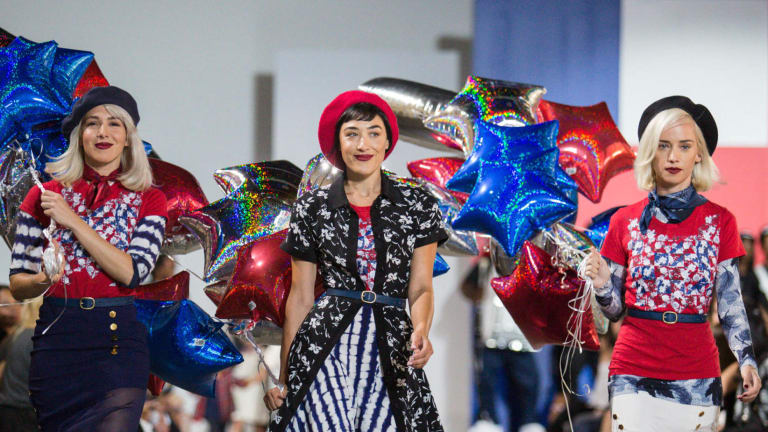 What Is the Fashion Industry Going to Do About Donald Trump?
We are capable of so much more.
I must admit to feeling very frustrated with my job lately. I still love the industry, and enjoy the stories I get to write, but it's hard to cover editorial changes and runway shows when Republicans are jamming Trump's cabinet picks through the Senate; it's hard to send out fashion week requests when I know that there are still lawyers working tirelessly at airports across the country to prevent Trump's Muslim Ban from negatively impacting innocent people's lives. I have tried as much as possible to make my voice heard in my personal life, but I never feel like I'm doing enough — and I know from conversations I have had with my friends and colleagues that I am not alone in this. With so many of us feeling sad or defeated or angry, I want to know: What is the fashion world going to do about Donald Trump?
Before the election, Anna Wintour rallied the industry together in support of Hillary Clinton, hosting private dinners and a flashy runway show that featured special designs by high-profile creative directors. Vogue even endorsed a candidate for the first time in its history. But since November 9, that sense of coalition has all but dissipated. The voices of dissent are so fractured across the fashion space. As Teen Vogue is fearlessly publishing story after story eviscerating the lies of the current administration and Elle is partnering with ProRepublica to offer a place where people can share hate crimes, Harper's Bazaar landed an "exclusive" interview with the designer of Melania Trump's inauguration gown, and Vogue repackages old content to ask, "Is This What the Trump White House Will Look Like?" Some designers have openly refused to dress the First Lady, while others have made quiet, toothless statements. 
We are facing a moment of real crisis in this country. Too many people with big, viable platforms — from bloggers to models, from CEOs to designers — are staying silent in fear of damaging their brands. If you ask me — and I realize no one did, but here we are! — that's shameful. That is a luxury we no longer have. For all the respect I have for the industry and its major players, I have no qualms saying that what is happening in fashion right now is hardly the most important thing happening in the world. I am not suggesting that we must all give up the things that make our industry fun; god knows I still want to read about the budding beef between Raf Simons and Off-White, or talk about a beautiful dress on a red carpet. But in addition to doing all of that stuff, we should all be using our platforms for good — even if that just means making people feel more welcome and included within the industry.
It is clearly no longer enough to put out T-shirts printed with political messages or to throw a special dinner or runway show. In fact, merely releasing product will only look like one is trying to capitalize on a moment where so many people are living in fear. (I love capitalism as much as anyone, but purchasing a $50 shirt does not an act of resistance make.) We need to take real action to make the fashion industry reflect the world we wish to see in this administration. Everyone, from designers to casting agents to editors, needs to take diversity seriously — not just because it gets extra press, but because it's the right thing to do. Please let us see more women of color, more body types, wider age ranges, and more trans and non-binary models. Hair and makeup artists need to think twice about whether their "inspiration" alienates entire communities through cultural appropriation. When we receive criticism from those in our ranks from marginalized communities, we need to listen to them instead of becoming defensive. Publications need to work together to cast a critical eye on issues when the time calls for it and to give a platform to a variety of voices.
Because here's what I know: Our industry, despite its reputation on the outside, is full of unique, inspiring people. I have seen so many of us enact meaningful change. We should not only rally together when Anna Wintour says its time. (Though, respectfully Anna, it is time, in case you have anything in the works!) When we work together, we are truly capable of great things: As we all know, fashion was one of the biggest forces in fighting the AIDS crisis and proponents of the LGBTQ rights movement. Right now, I see so many people in our industry working separately, attending marches and raising money for excellent causes. I'd like to think that if we could work collectively, we could do so much more. 
I believe in our community. Fashion month is approaching fast, a time when our industry is on the global stage and when we are all in the same place. So I ask again: What is the fashion industry going to do about Donald Trump? I don't have an answer to that, but maybe someone reading this does. My inbox is open. 
Homepage photo: The "Made for History" fashion show/Hillary for America
Want the latest fashion industry news first? Sign up for our daily newsletter.