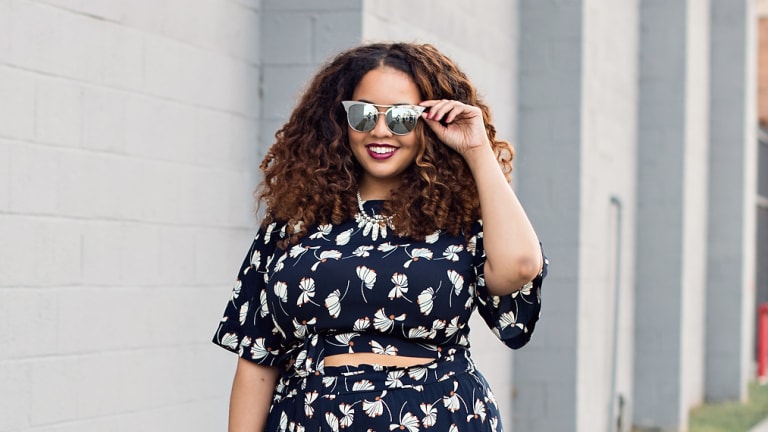 How Gabi Gregg Went from Posting on LiveJournal to Becoming a Top Personal Style Blogger
GabiFresh herself discusses turning a hobby into a full-blown career.
In our long-running series, "How I'm Making It," we talk to people making a living in the fashion and beauty industries about how they broke in and found success.
Gabi Gregg, known best to her followers as GabiFresh, has done the near-impossible: Turned a personal style blogging hobby into a full-blown career. On top of running her own website, Gregg has appeared as the face of brands like Target's Ava & Viv plus size line, collaborated with Swimsuitsforall on a sell-out swimwear line and covered Ebony — nbd. It's no wonder she ranks as one of our top 20 most influential personal style bloggers. 
But it almost didn't happen. Gregg studied international relations at Mount Holyoke, plotting a career in political reporting while keeping dreams of writing for Teen Vogue on the back burner. Then she discovered fashion forums on LiveJournal and everything changed. "When I started becoming more active online and learning about body positivity, I found forums for plus-size women who like fashion, and that kind of changed my life because I thought I was the only one!" she says. "This was over 10 years ago; at the time, there weren't really visible communities of women coming together to talk about fashion who were over a size 12."
Those communities helped Gregg realize there was a space on the internet for women like herself, and she launched her own blog. We hopped on the phone with the Los Angeles-based style star for her take on finding what makes you stand out to what the plus-size community means for bloggers like herself (hint: everything). Trust us, this is must-read advice for anyone looking to make their mark on the fashion industry.
When were you first interested in fashion?
I always had a really strong sense of personal style growing up. Then I started thinking about pursuing fashion in college, but it felt like a pipe dream because I was going to a liberal arts school; there were no fashion courses.  
What was the plan after graduation?
I was thinking fashion journalism at the time; I didn't really have any sort of mentorship, and I didn't really understand what path I would take to do those things. Obviously now that I've met enough people in the industry, I know getting an internship would have been the way to go, but I just didn't feel that I was able to because I wasn't studying it. I thought the only thing I might be able to do would be to start in political journalism and then move into fashion eventually. Obviously the internet kind of changed things and equalized everything.
How did you go about starting your own blog?
I was really active in LiveJournal forums about fashion; everyone would share their outfits and get comments and feedback in these groups where we would talk about clothing. I also simultaneously started seeing actual fashion blogs popping up, individual blogs, and I thought, I love this but I don't see anyone who looks like me. Even in the forums I was a part of, some of them were not dedicated to plus-size women, and the ones that were, I felt didn't really have enough focus on fashion. It was more about body politics, which I obviously love and that plays into my brand, but I thought there should be a personal style blog or a website focusing on young, trendy, fashion-forward clothing, and that's what I wanted to do, so I just started it. It took off pretty quickly because it was so new and different from the rest.
What kind of challenges were you facing when you started?
To be honest, I wasn't facing challenges, because at that point it wasn't a career, it was just a hobby. It was 2008; no one was really getting paid to blog. That made it great because there was no pressure, there was no competition, it was all really organic. People were super supportive and all content was super shareable because it was new, it was different and people weren't competing for anything. In the beginning it was a lot of fun, really.
What was your first big project that came from the blog?
I had been blogging for a few years; it wasn't really monetized yet. The only money I was making was from Google ads, but I didn't have sponsored posts — I had one maybe every few months, but it was not a consistent thing. The first big thing that happened to me is that I was contacted by MTV. They loved my voice online and they saw my organic following, and they asked if I would be interested in competing for a job with them. It was called a "TJ" — it stood for Twitter Jockey, but it was a behind-the-scenes social media job. They chose 20 social media stars and gave us 10 things we had to do, and then we had our fans vote. I originally said no, because I was hesitant. I'm not a competitive person, and I didn't really know what was involved. The funny thing is, I couldn't find work at the time; I had no job and here I was saying no to MTV! [Laughs] I decided to go for it, so I entered this competition. I ended up winning it, so they flew me to New York to move there and work for them for a year.
As I was in New York, I continued to network and build relationships with people. I had always wanted to move to New York for fashion, so it worked out perfectly. Right after MTV I got a page at InStyle magazine; I was their first editor with a page specifically to talk about plus-size fashion, and that was great! That job taught me how bad the market still was, because in my personal style I'm really able to try things on and shop in different stores and make things work for my body, but when you're an editor, you really have to just work with what the plus-size market gives you. It was such slim pickings when it came to what was actually available for us. I didn't feel like a lot of times my page reflected my true style, and that's why I eventually decided to leave. If I'm going to put my name on something, I want it to be authentic. I was still blogging the entire time, and around this same time I got my first big brand ambassadorship with Eloquii. I helped launch them, and I also signed on to management at that same time.
When did social media first become a really big part of your job?
As every platform has come up, I've been one of the early adopters, partially because of my blog and partially because I grew up on the internet and I've always been somebody who's had an online life even before it was popular. [Laughs] My friends used to make fun of me and think it was crazy that I spent all of my hours online making friends with people I didn't know. Now that's what everyone does. It took me a while to join Instagram because I didn't really understand the point in the beginning, but as soon as it became popular, I was definitely on it. As soon as I was able to see how much influence social media had, not just in my personal life but also to promote my brand and my blog, I was on board.
How did the Swimsuitsforall collaboration come about?
I shared a photo of me in a bikini one year, and I wouldn't say it went viral, but it had so much support and an overwhelming amount of comments, people praising me saying how brave and cool it was to see someone my size in a bikini, because at the time it wasn't something you saw very often. I did it again the next year, and again people went crazy, so I figured there was something to this. I pitched the idea to XOJane to do a gallery of plus size women wearing bikinis; I wanted to show the fact that it wasn't just me. From there, I was on "Good Morning America" and local TV stations talking about this movement. After that went viral, I was contacted by Swimsuitsforall to ask if I wanted to collaborate with them on a collection, and that came out pretty soon after. A few months later I had a little capsule collection, and that sold out so quickly. Everyone knew there was something special happening. Since then, it's been five years!
Had you ever thought about designing before that?
As a consumer specifically in the plus-size market, there are so many things I love and I see and I want, and I can't buy because they don't come in my size. If you talk to any plus-size girl who loves fashion, she's going to want to design, because she wants to design what she can wear and what she doesn't see in her size, so that's basically how that started. It's amazing to think that becoming an influencer affords you the privilege to have these other opportunities besides just blogging.
What was the moment you realized this was no longer just a hobby?
I think it was after MTV. Once I saw the influence I had — that I had the ability to win a competition just from having built an audience who really related to me and wanted me to be successful — I was like, wow there's something here that's more than just a hobby. I didn't end up liking the job at MTV, so I was like, you know, if I don't like working in an office and it's the coolest office in the world, I'm probably not cut out for a corporate 9-to-5 job at all. [laughs] But I was still afraid, because I didn't want to ever be seen as quote-unquote a sellout — which I think is silly now, but at the time, I was so afraid to do anything sponsored because I didn't want to lose that integrity. I thought when you have a sponsored post, the company writes the post; I just was really uneducated at the time about what it meant. I started testing the waters with sponsored posts, and then it came down to the Eloquii deal. I thought, if I'm going to try the full time blogging thing, now's the time to try it — if I'm able to pay my rent, I can figure it out.
And you had the cover of Ebony.
That was crazy! They just reached out to my management one day, and I freaked out. I thought it was amazing they were finally recognizing the body positivity movement and plus-size women, giving them a cover. I think we hear the buzzwords a lot, but it's rare to see the visual to go along with it, especially on a cover. And to be next to women I also admire was also great.
What do you think your role has been in changing the plus-size industry?
We still have a long way to go, but I always remind people that we've gone a long way. When I started blogging, it was so different; there were so few resources and there was nowhere to go. Now, it's just an entirely different world; there are thousands of plus-size bloggers. When it comes to social media, you can click on a hashtag and see women who are happy and confident and wearing crop tops and bikinis and stylish clothing — all the things that I wanted to see growing up that I had nowhere to find. I can't say for sure what my influence has been, but I know that I was one of the first people doing it, and I feel really proud of that. I helped spread the message. Before I did my bikini collection, there were very, very few plus size brands making bikinis, and after mine went viral and sold out, now every plus-size brand makes bikinis. There's definitely been some impact.
What role has the plus-size community played in your career?
It's not an individual experience: To be a part of a marginalized group automatically puts you in a place where you do feel connected, because we have a shared experience of moving through the world and having a hard time finding clothing or having a hard time not being judged for our size, whatever it may be. When people see someone who is inspiring and successful and beautiful who looks like them, it immediately resonates, so they want you to win, they want you to be successful because it reflects them as well and helps inspire them. The support has been amazing. It's the reason any of us do what we do, and it's the reason we are successful.
How has the blogging industry changed since you started?
As a feminist, I love seeing women who become super successful and self-made, women who have become millionaires and built huge, massive empires and brands just from sharing themselves online. I think that's so powerful. Obviously, there's some things that aren't so great that come along with that, like the competition aspect of it, which I don't love; the money has changed things a bit. But overall, it's been a positive change.
What do you think people misunderstand about being a blogger?
The biggest misconception is just that bloggers don't do anything or that we're not smart. In my case, it was super organic and I was lucky that I was able to start before it was a big thing, so I was able to be true to myself and my audience before there was any weird pressure. I think a lot of people enter blogging now trying to become an influencer, trying to get free things, trying to make money and that was never my intention, so I'm really lucky and grateful for the way I was able to grow my brand.
What would you tell someone looking to follow in your footsteps?
The first thing I would say is that it's hard. [Laughs] I think people see the few bloggers at the top and assume that it's easy, and they also get angry when they don't have that level of success very quickly. I don't want to sound pessimistic, but the truth is that in any industry, not everyone makes it, and that's just kind of the truth. I don't care how many hashtags you use, that doesn't necessarily mean you're going to be the next brand ambassador for Target. 
That being said, I think there's always room. We can all share. I hate the idea that there's only one person who can ever represent any group. It's all about finding your voice, finding your niche, finding what makes you different. Right now, we're fighting against this idea that every plus-size woman has to have a flat stomach and has to be curvy and look like Ashley Graham, but we don't all look like that. I'm included in that too! I have an hourglass figure, so I have privilege. People want to see different body types and shapes. If you have an apple body shape, use that to your advantage by talking about what it's like and how you dress. It's about figuring out what lane you want to be in and not trying to be anybody else, and hopefully working it out to the point where you can make it your full time job if that's what you want to do.
What do you wish you had known before starting a blog?
I used to care too much about what other people thought. I've learned over the years not to, because I think if you're putting yourself in the public eye in any way, shape or form, you're going to get good and bad that comes with that, and for a while I was really letting it get to me. I wish I would have known how to say no. I would be so excited to get free soap! I would promote anything. It's weird because this wasn't for money — I would be so excited to work with anyone. I see a lot of new bloggers falling into that trap of not knowing their worth and working with any and everyone who wants to work with them for free, and I don't think that's the best way to go.
What do you hope becomes of the plus-size industry?
I can't wait for the day that a girl in a bikini that's over a size 12 isn't a headline. As someone who has been that headline, it's exciting on one level, but on the other hand, it's like, why is this newsworthy? We should wear what we want and do what we want without it being some kind of crazy newsworthy headline. Right now, it's still hard. We've made a lot of progress, but I still go to a mall and can't find things to fit me; if I have an event to go to in one day, there's no way I can find an outfit. I still need a week to get it. There's a lot of room for improvement.
What is your ultimate goal for yourself?
I get antsy, so I have so many things I want to do. I hope to eventually not just be doing swimwear; I love swimwear, but I want to expand into all womenswear clothing. I also like production and direction. I love what I do, but I've been quote-unquote talent — that's what the industry calls me, because I'm doing a lot of on camera stuff — and I would rather be behind the scenes directing everyone else. 
This interview has been edited and condensed for clarity.
Want the latest fashion industry news first? Sign up for our daily newsletter.