House of Holland Collaborated with Woody Woodpecker for Fall 2017
And yet surprisingly, no naughty puns in sight.
At his Fall 2017 House of Holland show, Henry Holland had a special guest star. No, it wasn't Kate Bosworth — though she was there — it was 70-year-old cartoon icon Woody Woodpecker. 
Holland was already far into designing his collection, an ode to Americana inspired by a summer road trip through Tennessee and Western-inspired music videos from the likes of Mary J. Blige and Madonna, when Universal called asking him if he would like to collaborate on a capsule à la the Baja East collection with the Minions. Thankfully, Woody lent himself really well to what Holland had already been working on. He had been considering creating his own cartoon character to reference back to the baby doll T-shirts that were popular in the '90s, so really, the call from Universal was a lifesaver.
"Visually, he fit perfectly because the color palette was already done, but also just stylistically, we wanted to do that element in the collection anyway," he says. "I was really grateful that it was him; it fit and it didn't feel like I had to put a square peg into a round hole for the purposes of a collaboration. It felt very organic."
The result was pajamas with Woody's silhouette sprinkled across, thigh-high boots with his face at the top, and as patches on denim and outerwear. The rest of the collection was more subtle (well, subtle for House of Holland, anyway), with checkered dresses, thigh-high cowboy boots and star print motifs. "I love how he's so much vitality and he has so much playfulness," Bosworth said of the collection. (See, I told you she was there, too.) "I think the fine line that he walks is very difficult: To have an expression and to be authentic about it, but have it to be very wearable as well. He has a real identity in who he is."
Bosworth herself was wearing a dress from the collaboration, a blue-striped shirtdress with a patch of Woody Woodpecker on the sleeve. "It's so fun!" she says, pointing at the patch. "I grew up with all of that, so for me it's nostalgic and wonderful and playful, just as [Holland] is."
And there you have it: The stamp of approval from a bonafide style icon. Maybe these seemingly-random cartoon collaborations are here to stay.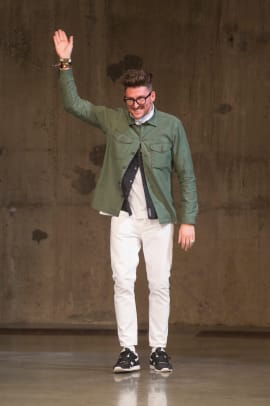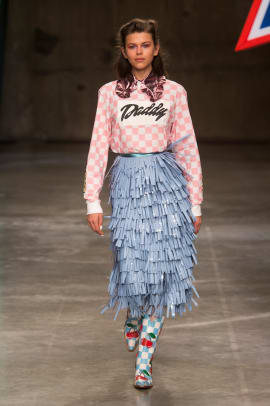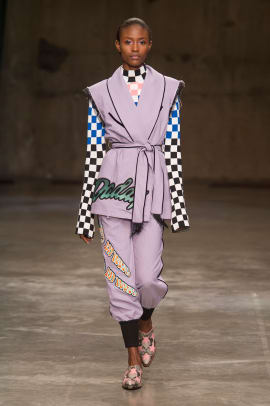 Want the latest fashion industry news first? Sign up for our daily newsletter.