How Celebrity Stylist Ilaria Urbinati Found Her Niche With Menswear
Her client list is stacked with Hollywood's best-dressed actors, including Rami Malek, Donald Glover and Tom Hiddleston.
In our long-running series, "How I'm Making It," we talk to people making a living in the fashion and beauty industries about how they broke in and found success.
Though her mother is a model-turned-art-dealer and father a photographer, Ilaria Urbinati wanted nothing to do with fashion when she was growing up in Los Angeles. But when she started working for her aunt's high-end boutique after high school, stocked with '90s-era Balenciaga and Helmut Lang and Comme des Garçons, Urbinati was at the cusp of a rising career in fashion. "I was sort of lured back into it, and I sponged up a lot more information than I realized," she says. "I literally grew up with Italian Vogue, and all of the photographers were the heroes and artists in our life, like Irving Penn, Richard Avedon and Steven Meisel."
Soon after, Urbinati was attending Fashion Month as a buyer for her aunt's store, where she eventually landed a few freelance styling gigs, including wardrobe design for Showtime's "The L Word." When the show's Eric Lively landed a "Best-Dressed Man on Television" nod from TV Guide, Urbinati realized a focus on men's styling was something she could really get into.
"It felt like it was a niche," says Urbinati. "It was something that not a lot of other people were doing and it felt like something I was good at." Since then, her clientele has been stacked Hollywood's best-dressed actors, including Rami Malek, Donald Glover and Tom Hiddleston, some of which have garnered their own high-fashion campaigns (more on that later). It's obvious that Urbinati has an innate ability to sartorially transform actors just at the start of their soon-to-skyrocket careers — Chris Evans and Bradley Cooper are the stylist's first and longtime clients — and it's definitely one of her favorite parts of the job, she says. "Styling is such an intimate thing. You bond with these people so much and so see them blow up and get the careers they want, it's always exciting. You're part of that team."
In the midst of awards season, we spoke to Urbinati about her creative process, her upcoming collaborations and why menswear is having a big moment on the red carpet.
Now that awards season is in full swing, what's your process behind it?
It's extra crazy this year because we have a lot of nominees. It's not just somebody going to an award show to be a presenter. When you have a nominee, they're literally campaigning — going to everything and shaking hands everywhere. They have luncheons, dinners, Q&As, screenings, premieres — it's endless. So I have to mentally prepare myself for that type of volume. As a team, we tried to get a little bit smart ahead of time with custom pieces. When you're working with a brand, you're just saying, 'This person is wearing this brand and this brand is going to make him a suit.' I like that because I have more control of the look, picking the fabric and the lapel and the color...
You can focus on the one look and you're working with that brand and its tailor and it streamlines everything. It's more efficient as opposed to if I'm doing a regular fitting pulling from a ton of brands with tons of looks and racks of clothes. Obviously that's so much more time-consuming. So we kind of took that approach this season and tried to work closely and collaborate with certain brands for specific guys as much as we can, which was the only way we could dress 11 people for one event.
Do you find styling different based on the occasion?
I find it hardest when you're with somebody who you haven't dressed in a while and only have one premiere. It's almost impossible to pick that dress. You treat it like a wedding day; no dress is possibly good enough. When you have multiple [occasions], you can play. We'll do the jumpsuit here, we'll do the short edgy dress there and we'll do the showstopping gown there. You don't overthink it as much. With a guy, we'll do the classic iconic look for the Globes and we'll do the crazy green velvet for the Critics' Choice Awards. You have so much room to play because you have so much opportunity with so many events, you can showcase a lot of different things.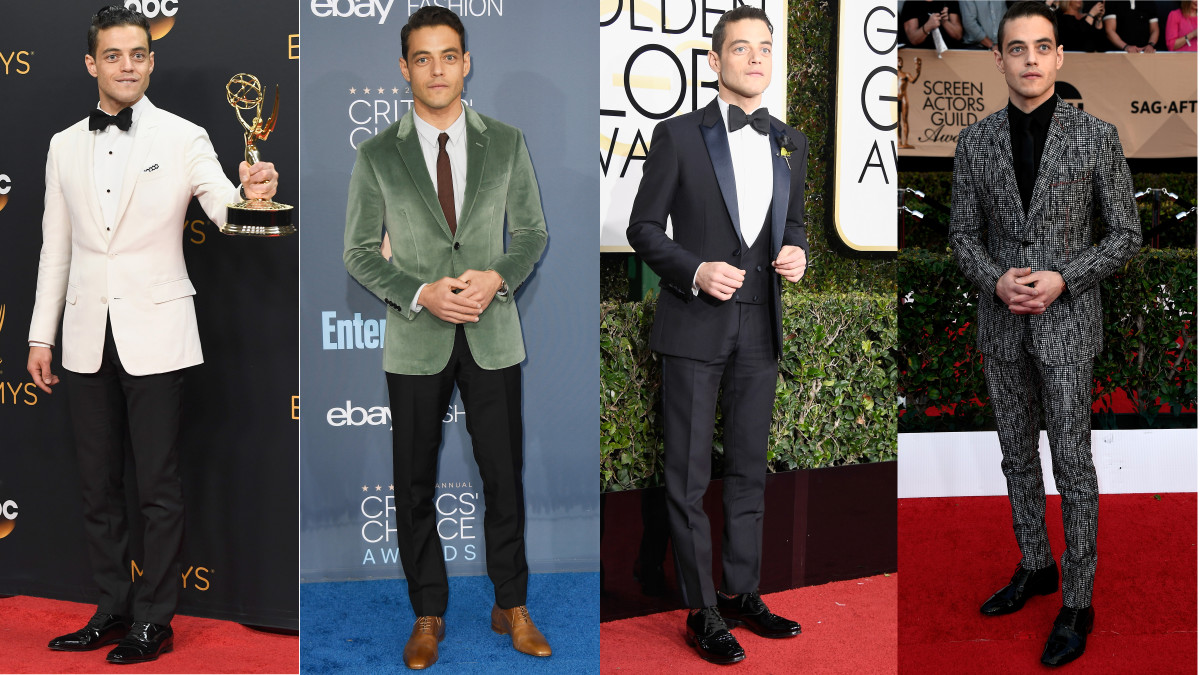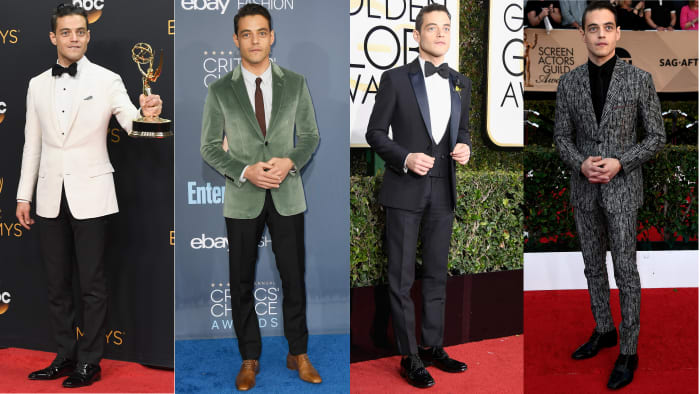 We're huge fans of Rami Malek here at Fashionista. It's exciting to see his career grow, and his fashion choices are always on point. How has that process evolved for you?
It has evolved in the sense that he's gotten more and more into it. He's learned that it's fun and it can help a person's career in a way. A lot of guys come into this thinking, 'Why am I doing this?' and Rami has a lot of fun and he really gets into it more than a lot of guys. He gets inspired and actually does his research. He'll come in with cool vintage photos and we'll try and play with that. We try to think outside of the box a little bit but I want it to feel like it's a genuine place of trying to be creative and having fun and where our inspiration lies. Not just for the "wow" factor.
Your styling for Donald Glover at the Golden Globes made so many best-dressed headlines. Can you tell us a little bit more about that?
He's one of my newest clients, which is always fun because you're meeting him for the first time and trying to get a sense of how he sees himself and how he wants the world to see him. You're figuring out how to express that in a way that's really interesting.
For Donald, Gucci is one of my favorites right now and they had approached us about wanting to dress him, which was exciting. We had a lot of brands at the fitting and that specific Gucci suit arrived that morning and  I literally was like, 'This is what he's wearing, 100 percent.' I always know, by the way. We kind of threw the bowtie on him, which really drove the whole thing home. The fact that he won twice that night, it felt like a moment for him. You don't get as many of those iconic moments with men. When you do, it's really special. I've had so many people bring it up to me, it's crazy.
Do you approach styling differently with your male and female clients?
Men and women, they themselves approach it very differently. Women have so much scrutiny and with men, you can kind of not worry about that so much. I do my thing and not think about how it gets received. With women, as much as you don't want to, you have to think about that more because it's the name of the game. With women, we're pulling the new seasons and getting the biggest designers. You're playing politics a little bit more, working with items that are not even in stores yet or with samples and only one size is available. There's only the one dress to be had and only one girl can wear it. With men, I don't even look at the runway. I'm going into the stores and pulling merchandise. I always like to find really interesting fabrics and colors and things I haven't seen when it comes to a suit, so sometimes the challenge is finding that stuff. I try to do custom a lot and pick my own colors and fabrics.
From a tailoring standpoint, there's so many more elements that go into menswear as far what can come out wrong and the precision you need. Is the shirt right? Is the jacket right? Is the pant right? The sleeves are off by a quarter of an inch, you have to redo the whole thing and then the waist, the pants and is the button correct on the shirt? It's kind of hardcore.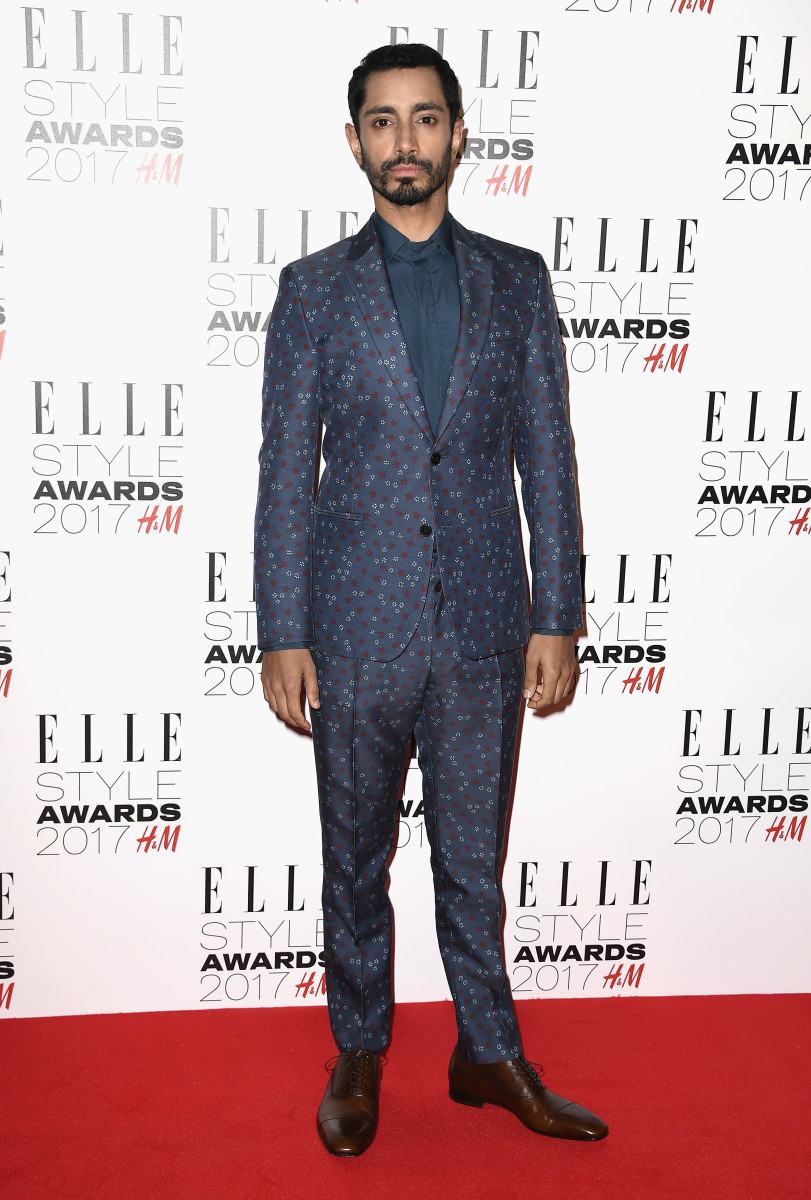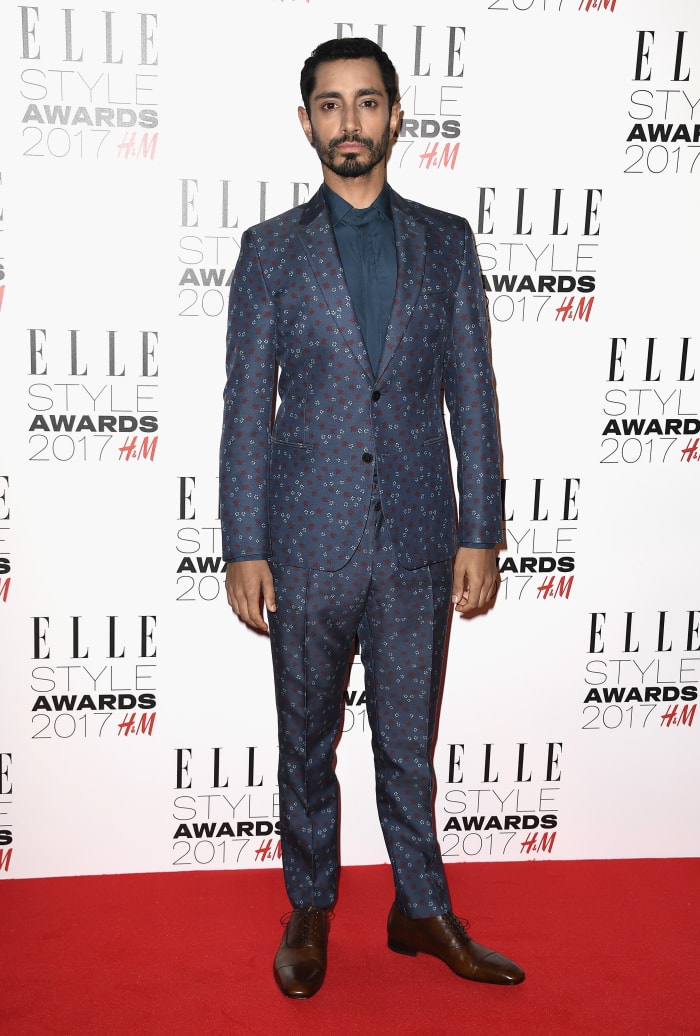 Menswear on the red carpet has become much more fun and exciting with guys making bolder choices. When did you start seeing this change?
It started to happen a while back, when I had my store Confederacy and I would see men come in. I really tried to to be a little bit bold when I would buy for the store and they would get excited about it. It was right around the time 'Mad Men' was a big show. Men were just starting to want to dress up. Every season it's gotten more and more, and it's such an exciting time.
I do think that men's styling is a subtle art. I see guys take it too far and I do think what we specialize in is finding a happy medium where it feels special and it's different but it's not a clown show. I want to look back at a look 50 years later and have it still feel timeless. But it is exciting that menswear is getting more attention and press. The fact that people are paying attention and complimenting me on Donald Glover's suit, I don't think that would've happened five years ago. It matters as well: Rami got the Dior campaign and Tom got the Gucci campaign. So I do feel like part of what we're doing helps.
Do you have other fashion projects in the works with retail or design?
I really love doing collaborations. I did the Eddie Bauer men's line and we're about the come out with the next one. That's been really fun for me. I talked to a ton of brands over the years to do collaborations with and I like the idea of a brand with a very long history. Eddie Bauer has been around forever; they really know what they're doing. I like the idea of being able to put my spin on it and introduce it to a younger crowd. I like doing that more than if I was to design from scratch on my own. 
You're working in the realm of what and who that brand is. You're not coming up with something out of the blue. I like parameters and being about to say this is how it needs to be — the price, the vibe — and working within that and make something new out of that. I have a couple things coming out soon — and some stuff for girls, too. That's going to be really cool.
Want more Fashionista? Sign up for our daily newsletter and get us directly in your inbox.