J.Crew Went in on the Celebrity Offspring to Model Its Fall Collection
The retailer once again traded traditional models for staffers, friends, family and this time, Julianne Moore's daughter.
At its Spring 2017 presentation last September, J.Crew — a retailer that's long been associated with cheery, effortless Americana — proved that it was above the casting stunts that have sucked in many of its contemporaries. Rather than dropping big bucks to bring in a bunch of Instagirls (who wouldn't have been a great fit for the company DNA, anyway), Jenna Lyons & Co. went authentic, instead enlisting its staffers, friends and family to model the collection. It was a marketing gimmick in its own way, but a genuine (and therefore, genius) one; as Alyssa wrote, who better to showcase the brand's vision than those who live and breathe it?
After the acclaim that J.Crew's casting received last season, we expected for it to become something of a tradition going into its Fall 2017 event. Upon entering Spring Studios on Sunday, it didn't take us long to realize our prediction was correct. Refinery29's Global Editor-in-Chief and Co-Founder Christene Barberich, modeling a camo work shirt and a jeweled kilt, saw a rotating cast of showgoers approaching her to chat. While looping through the venue, a friend told me excitedly that her best friend, a J.Crew employee, had been cast in the presentation as well. Even comedian and entertainer Sandra Bernhard — a longtime fashion favorite and face of Marc Jacobs's Spring 2016 campaign — was there. As with last season, the widespread diversity of age, race and size was put center stage, and the energy surrounding it was palpable. 
On Sunday, another sort of magnetism — the kind most associated with famous people, and droves of them — filled the space. J.Crew may have omitted one routine casting stunt (Instagirls), but traded it for another. Celebrity offspring (whom, as a collective, fashion can't get enough of right now) stood alongside J.Crew's other non-models; both Julianne Moore's and Molly Ringwald's daughters, Liv Freundlich and Mathilda Gianopoulos, respectively, were included in the lineup. This time, though, the otherwise hackneyed casting trend felt fresh. In the wake of brands falling over themselves to fill campaigns with the sons and daughters of Crawfords, Laws, Lewises, Andersons, Smiths, Kilmers and Brosnans — not to mention Baldwins, Hadids and Jenners — Liv and Mathilda's inclusion felt far from an overt social media ploy.
And the clothes: J.Crew is famous for its inimitable styling and pairing undone details with traditionally buttoned-up styles, and for the last few seasons — with the help of head women's designer Somsack Sikhounmuong — it's been better than ever. That, as stated in the press release, is intentional: "The looks celebrate the unique personal style that our customers bring to our clothes." As a result, each "model" looked completely at home in whatever they had on: Fair Isle was styled with satin; Canadian tuxedos were worn with mermaid-esque glitter boots; structural midi skirts sat atop camo T-shirts. A few vintage-inspired pieces even date back to 1983, the year J.Crew was founded, and will be part of a Heritage capsule collection available this fall.
From the casting to the '80s-centric soundtrack to the collection itself, we'd say the presentation was a resounding success. J.Crew is proof that brands don't necessarily need to resort to stunts and Insta-famous models to make a splash: If you're doing it all with authenticity, you really can't go wrong.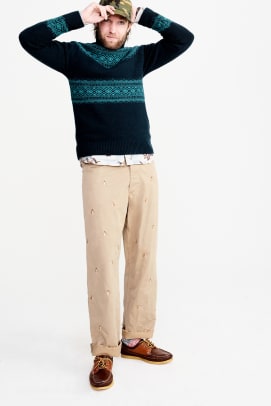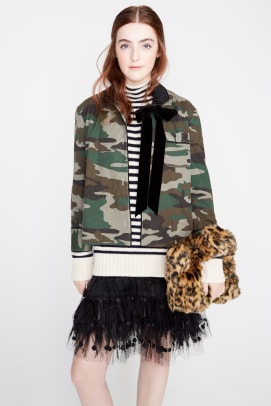 Homepage photo: John Lamparski/WireImage
Never miss the latest fashion industry news. Sign up for the Fashionista daily newsletter.