Kate Spade Shows a Little Something for Everyone at New York Fashion Week
The brand's New York Fashion Week presentation featured both spring and fall wares.
I spent most of my day Thursday asking former colleagues and industry friends if they were going to Kate Spade New York's presentation, held Friday morning at the Russian Tea Room. After the brand's Fall 2016 event at Rockefeller Center's historic Rainbow Room last February (at which Chantal, Tyler and I loitered for no less than a full hour), the consensus was this: We a) had missed Kate Spade's delightful shindigs when it sat out the Spring 2017 calendar, and b) were excited to see what tricks the label had up its sleeve.
And after a year of build up with our expectations being about as steep as they could be — Kate Spade's last presentation had fries, you see! — its return did not disappoint. The brand had commandeered the Russian Tea Room's entire four floors, with waiters distributing caviar and dispersing flutes of champagne. The space was sumptuous, and for Fall 2017, the clothes fit right in. Velvets, leopard prints and deep florals were seen in nearly every look, combined with the ladylike detailing (like pearl embellishments, leather driving gloves and pussy-bow neckties) that help to distinguish Kate Spade's ready-to-wear from its competitors. The brand embraced the venue's theme, too, with a minaudière in the shape of a Russian Matryoshka doll and oversize fur hats. 
The retailer's New York Fashion Week homecoming came with a bonus: In addition to showing its standard off-season wears, Kate Spade also included a number of looks from its Spring 2017 collection. As chief creative officer Deborah Lloyd told Fashionista in August, the brand has a broader plan to better align itself with the consumer calendar. "You can see the total vision of what we create," said Lloyd, describing her reasoning for showing two seasons in one. "The reason for that is really to keep everybody happy. We're a brand that likes to keep everybody happy." Kate Spade's "see now, buy now" offerings ventured to Morocco, with pompom-adorned sweaters, dusty rose prints and no shortage of tassels. (For the record: "Tassels are the new bows," Lloyd wrote.) 
It was a lot to take in, especially when paired with the space's tight hallways and busy crowds, but we certainly can't knock showgoers's desire to hang out in a place so rich, in all aspects of the word.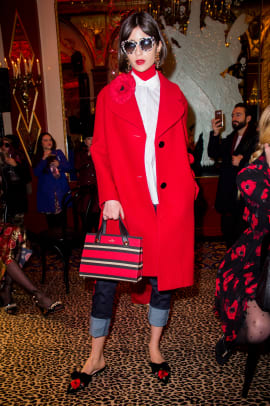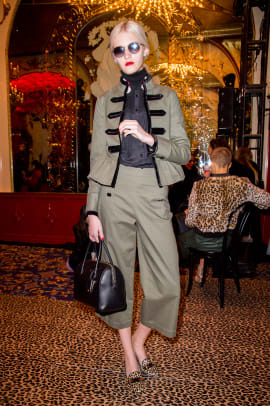 Never miss the latest fashion industry news. Sign up for the Fashionista daily newsletter.