Kenzo Premieres Its Latest Short Film With Khalil Joseph, Jesse Williams and More in Los Angeles
We chatted with Williams and Carol Lim at LA's The Underground Museum for a refreshing conclusion to the city's unofficial fashion week.
Since they were tapped by LVMH to revitalize Kenzo back in 2011, Humberto Leon and Carol Lim — also the founders of New York-based retailer Opening Ceremony — have amassed a remarkable body of work that includes much, much more than clothing. In what is a testament to their innate creativity and intelligence, they've managed to collaborate with some of the most talented filmmakers in the biz on short films that stand on their own as entertaining and thought-provoking pieces of art. The latest example is "Music Is My Mistress," directed by Khalil Joseph (of Beyoncé's "Lemonade" fame) and starring Jesse Williams, Tracee Ellis Ross, musical artist Kelsey Lu and musician Ish, all of whom also star in Kenzo's Spring 2017 ad campaign. Lim and Leon previously worked with Joseph on a film pre-"Lemonade" and gave him carte blanche to interpret their Spring 2017 collection however he saw fit. "The clothing is almost secondary," explained Lim on Thursday night at the film's premiere in Los Angeles. "That actually feels right to us because we're not here to create a fashion film. All of the directors are proud to include the work that they do with us as part of their body of work."
With the exception of Ross, who got stuck in New York's snowstorm, all of those involved came out for a party at The Underground Museum. From the venue — an unassuming storefront in Arlington Heights founded by the late painter Noah Davis to showcase "museum-quality art to diverse communities for free" — to a crowd that included Sasha Lane, Amandla Stenberg, Alia Shawkat, Karen O and Spike Jonze, the event stood in stark contrast to the more commercial and influencer-heavy ones that preceded it in LA this week. Guests sat outside on blankets to view the film's projection, which was followed by a beautiful live performance by singer and cellist, Lu.
Lim and Leon have never been afraid to make political statements with their work, and while there was nothing overtly political about "Music Is My Mistress" — the trailer for which you can watch above — it felt significant that we were sipping prosecco next to art prints titled "Hanging Man/Sleeping Man" and "Wife of a Lynch Victim" after watching a film with a cast made up entirely of people of color, including vocal activist and certified woke bae Jesse Williams.
"Humberto and I have always been about celebrating diversity, and in this particular case, [Joseph] had very specific images about who would be playing who," explained Lim of the casting. "It was definitely intentional because I think he envisioned these people for these parts."
For Williams, the decision to star in his first-ever fashion campaign had everything to do with Joseph. "I have a lot of respect for [Lim and Leon's] daring and their creativity, but really it started with Khalil. Khalil is an incredible person and an incredible director, and I'll go wherever he wants to go." Williams said fashion isn't a focus of his and this project was very "specific to" the people involved, but "maybe down the road I'd find myself playing around in the fashion space." From acting to speaking to wearing clothes and modeling, there doesn't seem to be anything Williams doesn't do extremely well; so if he does, we're pretty confident he'll nail it.
The film will debut in full on Feb. 20 at at kenzo.com/musicismymistress. Browse the full campaign below.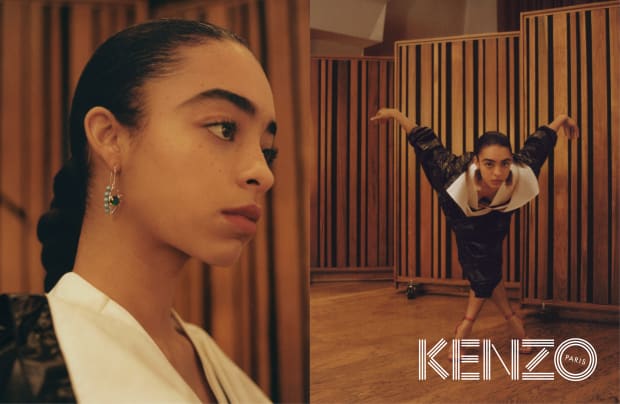 Want the latest fashion industry news first? Sign up for our daily newsletter.