With a Growing Fan Base in Hip-Hop, Landlord's Fall 2017 Collection Pays Tribute to the Genre
From merch tees to Mauri shoes, designer Ryohei Kawanishi was inspired by southern rappers of the '90s and '00s.
"We're still trying to find what Landlord is really, but this season was I think one of the strongest seasons," says designer Ryohei Kawanishi of Landlord, which presented its third collection on Wednesday evening of New York Fashion Week: Men's. For an emerging label to watch that's still trying to find its groove, it's clear that Landlord's rising success attributes to those in hip-hop community who are already championing the label. A quick glance through Landlord's Instagram feed will show a growing fan base that includes A$AP Rocky, The Weeknd, Big Sean and up-and-coming style aficionado Machine Gun Kelly.
"I don't expect what's going to be happen season by season, but I try to be really flexible with the label," continues Kawanishi. "After our second season, we got a lot of followers from hip-hop artists, so that's why I wanted to go in that direction." And while Kawanishi claims to have not found Landlord's signature style just yet, a utilitarian theme is common among the label's total of three collections. (Spring 2017, for example, was an ode to the blue-collar uniform.) Perhaps it's because of Landlord's studio location in Sunset Park, Brooklyn, where its high-fashion garments are sewn alongside military uniforms by the family-owned manufacturing business of Landlord's CEO Daniel Huang.
For fall 2017, Landlord dove deep into hip-hop culture's influence on fashion, specifically southern rap from the '90s and '00s. Kawanishi, who was born in Japan and studied design at Central Saint Martin and Parsons, also used his Harlem neighborhood of residence for inspiration. Other references, spanning from pop culture to art, also influenced Landlord's current aesthetic: Dennis Rodman circa his time with the Chicago Bulls, British Photoshop artist James Howard and footwear brand Mauri, which was worn by some of Kawanishi's favorite rappers. Indeed, the models' outfits, comprised of pastel-colored fur coats and oversize trousers and worker jackets, were styled with Mauri shoes. Kawanishi even adorned some of the button-down shirts with plackets made from the Italian label's favorite exotic skins, like alligator and stingray.
T-shirts and hoodies resembled old-school merch gear, featuring graphics by Howard himself. Kawanishi came across the London artist's work at a gallery several years ago and contacted him directly to collaborate on the new collection. The images are a tribute to Southern hip-hop's album art, made famous by Pen & Pixel, a graphic-design team from Houston, T.X. "This collection was all about more balance, working with stylists, hairdressers, everyone" says Kawanishi. "I did design but everything came together and that's why it's so good."
After Landlord's memorable showing at New York Fashion Week: Men's, which felt more like a party than a presentation, Kawanishi is back to work. He's teaming up with Paris-based photographer Basile Mookherjeeith, known for his work Fully Fueled, which documents decked-out luxury vehicles throughout Dubai and Abu Dhabi's nightlife scene, on shooting the season's lookbook. "Because I believe that fashion is all about teamwork," he says.
See Landlord's fall 2017 collection from New York Fashion Week: Men's in the gallery below.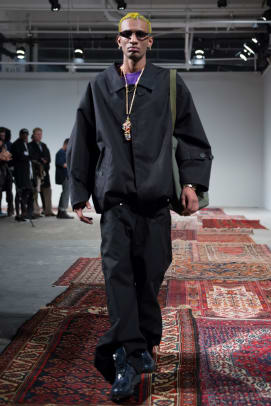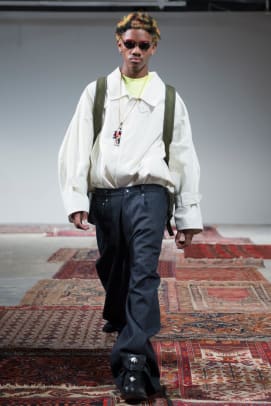 Want more Fashionista? Sign up for our daily newsletter and get us directly in your inbox.