Lil Yachty Talks His Nautica Collab Inspiration and His 'Fire' Basketball Goggles
"I wear a lot of my own type shit."
"I'm tired as fuck," says Lil Yachty backstage at Nautica's fall 2017 presentation at New York Fashion Week: Men's. It's Wednesday afternoon and Yachty is sitting by himself, clutching a paper plate filled with half-eaten pepperoni pizza from Domino's. Between yawns and sips of boxed apple juice, I'm trying to learn something — anything — from the soft-spoken 19-year-old King of the Youth about his forthcoming collaboration with Nautica. After months and months of serving as the heritage brand's unofficial ambassador, the higher-ups finally gave him the well-deserved role of "creative designer" earlier this month. Though he's not affiliated with what was presented at Nautica's show that day (his debut collection is expected to drop just in time for the holidays), Yachty took the time to show up and then host a surprise pop-up shop on the Lower East Side from 4 p.m. to 6 p.m., signing limited edition pieces for fans.
"It's not going to be like this," he says, referring to the freshly dressed models backstage. "Nothing's wrong with this, but mine is a completely different turning point. It's colorful, it's bold, more free. It's me. It represents me." A list of references Yachty provided the Nautica team includes, but is not limited to, "old Pepsi products, that DHL logo, all types of shit, like vests and halter tops for females, all types of shit, orange bubble coats, 3M clothing."
"I like Nautica Competition more, which is an older style," says Yachty of the '90s-era line that was popular among hip-hop artists. Indeed, he's wearing a jacket that's vintage Nautica Competition, paired with a vintage Nautica crew neck in pastel yellow — save for a few toothpaste stains that he noticed at the end of our chat. I asked if his collection will be a nod to Nautica's sporty, discontinued label, to which he immediately replied, "Facts."
In past interviews, it's clear that Yachty has a distinct point of view when it comes his personal style. (He's also landed modeling gigs for the likes of Alexander Wang and Yeezy in recent seasons and created a line of "sailing team" merch that quickly sold out.) But his taste can't be compared with the rapper's archetypal love of name-dropping high-end brands and bling, though he has plenty of the latter. "I'm not big on fashion. I don't really give a fuck," says Yachty. "I like designers and I like the clothing but I don't really keep up with the trends. I wear a lot of my own type shit."
He goes on to tell me about what he bought last night: basketball goggles from the wholesale site DHgate.com. "I got them in every color," says Yachty. "They fire. They're going to be my shit. I'm trying to get Nautica to remake them. They're gonna sell out once I start wearing them."
By 8 p.m., he'll already be on a plane to Los Angeles to start shooting a film. Yes, Lil Yachty will be making his acting debut in the not-so-distant future. "Acting, album, touring" is what he's been up to. Let's hope he can squeeze in some sleep, too.
See Nautica's fall 2017 collection from New York Fashion Week: Men's in the gallery below.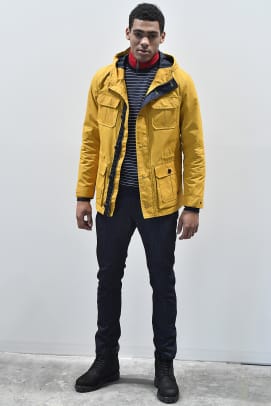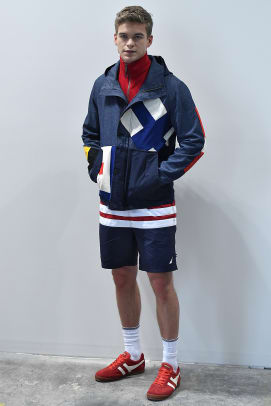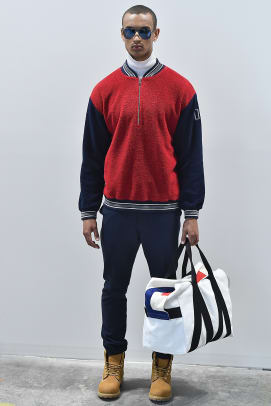 Want more Fashionista? Sign up for our daily newsletter and get us directly in your inbox.