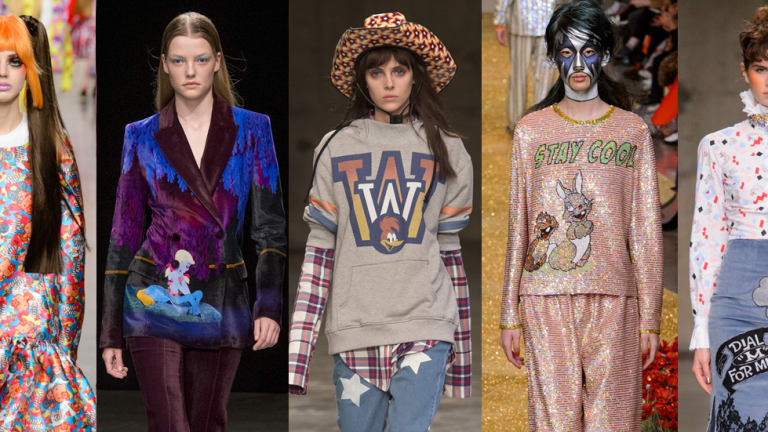 7 Breakout Trends from London Fashion Week
From cartoonish prints (Woody Woodpecker!) to the Wild West.
The first week of the Fall 2017 shows in Europe came to a close after the avalanche of New York presentations, and things are starting to gel, trend-wise. You usually know what to expect from the fall shows in terms of repeated exits — deeper palettes, luxurious fabrics, experimentation with traditional outerwear — and we saw all of these things and more on the runways in London. And while many of these trends blossomed in New York, London was the city where they fully bloomed. Read on to see the breakout trends from across the pond, and brush up on New York Fashion Week's top trends before the Milan collections kick into high gear. 
Plaids and Checks
Most commonly in the menswear-inspired variety, plaid and check were among the most common styles of outerwear London designers showed for fall.
Voluminous Sleeves
One of the biggest (pun intended) trends thus far has been the statement sleeve — whether bell, puffed, trumpet, batwing, bishop or tiered. (Believe us, we can go on.) Say goodbye to your classic straight sleeves, ladies.
All Points West
The West (occasionally the Wild and the Old) was a big source of inspiration, particularly in the form of denim, cowhide and plaid. Cowboy-inspired headgear was not in short supply, either.
Oxblood
This deep shade of red is a classic color for fall, and this time around, it was everywhere. 
Cartoon Chic
London was feeling whimsical for fall. How do we know this? Well, try and come up with a more appropriate adjective for the frequent appearances of cartoon characters, from the likes of Woody Woodpecker, "Fantasia" and Hello Kitty. Just try.
Duvet Coats
You know that feeling when you don't want to leave your bed on a frigid winter morning? Or, at the very least, wish you could take the comforter with you when you walk out the door? Come Fall 2017, that will officially be an option, thanks to the popularity of duvet and quilted coats. 
Adorned Fur
With bedazzled brooches and colorful embellishments, we can assure you that this ain't your grandmother's fur coat.
Homepage photos: Imaxtree
Never miss the latest fashion industry news. Sign up for the Fashionista daily newsletter.