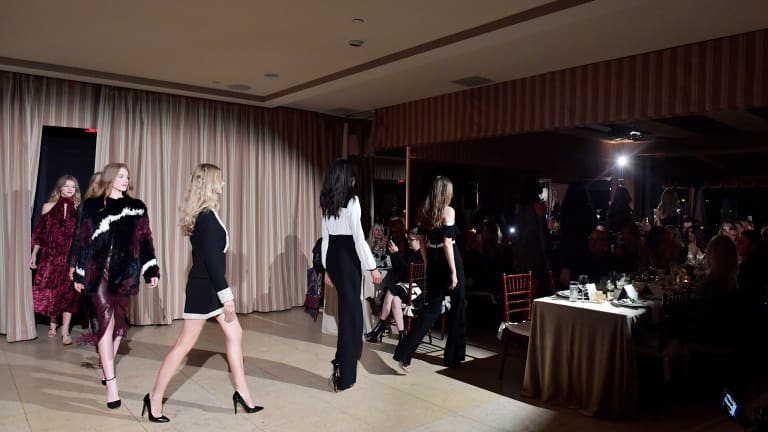 What Was Behind This Season's Defection to Los Angeles?
Designers — local and non — explained why they decided to show in LA instead of New York last week.
Rachel Zoe had wanted to stage a fashion show in her hometown of Los Angeles for a long time, she explained at a glamorous dinner-runway show hybrid at the chic Sunset Tower hotel last week. Wearing a floor-length gold sequined gown of her own design, she began the event by addressing the crowd — largely made up of her celebrity and influencer friends like Nicole Richie, Poppy Delevingne, Selma Blair and Jaime King — with a heartfelt speech. "I've been here 13 years; my family's here and all of you are here and I kept sort of fighting it because New York is New York, but I thought last year at this exact time... I need to take a step back and think about who I am, who I'm speaking to, who I'm selling to, who I'm inspired by," she began. "Showing here tonight feels like home, and a lot of that is because you guys are here." Then, she literally broke down into tears, and repeatedly thanked us for being there. The evening was much more personal and memorable than a basic runway show in New York would have been; and the fact that everyone hadn't just come from a day of back-to-back events and didn't have five other parties to go to that night meant that we were more relaxed and present.
Those covering New York Fashion Week this season have found themselves with a slightly lighter schedule than usual. Several designers, if they didn't abstain from showing altogether, opted to stage events elsewhere; and along with Paris, Los Angeles ended up being a popular destination. In the days leading up to NYFW, LA residents, along with a few traveling New Yorkers, were treated to events by Rebecca Minkoff, Rachel Comey, Zoe, Raquel Allegra, Tommy Hilfiger, Vetements and Kenzo — making my first week in the city a busy one. 
It seems like every so often, people start talking and writing about the legitimacy or credibility of LA as a fashion capital. While the city does have its own fashion week, it's never been taken seriously, but big-name designers like Kate and Laura Mulleavy of Rodarte, Tom Ford, Hedi Slimane and (sometimes) Jeremy Scott call it home; Ford showed here two years ago (and might do something here this year) Moschino showed its last resort collection here; and Dior's Maria Grazia Chiuri will show her first cruise collection for the house here in May. The city is also home to a slew of talented designers with decidedly smaller-scale businesses; companies like Revolve, Nasty Gal and Reformation; as well as a growing apparel and accessory manufacturing hub in and around Downtown Los Angeles (or DtLA, as the locals call it).
Last week marked the first time LA truly felt like an extension of the fashion month travel circuit, and it's hard to deny that Hilfiger's Venice Beach blowout anchored the whole thing. For LA-based designer Allegra, who has shown in New York in the past, the decision to stage an event here boiled down to logistics and ROI. At her short film screening-slash-presentation in her West Hollywood store, she explained that there's a discussion about doing an LA event every season. "My partner and I say, 'Is it time yet?' It's a practical business decision, and weighing whether or not there will be enough editors to get the interest that we need to get, and the expense." After asking her PR team, once again, if it might be possible, she got the response she was hoping for. "They were like, 'actually, I think you can.'" Showing in LA obviously has added benefits for a designer who is based there. "It's expensive for an LA designer to bring a team to New York and all of the logistical elements that go into that." The event was also an opportunity for her to promote her first physical retail location, which opened last summer.
For Comey, who is based in New York and typically shows there, the decision was about supporting her team and business in LA, where she has a store and where her denim is produced — and maybe also the weather. "We just opened the store here six months ago and supposedly there's always really sunny, lovely weather here and so that seemed like a good idea, like let's get out of New York Fashion Week in February; it can be so brutal," she explained at her lovely Melrose Place boutique the afternoon after her own celebrity-filled, dinner-runway show combo. "If we're going to have a big portion of our business here, even to have my design team here so that we really understand the dressing needs of the people here." But for an out-of-town brand, the logistics can be prohibitive. "Probably we'll be in New York next season just because I don't think we could travel like this every season because this is a lot of people to take out of their homes for a while," she said. (Imagine how much travel costs added to Tommy Hilfiger's show.) "But I definitely feel like there's an opportunity to do more events here."
Minkoff, Hilfiger and Zoe also all incorporated "see now, buy now" pieces into their shows and took advantage of LA's bountiful supply of celebrities and influencers to help sell them. And there's no doubt that Hollywood, and maybe the weather will keep designers coming back to the city of angels. Though when it comes to basing a business there permanently, there are other benefits. "I think there's something happening where people are realizing there's magic here in LA," said Allegra. "I think there's something to the fact that we're all kinda spread out; there's individuality here and I don't feel like there's as much competition here... we're not aware of each other so much and we're not all on top of each other." Comey echoed that sentiment. "I think the relationship between New York and LA is very strong and has obviously been growing for a lot of years, and I know I personally have had five to six staff people from New York move to LA just for lifestyle choices, and I think as New York gets so crowded and expensive to be a creative person, I think LA offers a better quality of life."
"People seem to be happy that the fashion events have come to them instead of them going to New York or Paris," added Comey. Indeed, several locals I chatted with were thrilled to have more legitimate fashion events on the West Coast; some even hoped last week's events might fuel the development of a real LA Fashion Week as a precursor to New York's. While something like that could certainly benefit the many promising designers who are based here but lack the resources to travel to, and stage events in, New York each season, it seems more likely that last week was just another example of designers feeling less confined by the traditional fashion month schedule and making decisions based on their own business and creative priorities. Carol Lim of Kenzo and Opening Ceremony chose LA to debut their latest Kenzo film because the director and cast are based here, but she and Humberto Leon also pulled Opening Ceremony out of NYFW this season, instead costuming a ballet with Justin Peck and inviting editors to the premiere last month. "It was more that was the ballet schedule and we wanted to be part of it; it's not because we wanted to leave fashion week; it depends," she explained. "We're not confined to that when we think it's the right time [to do something else]."
Want the latest fashion industry news first? Sign up for our daily newsletter.