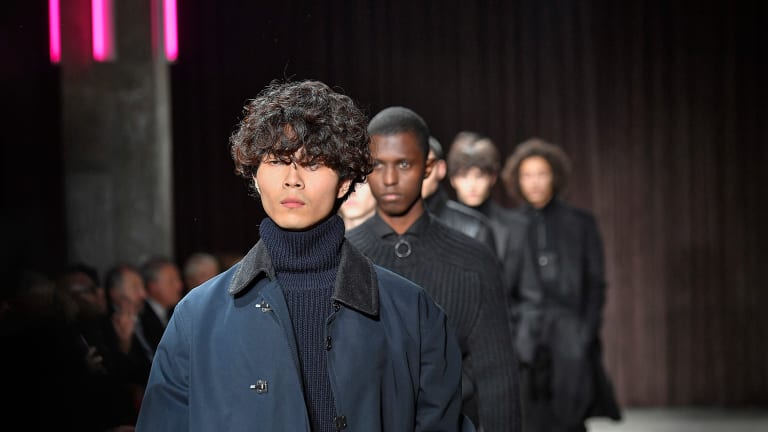 How Men's Grooming at NYFW:M is Embracing an Evolving Representation of 'Masculinity'
And it's celebrating diversity, too.
Beauty — as an industry and as a topic — is in a period of transition, and where it used to fall squarely within the feminine realm, it's rapidly moving toward a less gendered state. In the past year, we've seen multiple mass cosmetics brands branch outside of their typical female ambassadors. We've seen men's grooming lines step things up a notch with their product offerings and recognize that men have a variety of grooming-based needs. And on the menswear runways over the past couple of seasons, we've seen unapologetic hair and makeup take center stage.
The CFDA's official New York Fashion Week: Men's held its fourth-ever season this week, so in the grand scheme of the menswear industry, it's still relatively in its infancy. (For some context, the first edition of Pitti Uomo was held in Florence in September 1972, and London introduced London Collections: Men in 2012.) However, even in NYFW: Men's second year, it's by no means a rarity to see a statement-making face chart backstage at more than a few runway shows. I spoke to some of the experts about how grooming for men's shows has evolved most recently.
"My first New York Fashion Week show was actually a men's show, and it was the year that Sean John launched," says MAC Cosmetics Senior Artist Chantel Miller. "The '90s were all about stronger makeup for women and men, so there was always contour along the temples and under the cheeks. There was always concealer taken up to the lash line. We were making men very 'pretty', very stylized and very 'über-fashion'." In an nutshell, makeup on the menswear runways reflected the prevailing stereotype of the time: Dudes were supposed to look bronzed, chiseled and traditionally masculine. 
The same thing was happening on the hairstyling front: "One thing that comes to mind is [that] everyone looked the same," says hairstylist Amy Farid, the mastermind behind many a memorable runway hair moment. She also notes that the castings were far from diverse, which meant the grooming was fairly bland and monotone as well. "It was definitely a Eurocentric, Caucasian vibe, and if there was the token black guy, he would have like, a shaved head. It wasn't experimental at all."
But things are a bit different now. "Kids today are like, 'Fuck these stereotypes,'" says Farid. "The representation of the male standard in fashion is completely changing and becoming this beautiful, diverse image that's inspiring kids everywhere." Changing ideals of what it means to be "masculine" — paired with more diverse castings and hair and makeup looks that celebrate individuality — have allowed for more invention and creativity in men's grooming for the runway. As a fashion and beauty journalist, it's made my job more exciting; and as a woman of mixed ethnicity, it's showed me that inclusivity has a place in the industry I hold dear.
As for the specifics of what I've spotted backstage at this season's Men's shows? There's still a bit of contour and some occasional sleek hair, but there's also a marked effort to highlight individualism and enhance dudes' natural beauty (yes, I just called men 'beautiful'), rather than painting them with specifics, narrow notions of what it means to be a man. "Highlighting and contouring has actually become a bit more asymmetrical for men, and a bit more free and flexible. Bronzer on men can get really warm really fast, whereas a deeper, cooler foundation color gives you this idea of blood flow under their skin without it looking so bronzer-ish," says Miller. According to Farid, gels and pomades are still a backstage staple for men's hair, but they're less slick or greasy looking. "I love the Sumotech by Bumble and Bumble — it has a matte texture, so it doesn't leave the hair [looking] oily," she says. "Sumowax is the opposite, where it's super oily, greasy and wet, so I love that because it's great for certain styles, too."
Skin care is also becoming a more prominent aspect of the backstage beauty process for male models. "We almost take more of a spa-care approach in prepping mens' skin," says Miller, who reaches for MAC's Skin Refined Zone and softening lotions like the Lightful C Marine Bright Formula Softening Lotion Spray to prep models' skin. And subtlety is key. "Seamlessness is a big thing with men; you can't have any edges that look really harsh or hard because instantly, your eye will be like 'That's makeup,'" explains Miller. 
On future runways — both men's and women's — we can only hope that runway beauty as a whole expands its celebration of diversity in all its forms. "There's not this one idea of masculinity anymore; I'm so happy that designers are woke and there are people in the fashion world that are allowing those voices to be heard," says Farid. "As we are changing as a society, fashion is right there documenting it."
Please note: Occasionally, we use affiliate links on our site. This in no way affects our editorial decision-making.
Never miss the latest fashion industry news. Sign up for the Fashionista daily newsletter