This Tasteless NYFW:M Collection Used Homeless People as Inspiration
Who let this happen?
Tuesday evening's N.Hoolywood presentation, one of the last on the first official full day of New York Fashion Week: Men's, was inspired by homeless people.
The mismatched wooden chairs and benches that formed the circuitous runway initially gave no indication that the Japanese brand's fall 2017 assortment would pull its primary aesthetic references from the community its founder and creative lead Daisuke Obana referred to as "street people." If anything, they recalled any number of restaurants in gentrified Brooklyn or maybe Monica's kitchen on the set of "Friends." The show notes placed on each seat, however, made the origins of the collection acutely clear.
"As our designer traveled the cities of America," they read, "he witnessed the various ways in which people there lived on the streets and the knowledge they have acquired while doing so. His observations of these so-called homeless or street people revealed that them [sic] to be full of clever ideas for covering the necessities of life." The notes went on to praise the inventiveness of using blankets as "coats for cold days" and plastic bags that "can double as waterproof boots when it rains." There was also a line about "experimental sizing."
When the house lights dimmed and the first model stepped onto the runway, it was revealed that the styling would follow through on Obana's vision in the most literal way. The models did indeed look homeless, or, more accurately, like a fetishized version of homelessness. The clothes individually were luxurious and expensive. The fabrics were beautiful. Save for a few unfinished hems, there was no distressing to be found. The N.Hoolywood homeless man is a sanitized, polished type of homeless.
Models — who, although a makeup artist was credited, were not done up enough to conceal blemishes and under-eye bags — carried layers upon layers of finely crafted garments heaped upon their narrow frames. They dragged sacks that looked identical to Hefty bags from afar (but weren't). Many models had on several pairs of pants of varying lengths. Almost everyone with a hood wore it up, some combined with knit hats and scarves partially obscuring their faces. A few wore mismatched socks.
Most unsettling was what appeared to be the direction the models were given. They walked slowly, slumped over, heads hanging low, staring at the floor. For a show that dubiously claimed to be about celebrating the ingenuity of people down on their luck, the body language read like a pantomime of the shame associated with poverty. The implications get more disconcerting when the correlation between homelessness and mental illness is considered; around a quarter of the homeless population suffers from mental illness, according to NAMI.
To put it plainly, Obana's efforts, focused purely on aesthetics, erased the humanity and the dignity of homeless people. Homeless people aren't experimenting with sizing like an FIT undergrad trying on a Vetements hoodie at Dover Street Market. They're not utilizing "unconventional layering" because they are hoping to start a trend. To claim to celebrate those notions as a hat tip to homelessness is either condescending, ignorant, almost inconceivably out of touch or some hellish combination of all three.
N.Hoolywood's reps did not immediately respond to a request for comment, so I can't say for certain whether or not Obana would feel comfortable explaining to an actual homeless person how their quest to survive without shelter and proper clothing inspired him to make jackets, shirts and pants. The mind reels at the thought of how humiliating it would be for everyone involved had an actual homeless person witnessed the show, watching as a room full of fashion types observed models doing their best impression of "street people" for 10 minutes.
In the best of times, it's become difficult enough for the insular fashion community to justify to the rest of the world that the absurdity of Fashion Week and of exceedingly expensive designer goods has true merit. And we're not living in the best of times, nor are we living in a vacuum. What goes down the runway does have bigger implications beyond an artistic statement. If designers are meant to be the arbiters of taste, it's about time the definition of the word is expanded to include more than just aesthetics.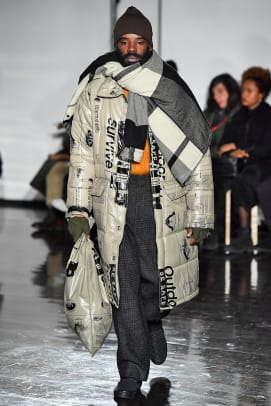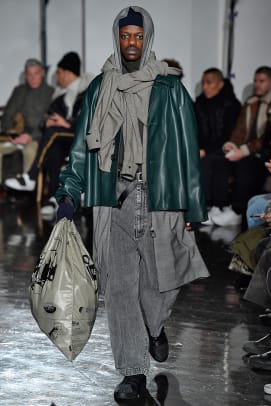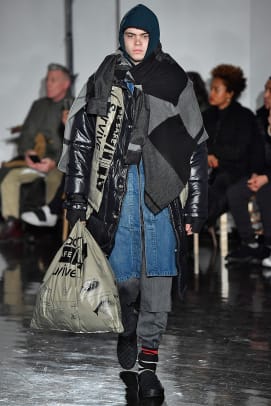 Want the latest fashion industry news first? Sign up for our daily newsletter.