Laura Kim and Fernando Garcia Did Not Disappoint for Their Oscar de la Renta Debut
The duo presented their fall 2017 collection for the brand alongside that of their own label Monse.
The joint Monse and Oscar de la Renta show on Monday night was easily one of the most anticipated of New York Fashion Week, but getting there was not an easy road for designers Laura Kim and Fernando Garcia. After being passed over for the head gig at Oscar de la Renta the first time, they were nearly halted in their tracks a second time thanks to a lawsuit by Carolina Herrera. (It's a long story.) Thankfully, Garcia and Kim got there in the end: Their fresh eye for design combined with a deep respect for the late Mr. de la Renta, under whom they worked for years before starting their own line, is just what the brand needed.
But first, it was about Monse, which made up the initial half of the show. The color palette was sparse to begin, relying on whites, blacks, and greys to tell the story. The deconstructed detailing that has made Monse a darling of the industry was present in the untamed ruffles and the cutaway shoulders on blouses and jackets. In trying to describe the vibe of the clothes, the word "swashbuckling" comes to mind — thanks to the oversize belts and the slouchy, thigh-high boots, the Monse woman felt like a pirate fresh from sea coming back to the manor to claim her lady. (More on that later.) The neutrals gave way to a riot of firey reds, citron yellows and cerulean blues, shown in buttery-soft velvets and slinky silks, or in psychedelic patterns rendered in sequins, a Monse staple.
The show then transitioned seamlessly into Garcia and Kim's first outing at Oscar de la Renta — well, not quite seamlessly. A glittery Lurex curtain, which had been concealing the second set, a chamber of open rooms, refused to retract on one side. It was a bit distracting as the crew attempted to force the curtain back, setting and resetting it even as models walked down the runway. In true "comedy of errors" form, a tech came out on stage to try and pull the curtain back, but — you guessed it — it wouldn't budge either, which meant the tech had to walk down the length of the runway trailing one of the models. 
Curtaingate aside, it was a perfectly lovely debut that more than met expectations. There was no reinventing the wheel here, but Kim and Garcia's take on the Oscar de la Renta woman felt fresh. There were hints of Raf Simons for Dior in the shapes of the embroidered, bell-shaped dresses, but the sequined details (I particularly loved a silver sequined cummerbund) and dramatic fur skirts certainly added a new touch. Pants as eveningwear are here to stay: Kim and Garcia paired theirs with liquid velvet tops and a truly stunning corset cut away to reveal floral appliqués. And because Oscar de la Renta is a brand that caters to the patrician, ladies-who-lunch set just as much as it does Hollywood ingenues, there were plenty of polished separates. (Which brings me to an aside: I wish these luxury brands would cast at least some older models. There is a disconnect in the message when a teenage girl walks down the runway in a pantsuit paired with a giant fur coat.) 
As Oscar de la Renta is not particularly known for its accessories — at least, not as much as its luxury-brand counterparts — they were sparse. Boxy handbags in luxe fabrics like croc will certainly see some editorial attention, thanks to the big, metallic flowers on the front. The standout was a pair of embellished boots, a nice call-back to the Monse set. Some of the heels were set at such a high pitch that it seemed the models would topple over, but they were beautiful, and that is easily fixed in production. It was a triumphant debut for Garcia and Kim, who showed they understand how to bring their buzz to the Oscar de la Renta customer.
All in all, Monse and Oscar de la Renta played nice with one another on the runway: If the Monse girl is an adventuring rogue, the Oscar de la Renta girl is the princess in the castle (who absolutely did not need saving, naturally). Still, it was not immediately obvious why the two needed to show on the same runway, except to save time and money. Showing together invited comparison, which was a bit distracting. Both brands would likely fare better from keeping things a bit more separate going forward. 
See the complete Monse fall 2017 collection below: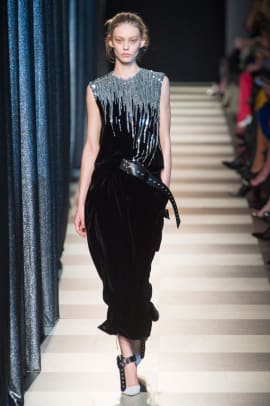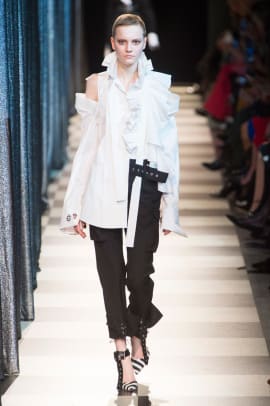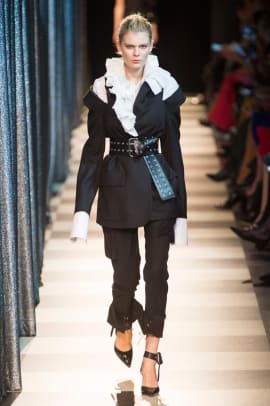 See the complete Oscar de la Renta fall 2017 collection: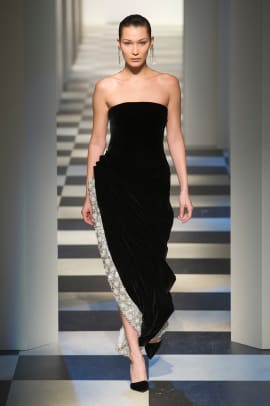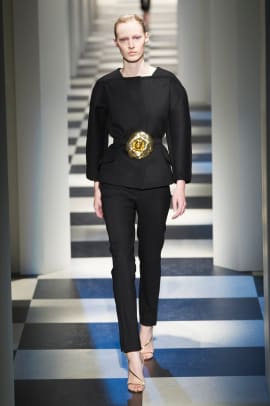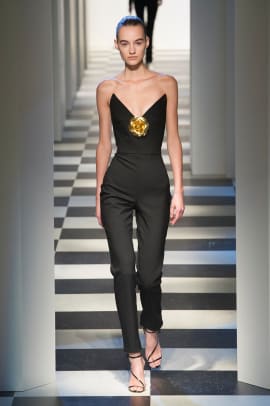 Want the latest fashion industry news first? Sign up for our daily newsletter.