Prabal Gurung's Fall 2017 Collection Was a Touching Tribute to Powerful Women
It was, perhaps, the best runway show I have ever seen.
I have never cheered or whooped at the end of a fashion show. I have clapped, yes, and even done so enthusiastically, but I have never been moved beyond that. 
That all changed at Prabal Gurung's Fall 2017 show. Gurung was inspired by the powerful women in his life; in his show notes, he called the collection a love letter to his woman, "who inspires us to present our unabashed and unapologetic definition of femininity with a bite." The Nepalese designer looked back to women in 1940s wartime in both America and Nepal — women "who understood that one minority's downfall is equivalent to the demise of all humanity."
The collection started with the question, "What does it mean to say a woman should 'dress like a woman?'" Gurung's answer: gorgeous, luxurious clothes ranging from overcoats made of thick wool or brightly colored furs, to flowing gowns in silks and velvets. Mixed in with neutrals were electric pops of lemon yellow, emerald green and teal blues. The finale brought three gowns in an abstract camo print made of embroidered floating crystals that, despite their weight, floated down the runway. If that had been all, it would have been another incredible collection from Gurung.
But as the finale started to a cover of "Imagine," the audience learned that wasn't all. Gurung had changed each of his models into graphic tees with empowering slogans: "Our minds, our bodies, our power," "Nevertheless she persisted," "I am an immigrant," and finally, "We will not be silenced." The models took the runway slower than usual, giving the audience time to read each shirt. Smatterings of applause and cheers broke out in waves; by the end, I'm sure I was not the only one who was in tears. 
From so many other designers, this could have felt like a ham-fisted attempt to grab the spotlight. But from Gurung, who has been a passionate advocate for so many issues in his native Nepal and in America, it was a truly heartfelt moment. And he didn't just talk the talk; he walked the walk with his casting, adding plus size models Candice Huffine and Marquita Pring (a first for Gurung!) to his diverse lineup, which also included Joan Smalls, Josephine Skriver, Sara Sampaio and Bella Hadid, who opened the show. 
Between the beautiful clothes, the wonderful casting and the powerful message, by the end, I couldn't help but whoop for Gurung during his finale along with so many other people; I feel comfortable saying it was one of the best shows I have ever seen. It was the perfect way to use the kind of platform given to designers during fashion week. "This is the time to speak our conviction and use our voices to invoke change," Gurung says in his show notes. "This is the upside of the downside." 
See Prabal Gurung's complete Fall 2017 collection: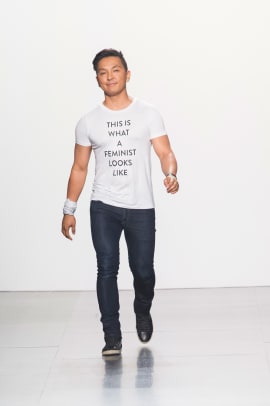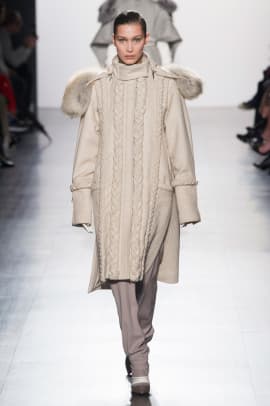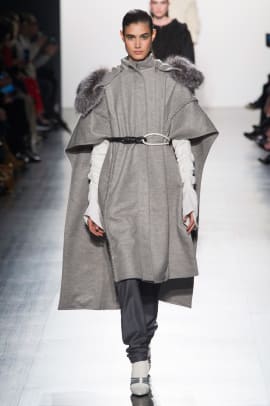 Want the latest fashion industry news first? Sign up for our daily newsletter.