Prada's Fall 2017 Collection Is For Stoner Teens and Future Femme Fatales
See the latest collection from Miuccia Prada, fresh off the runway at Milan Fashion Week.
What would a stoner teen from the '70s wear if she grew up to become a pulp fiction femme fatale? Probably something from Prada's excellent Fall 2017 collection.
Walking into the venue, beds were scattered around benches similar to those you might see curving around a train station; posters and pictures were plastered beside the beds and in larger form across the walls to complete the set. Miuccia Prada has always been inspired by the jolie laide, and this runway was no exception. Brown crochet knit scarves wound around necks, and some looks came complete with knit bikini tops. The pants were oversize, held up with thick, furry belts. That covered the laide; for the jolie, there were beautiful silks and plush knits embellished just about every way possible: feathers, leather fringe, embroidery and beading, for starters. The coats were especially gorgeous, often in a tapestry of fabrics and colors.
The print you will likely see everywhere come fall is a nod to the aforementioned pulp fiction girls, whose faces covered silk dresses, skirts and tops near the middle. And the accessories, always a high point, included pointed-toe pumps with large buttons and over-the-knee flat boots bound to make being a street style star — or just a very stylish woman — just that much easier. Explosions of feathers on sandals and fur-covered mukluk boots added a dose of humor. (Being high is fun, after all.)
See every look from Prada's Fall 2017 collection in the gallery below.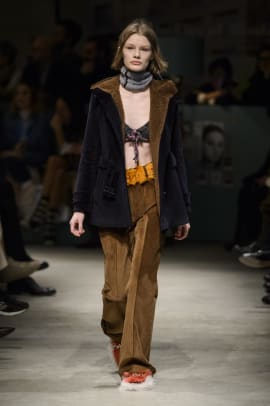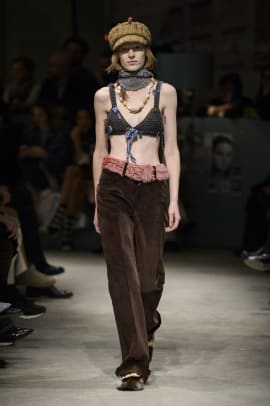 Want more Fashionista? Sign up for our daily newsletter and get us directly in your inbox.