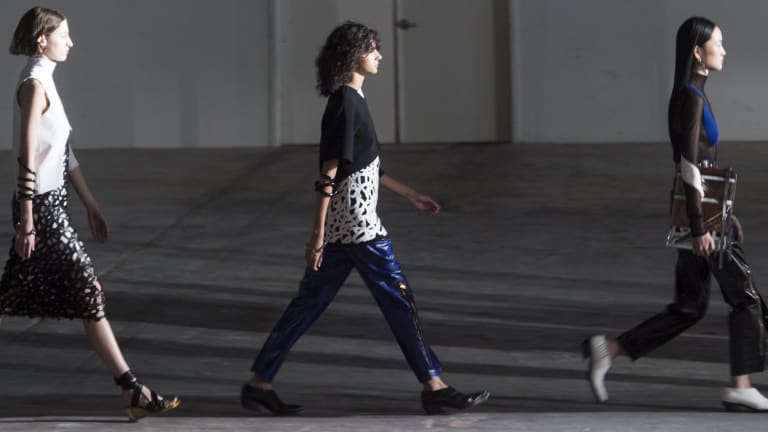 Proenza Schouler Bid Farewell to NYFW With an Awesome New York-Inspired Show
We're now even more bummed the brand is decamping to Paris.
Over the last decade, Proenza Schouler has established its show as one of New York Fashion Week's hottest tickets. Each season, showgoers look forward to the label's artistic, undeniably cool collections and unique choices in venues, which have included both the old and new Whitney museums in the past. This is precisely why it was such a blow to New York-based industry insiders when designers Jack McCollough and Lazaro Hernandez announced that they will be breaking away from the traditional ready-to-wear calendar starting with their spring 2018 collection and, at least for the time being, moving their show to Paris. While it's likely a sound business decision to align with the couture and retail delivery calendars, there's still a looming sense of loss; Proenza rarely fails to present exciting, thoughtful and trendsetting collections, which is something that can't be said about most of the 100+ shows that make up the NYFW schedule.
Perhaps decamping for a season or two will give the designers some new perspective on the city they call home, but for fall 2017, the duo sent out a range that was a clear homage to New York and the downtown women they've long seen as muses. Proenza Schouler typically isn't big on logos, but the oversize, utilitarian outerwear and a selection of handbags were decorated with long, hanging straps emblazoned with the brand's name. Squiggly prints suggested spray paint and graffiti, while photorealistic graphic patches recalled the posters and signs you see plastered on walls all over town. Trousers and wrap dresses were done up in leather — the NYC girl's go-to fabric — or high-shine metallics because, you know, no one ever accused said girls of being shy. 
Brand signatures like slashed dresses, asymmetrical hems, funky layering, body-hugging wrap details, knife-pleated skirts and super-luxe coats lined with shearling were in large supply. The accessories were made for city life, too: handbags were oversize and mixed-material, and pointed-toe flats were paired with most of the looks. The eveningwear had a sporty edge, thanks to mesh paneling, abstract stripes and cutouts; while they might prove to be a little adventurous for some shoppers, we could see any number of the brand's devoted fans — like front-row guests Jemima Kirke, Chloe Sevigny, Lauren Santo Domingo or Alexa Chung — choosing one for a red carpet or art gala.
In case you needed further proof that no one in New York skips the Proenza show, the house was packed with industry bigwigs, from Anna Wintour to Kate Young to new-ish resident Raf Simons, who showed the designers support backstage. We're sure we're not alone in hoping that this was merely a "see you later" note to NYFW, and not a final farewell.
See the full Proenza Schouler fall 2017 collection in the gallery below.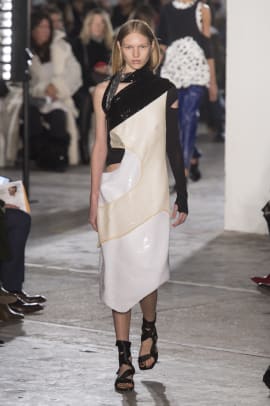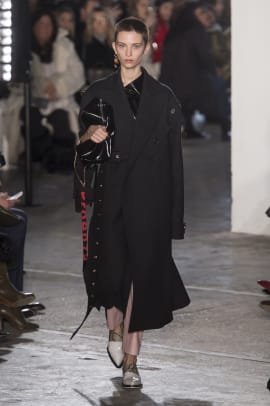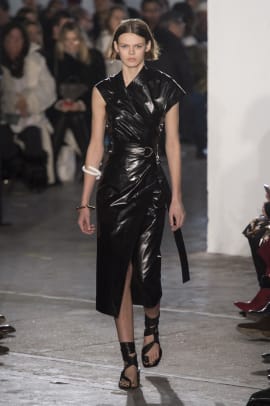 Want the latest fashion industry news first? Sign up for our daily newsletter.