Ralph Lauren's Breezy 'See Now, Buy Now' Spring Show Made Us Itch for Summertime
The brand lined the entire inside of its Madison Avenue flagship in fluffy white orchids.
Ralph Lauren was an early adopter of the "see now, buy now" runway show format. He presented a rugged, American West-inspired Fall 2016 collection last September alongside Tommy Hilfiger's carnival and Rebecca Minkoff's block party and to much success: David Lauren told the audience at Fast Company's 2016 Innovation Festival that the brand was pleased with the collection's instantly shoppable retail results. "What's very important is to stay tuned in and keep trying things, and not everything you do is going to be successful," he said. "The industry has to keep exploring, because every other industry is changing."
This sense of moxie is certainly prevalent within the company's New York Fashion Week model, but the actual product Lauren is delivering hasn't wavered. While Hilfiger, for one, has embraced "see now, buy now" so to include ferris wheels and branded jets, Lauren has kept the brand's cool all across the board. The only thing that's changed, really, is the date consumers can buy the clothes.
Or, at least, this has been the case in Lauren's last two "see now, buy now" seasons, rounding out with a breezy, glamorous Spring 2017 collection shown at Lauren's Madison Avenue flagship on Wednesday. As was the case last season — when the company constructed a greenhouse-like structure adjacent to the front of its store — the set was remarkable: The brand covered the entire inside of its store in fluffy white orchids. ("We brought the outside in," I overheard a staffer telling a showgoer.) Guests sat on soft linen chairs, which were positioned into no more than two rows; there wasn't a bad view in the house. And there was no musical soundtrack prior to the show — just some birds chirping that took you out of your element for a moment.
Lauren's designs were less literal than last season, and markedly more casual. The show opened with a series of whites, creams and beiges; Kendall Jenner, fourth in the lineup, wore white trousers and a sandy blazer with a billowing semi-sheer blouse underneath. This was transitioned into a palette of rich grays and dusty browns, as seen with metallic wide-legged pants and a well-distressed suede jacket on Julia Nobis. A series of all-black looks followed, including black leather catsuit on Taylor Hill and a floaty, cap-sleeved gown on Grace Elizabeth. Then came the gowns, and there was no shortage of viable red carpet contenders. (My favorite of the bunch was an asymmetrical purple caped garment with a slight cut-out in the bodice.) The show closed out with something for unexpected: a floral gown layered with gilded jeans.
There were no gimmicks and certainly no performance by Fergie. Instead, Lauren's second "see now, buy now" outing was just like any other show of his: elegant, easy and transportive. It made us forget about the chaos of the cold, snowy week for 30 minutes and made us itch for sweet summertime, instead. Maybe he's onto something there: Those orchids alone definitely made me want to buy something.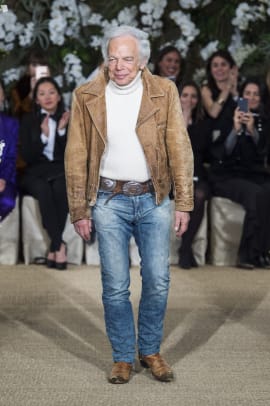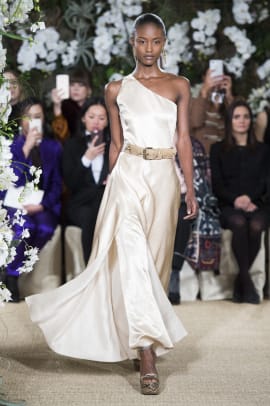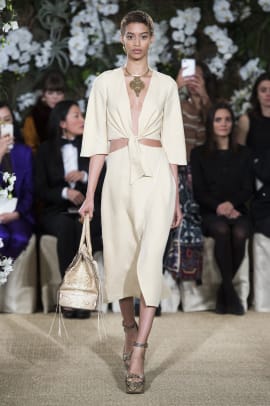 Never miss the latest fashion industry news. Sign up for the Fashionista daily newsletter.