Rebecca Minkoff Went All-In on the Consumer-Facing Concept in Los Angeles
As fashion week trends go, maybe LA is the new "see now buy now."
This time last season, in the preparatory lull preceding New York Fashion Week, industry news surrounded the sudden glut of runway-to-retail fashion shows. Like a virus, brands from low (Topshop, Club Monaco) to high (Burberry, Tom Ford) announced in dizzying quantities that they'd be switching to an in-season model, offering runway styles to customers immediately following the show instead of a number of months down the line.
This season, who's talking about "see now, buy now"? The concept feels almost archaic compared to the new shocker: skipping the "New York" part of NYFW. Both Hood By Air and Rodarte will show in Paris this season, while Los Angeles was the pick for Tommy Hilfiger, Raquel Allegra, Rachel Comey and Rebecca Minkoff.
Minkoff was first up on the calendar, orchestrating an entire day of consumer-facing events at The Grove shopping center on Saturday, Feb. 4, including — of course — a fashion show.
Every event, product launch or campaign the Rebecca Minkoff machine invests in is meticulously programmed with consistent elements: a coterie of the right influencers wearing the right RM product photographed in the right setting, which is rapidly pushed to the moment's most relevant social channels, and made as seamlessly shoppable as the day's technology will allow. #RMGoesGrove was no exception, with a schedule of fan-friendly activations including a morning yoga class, a "fireside chat" on entrepreneurialism, a book signing with Keke Palmer, and a pop-up by Lauren Conrad's ethically sourced e-shop, The Little Market.
Palmer and Conrad were front row for the outdoor runway show, alongside literally countless influencers: Chiara Ferragni, Camila Alves, Jessica Stam and Jessica Szohr, to name a few. When I arrived at my seat, a pair of women were having their photo taken by a man with a hefty DSLR, wearing all black, and so I suspected it was the requisite Getty photographer, getting the FROW shots. I paused for a beat to let them finish the photo before sitting down, but the session was not over. In time, I realized the guy behind the camera was an actual "Instagram husband" in the flesh.
This is entirely normal in LA in a way that it is not in New York, and it's one of the pillars of difference I've noticed transitioning from the East Coast to the West Coast. Capturing one's image isn't embarrassing in LA. Being excited about your outfit isn't embarrassing in LA. No one in LA is "too cool" in the flavor that near everyone in New York is. And, yes, there is blatant vanity at play here, but it's a facet of this uninhibited excitement for clothes and getting dressed that frankly feels celebratory and refreshing. I say "clothes," and not "fashion" here, because, after all, we were just at the mall.
This is an aspect of the Rebecca Minkoff brand I can appreciate: it's never working to be more than it is. It knows its strengths — price point, accessories, influencers, access, its namesake designer as public face — and it plays into them. For the fashion show, that meant casting said influencers as models, opening with blogger Aimee Song, who smiled big as she took the walk down the long runway.
The clothes don't ask the customer to be more "fashion-forward" than she is. These are clothes for girls who like getting dressed — because, you know, not everyone takes delight in putting an outfit together — offering just enough decoration to make the pieces feel special to the shopper, something fun for her to style into her existing wardrobe.
The piece that made the biggest impression on me was a phone case. With removable clips on either side, it was slung crossbody on model/bassist Pyper America Smith (IG follower count: 721k), hanging from an embroidered, guitar-like strap. It struck me as a mix of functional and enabling. It provides access to one's phone that the girls in this audience — and the collective millions who idolize them — could get great use from, as it's one less obstacle from taking the photo, applying the hashtag, posting. This innocuous purse-like phone case ensures the beast of social media marketing stays fed.
Backstage after the show, I saw Pyper rush to a member of the production staff. "Can I get to the bags?" she asked, hovering outside the dressing area. "I had my real phone in there."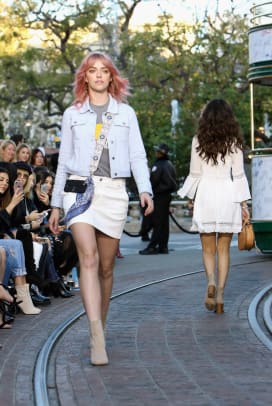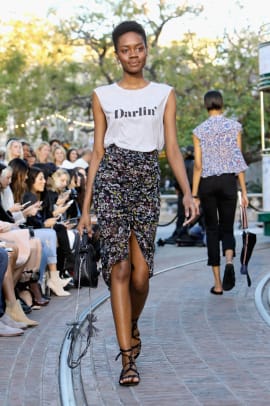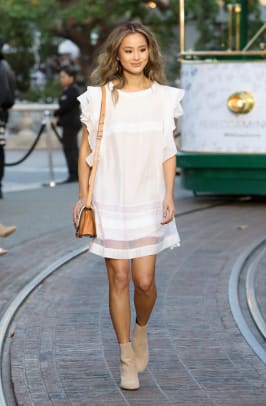 Want the latest fashion industry news first? Sign up for our daily newsletter.