Anthony Vaccarello Went All-In on the '80s for His Second Saint Laurent Collection
The designer sent models through the middle of a construction site in the pouring rain Tuesday night and, somehow, it all worked.
Finally tired of the '70s after way too many seasons of pussy bows and flowing hippie dresses, fashion seems to have officially latched onto the the subsequent decade for 2017; Saint Laurent's Anthony Vaccarello, in particular, is not letting go. Similar to his debut collection for the French house shown last September, Vaccarello said he took inspiration from the label's founder. "I love Monsieur Saint Laurent's subversive approach to clothes, his dark romanticism with a hint of perversity. I wanted this collection to be like a re-reading, a radical fantasy of this heritage." No era screams "dark romanticism with a hint of perversity" louder than the 1980s, and Vaccarello provided endless iterations of this vibe with 106 looks Tuesday night in Paris. 
The collection started out with slouchy patent leather dresses and pants with slouchy boots to match; leather skirts and even gowns with (leather) ruffle details — not for the faint of heart, but there were wearable pieces worked in, too, like jeans, black trousers and cozy knits. The outerwear was particularly covetable leather jackets, suede jackets, shearling jackets and practical wool coats. The eveningwear was what looked most similar to what Saint Laurent himself would have shown in the '80s; and if you liked seeing all that dark velvet on the Oscars red carpet, get ready for lots more, in addition to loud, unabashed sequins. There were also, like last season, several boobs out, and they could all probably tell it was raining. The exaggerated-one-shoulder look was also key for this range. The final look — a long-sleeve, knee-length sequined dress that fit loosely — felt like a cool-girl's take on the Tom Ford aesthetic. Despite its blinginess, it looked downright casual going down the runway.
It didn't hurt that the clothes were shown in the context of one of the coolest runway events I've ever attended, at least in terms of atmosphere — and that was, in part, an accident. It all began with a scenario that is all too common (but not usually talked about) during fashion month: The show before Saint Laurent ran late and I (along with many other editors who are honestly more important than me) rushed to the Saint Laurent venue only to encounter security guards who would not under any circumstances let anyone in because the show had already begun (which was understandable as it was 30 minutes past the scheduled start time). There was pushing! The group of "late" arrivals grew larger and larger, and we proceeded to run (literally) between two entrances until someone was able to convince a guard to let seated guests through to a standing area. (Oh also, it was raining and the venue had no roof because it's literally a construction site — and the future home of the Yves Saint Laurent headquarters, apparently.) 
From where I stood, I got something of a bird's-eye view of the whole thing: The derelict structure in which I thought I saw squatters trying to watch the show until I realized it was backstage; a crane; metal scaffolding; a yellow bulldozer taking a rest from digging out a pit. At night, with bright lights hitting the runway (making all those sequins sparkle even more) and some of the best models in the game unflinchingly stomping through some pretty intense rain and wind that began almost just as the show did, this was a very cool setting. It delivered that Instagrammable "wow" factor without feeling contrived. It also looked appropriate for the collection, too: On a Saturday night in the '80s, you couldn't just call an Uber or pick up an umbrella from Duane Reade or leave your coke dealer hanging when it rained: You had to make your way to the club anyway, even if it resulted in running mascara and Brie Larson Oscar hair.
Browse the full Saint Laurent Fall 2017 collection in the gallery below.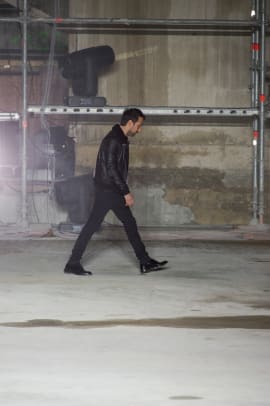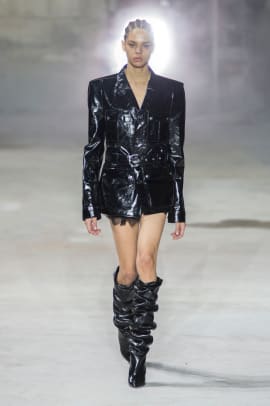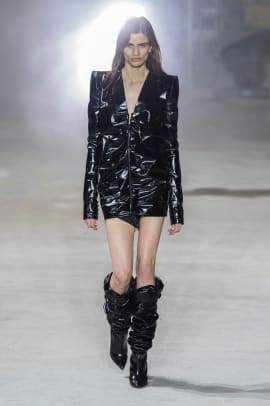 Never miss the latest fashion industry news. Sign up for the Fashionista daily newsletter.
Homepage photo: Pascal Le Segretain/Getty Images