Tommy Hilfiger Outdid Himself With Tommyland in Los Angeles
It is going to be very hard for anyone to top this spectacle.
Short of space and/or time travel, I'm not sure anyone will ever stage a runway show on a larger scale than Tommy Hilfiger's second consecutive consumer-facing, "see now, buy now" Tommy x Gigi spectacle — this time held in Venice Beach, Calif., on Wednesday. (Even if someone did, there's no way it wouldn't be a waste of money.) The thing about this show is that it wasn't just a show — it was essentially a geographical location, called Tommyland, that I half expected to come up as an Uber destination when I made my way there. 
Tommyland is a place where boredom is impossible, because there are eight million things going on at once. The goal seemed to be to erect a miniature Coachella: Our tickets were made to look like backstage or VIP concert passes; we got wristbands when we walked in; the clothes on the runway were very "festival"; there were merch booths, food stands, rides, screen-printing stations, VIP sections, live music (by Fergie, now a fashion show go-to), (decriminalized) marijuana and an overwhelming quantity of young humans. According to the brand, 3,000 people were present — 2,000 of them consumers and 1,000 press, influencers and buyers, approximately. And all told, the most impressive aspect of the event, to me, was that despite the clear potential for an unmitigated clusterfuck, things ran pretty smoothly. KCD deserves some kind of medal for producing a successful event 3,000 miles away from home, for as many human beings, with so many moving parts, collaborations, VIP guests and activations that a pre-event press release literally gave me a headache. The show only started about 35 minutes late — which is typical of the most simple NYFW runway. (Kanye West, take note?)
The front row met all expectations: All of the Hadids who weren't on the runway were present — Anwar (next to rumored girlfriend Nicola Peltz), Yolanda, Mohammed, those other Hadid girls — as well as Kaia and Presley Gerber, Cameron Dallas, Machine Gun Kelly, Sofia Richie, Kris Jenner, Lisa Rinna and her daughters (important if you watch "RHOBH") and, somewhat inexplicably, Lady Gaga.
Like last season, the clothes were the least important thing; seemingly aware of that, Tommy Hilfiger actually released the whole Tommy x Gigi lookbook over two weeks ago. Still, it was fun to watch an assemblage of top models jaunt down the outdoor runway to throwback tunes like Tupac's "California Love." And then to watch said models and celebrities dance and eat Korean tacos on the Tommyland grounds afterward, to be quietly shuttled into the VIP area once the Hadid family and Kristen Stewart had safely made their way in.
Tommyland really did have everything... well, except maybe one thing: originality. The brand definitely borrowed some ideas — "see now, buy now," the destination runway show, the low-brow music festival theme, the branded airplane shuttling models across the country in branded merch — and tried to do them bigger and better. I couldn't stop thinking about how much money this must have cost and whether it was worth it. Most guests cleared out after Fergie's performance (probably to beat traffic) and when I checked out the Tommy x Gigi booth then, most items appeared to be fully stocked in all sizes. A sales associate said only that people were shopping and the accessories were selling particularly well. Online, a few items have sold out but most appear to be available in at least a few sizes. To facilitate the instant shopping, Tommy actually partnered with visual search technology developer, Slyce, to allow people (who downloaded the app) to shop from photos of 3D moving images on the runway. There was also a shoppable livestream.
While the brand may have used others' ideas (and lots of money) to get consumer attention, there was one movement it may have helped pioneer — this season's exodus to Los Angeles. There's no question that at least some of the other designers who staged events here instead of New York this week — including front-row guest Rachel Zoe — felt more confident in doing so because they knew this Tommy Hilfiger blowout would bring at least a few editors and buyers to the West Coast pre-NYFW.
Money is power; the question now is one of ROI.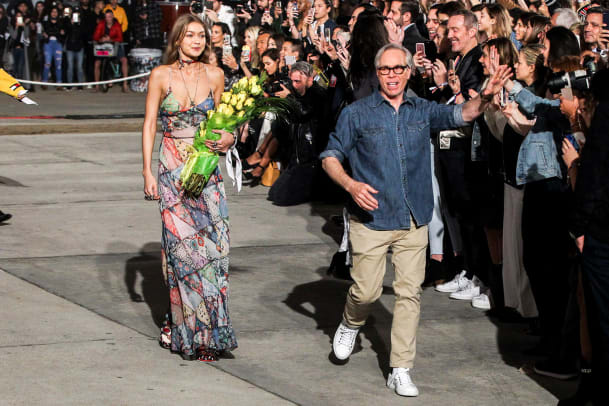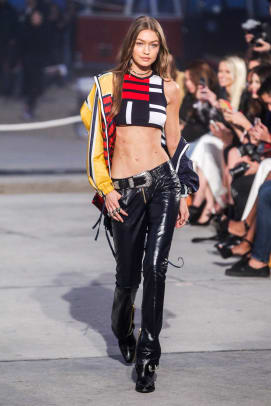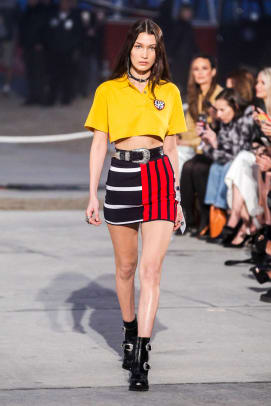 Want the latest fashion industry news first? Sign up for our daily newsletter.