Donatella Versace Envisions a Future of Equality for Her Possible Swan Song
The designer used her Fall 2017 collection to spread a feminist message amid rumors Riccardo Tisci is set to take over the Italian house.
Donatella Versace's Spring 2017 collection was all about celebrating powerful women, and for Fall 2017 she again used her runway as a platform to spread a feminist message — though this one felt more literal and, perhaps, political. Before the show actually began, the livestream featured video interviews with most of the top models who walked the show, which began with several of them stating their nationalities, almost all of which were different. When the runway show did begin, a diverse cast of models stormed the runway to a techno soundtrack with the word "equality" repeated over and over again. The same word could be seen printed on hats, scarves and sewn into several garments, along with "courage," "love," "strength," "unity," "power" and "loyalty." The way in which the words were incorporated into the futuristic, largely streetwear-influenced (but still party-ready) collection was reminiscent of Alexander Wang, but the positive sentiment of female empowerment and inclusivity feels universal (and very welcome).
The show is rumored to be Donatella's last for the house, with Riccardo Tisci believed to be waiting in the wings to take over after having left Givenchy. And the message she aimed to communicate with this collection is very much in line with the vibes Tisci brought to Givenchy. Otherwise, the show didn't stray much from what we've come to expect from Versace: flashy neon accents, body-hugging power dresses, vertiginous heels, statement outerwear, loud prints and sequins, with sporty elements peppered throughout. And, of course, it featured a killer cast — including Behati Prinsloo's first post-baby runway appearance, both Hadids, Kendall Jenner, Adwoa Aboah, Anna Ewers, Imaan Hammam, Stella Maxwell and all those other girls you know. Closing the show, Amber Valletta added a little age diversity to the already-pretty-diverse mix.
In all, if this was Versace's swan song, she's leaving on a positive note, and we can't wait to see what's next for the iconic Italian house.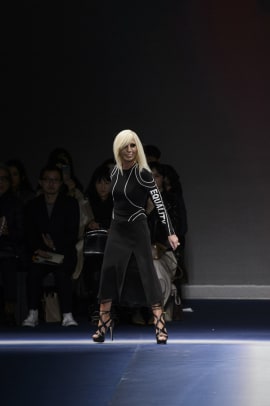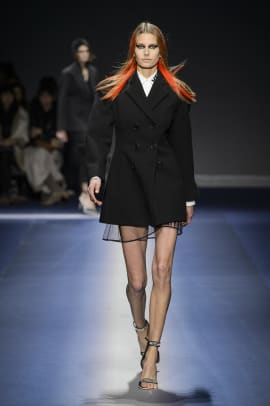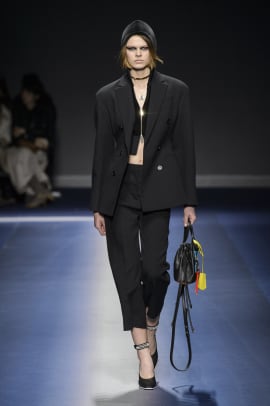 Never miss the latest fashion industry news. Sign up for the Fashionista daily newsletter.