With Yeezy Season 5, Kanye West Presented Better Clothes and a Tamer Fashion Show
After two seasons of fashion spectacles, the rapper-designer finally toned it down.
The fashion world has been frustrated with Kanye West lately. After announcing his Yeezy Season 5 date and time for New York Fashion Week, which initially conflicted with two other designers, CFDA CEO Steven Kolb took a stand against him by refusing to add the Adidas-affiliated brand to the official calendar. In an effort to keep things copacetic, West immediately responded by calling Kolb to personally apologize, ultimately agreeing to push Yeezy's showtime two hours earlier than originally planned.
But industry insiders weren't necessarily quick to forgive West. On Monday, The Cut released a story questioning whether the fashion crowd was "done with" West, bringing up his recent frowned-upon antics: Yeezy Season 4's "multiracial women only" casting call and its hours-long Roosevelt Island debacle, as well as his recent remarks supporting Donald Trump, followed by a surprise visit to Trump Tower in New York. But those editors who opted not to attend Yeezy Season 5 didn't miss much on Wednesday afternoon.
After two seasons of fashion spectacles, including West's album release party-slash-fashion presentation at Madison Square Garden a year ago, the rapper-designer finally toned things down. For starters, West's venue of choice was Pier 59 Studios, a popular fashion week locale. After a brief wait outside among photographers, line-cutters and idling gate-crashers, the show space's vibe was contrastingly calm, mainly because we were inside a pitch-black room with single spotlights on the four sections of seats. The music was equally subtle, but haunting, like something you'd expect inside of an empty (spooky) church.
Unlike last season, when showgoers waited upwards of two hours, the venue's lights went dark less than 30 minutes after the 3 p.m. scheduled start time — standard for New York Fashion Week. (WWD reported that Kylie Jenner and Tyga ended up arriving late.) Instead of live models, Yeezy Season 5 was presented on large floor-to-ceiling screens, giving everyone an in-your-face look of each outfit while The-Dream's demo of J. Holiday's "Bed" played on loop in the background. According to The Cut, Vanessa Beecroft fortunately did not collaborate with West this season. The show wrapped with a traditional live runway finale, featuring Yeezy regulars Luka Sabbat and Amina Blue, as well as IMG's first Hijabi model Halim Aden.
As for the clothes, they were actually wearable. (Read: Not new or original, but certainly a more practical and thought-out compared to past collections.) Perhaps this aesthetic upgrade was the result of more influence by Adidas, which announced plans to expand the Yeezy brand with new stores and its own design team. The million-dollar success of West's "Pablo" merch and pop-ups could have also inspired West to stick with a theme, and in this case, it was Calabasas. The name (and zip code) of the California neighborhood, where West and company reside, adorned the backs of oversize (hard emphasis on "oversize") pullovers, zip-ups, parkas and Adidas track pants and jackets.
The entire collection — camo-print, washed denim, dad hats, hoodies and all — was decidedly low-key and familiar. Most of these items are probably already in your closet, or at your local thrift store, but the fact that it's Ye-approved makes it much more appealing. Therein lies the allure of merch. After all, Kylie Jenner fans wear Kylie Jenner merch to buy even more Kylie Jenner stuff.
At the end of the presentation, West did not make an appearance. "Bed" stopped playing, the venue lights suddenly went up and Kim Kardashian West waved to the audience before making her way backstage, quickly followed by Anna Wintour. As mentioned earlier, those who claim to be "over" West didn't miss much at all — it was quite possibly one of the tamest fashion shows this week. If West keeps up this good behavior, he just might be forgiven by the editors who sat this one out, by the time Yeezy Season 6 rolls around.
See the entire Yeezy Season 5 collection in the gallery below.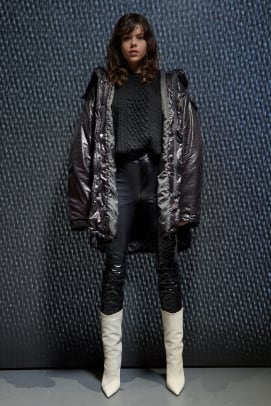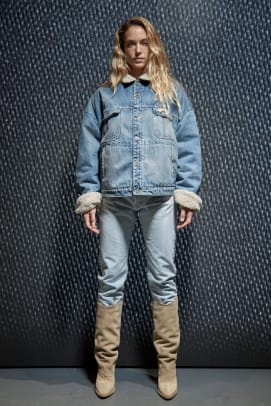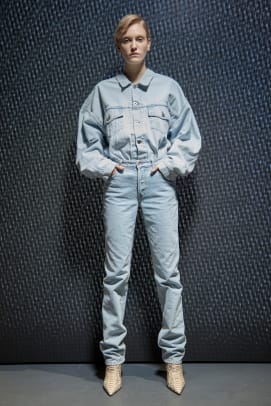 Want more Fashionista? Sign up for our daily newsletter and get us directly in your inbox.
Homepage image: Kanye West with Michele Lam at MOCA. Photo: Rachel Murray/Getty Images