Alistair James, From Alexander McQueen Alums, Is the Next British Label to Watch
Get to know one of London's most exciting new brands.
Between Burberry's "see now, buy now" blow-out, Ashish's politically inspired glitter explosion and Beyonce-approved label Halpern's runway debut, there were plenty of exciting things to see at London Fashion Week this past February. But the most electrifying work wasn't on the runways at all; instead it was tucked away upstairs at the British Fashion Council's main show venue, 180 Strand, strung along two small racks. There was the deep lipstick red floral print with pale blue eyes hidden among the petals, the sheer white dress with "It's Me, Cathy," delicately embroidered across the front, the charcoal gray tweed set with oversize black velvet bows.
These clothes are the brainchild of designers and partners Nicholas Alistair Walsh and David James Wise, who together run the label Alistair James. The duo met while working at Alexander McQueen, where Wise worked in textile design and Walsh interned with the special clients in the couture department learning pattern cutting and hand techniques. They quickly discovered they liked working with each other as much as they liked being around one another.
"I always respected David's taste and his eye for detail and he helped me on my graduate project for university; we actually ended up winning best collection," Walsh says. 
"It was really fun," Wise adds. "We always have fun when we're bouncing ideas off each other."
It seems almost inconceivable considering the level of skill and talent, but Fall 2017 — inspired by the Brontë sisters and brand muse Kate Bush's "Wuthering Heights" — is only their second full-fledged collection. Walsh ultimately left McQueen to work at Gareth Pugh, during which time he and Wise decided to experiment with a small, six-piece capsule collection, initially conceived for a photo shoot. That caught the attention of the BFC, which referred them to their current PR and encouraged them to give Alistair James a real go. 
"We were working in a similar field anyway, we were both working at the same house, we always bounced ideas of what we'd really like to do together," says Wise. "After a couple of years we were like, let's just try and make it a career to see if we like it."
They then put together a 20-piece collection for Spring 2017, inspired by Wendy of Peter Pan. When designing together, the labor divides pretty naturally between the two: Wise comes up with the textile design and sketches the collection, which Walsh turns into patterns. "We have quite a different skill set, so it's quite nice to have that responsibility to ourselves," Wise says. They then work together on details like finishing and colors to get the finished piece where they want it. A critical cornerstone of Alistair James is championing British craft as much as possible. Most of their fabrics are sourced from England — through a lucky coincidence, that gray tweed was woven in Haworth, where the Brontë sisters were born — and they do their printing and embroidery in England as well.
"Obviously there's limitations to that, going down the line, to how much can be done," Wise admits, referring to quantity. "It's definitely always at the forefront of our minds to try and get as much of it made in England as possible"
If it isn't immediately clear, Alistair James envisions clothing for a woman looking to inhabit a character or to capture a bit of magic. "I think, the girl herself, she's bewitching, she has a bit of mystery about her," Walsh explains. "She's looking for something that she can escape with; we thought that you have to completely envelope yourself in a character when you wear our clothes — even if it just makes you feel a little bit like an evil queen." As one might imagine, this is the kind of aesthetic that would lend itself well to the kind of theatrical presentations McQueen himself was known for. Alistair James says a full runway is in the foreseeable future, hopefully for Spring 2018. "I think that would really push us forward, to get that kind of narrative," Wise says. 
Until then,  Wise and Walsh are going to continue working to get Alistair James on more women — whether that's through expanding their retail presence (it's currently sold at London's The Shop at Bluebird) or doing more custom work. And, luckily, they really love doing it together. "If we worked at different companies, we would never see each other, and we would never see our families," Wise explains. "So our studio is in our home; now we can see our families, we can still work all the hours we want, but we're doing it together — and we're not killing each other."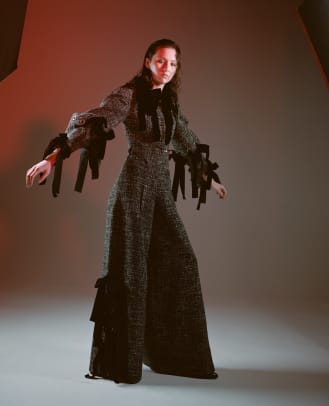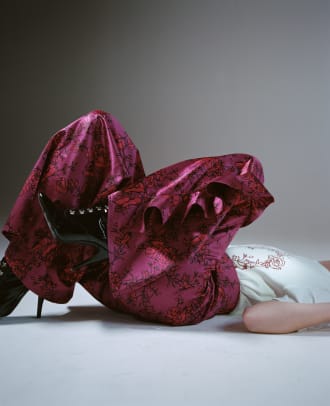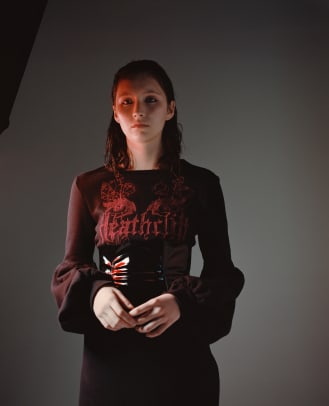 Want the latest fashion industry news first? Sign up for our daily newsletter.