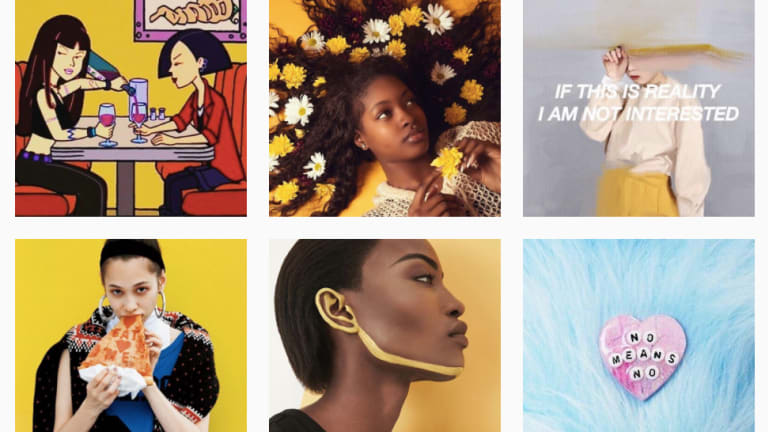 Subversive New Beauty Blog Beauty Dummy Wants to Be Your Best Friend
"If you have skin and hair on your body, you're who we're looking for."
When asked what's been missing from the beauty conversation, Kathryn Margaret Rose and Hannah Faulkner, the duo behind a new beauty blog called Beauty Dummy, don't mince their words. "Humor and inclusivity," says Rose; as a comedian, she would know. "Also, there's too much advertising and not enough honesty," adds Faulkner, who works full-time as a hairstylist in Manhattan. Longtime friends who grew up together in North Carolina and then moved to New York City together in 2012, the pair grew frustrated by what they saw as narrow, uptight, self-important beauty content on the internet — so they decided to do something about it by launching their own site, which officially went live on Monday morning.
"The idea for Beauty Dummy came when we realized, even with thousands of magazines, beauty sites and blogs, we couldn't find one we felt represented us, and the different voices, body types, racial and gender identities that make up our social group," says Rose. "We wanted to create a place for folks who don't fit the mold of the typical 'It' girl, and aren't trying to." With that in mind, Beauty Dummy seeks to cater to a diverse audience and to approach the concept of beauty with an open mind. "Not everyone who loves makeup is a straight, white, rich, thin woman, and we think there should be room for everyone. After all, breaking barriers and trying new things is what drew us to beauty in the first place," she says.
As is clear from the Instagram feed they launched just over a month ago to tease the site's launch, Rose and Faulkner have a clear vision and aesthetic for the site. Cheerful, witty and inclusive, the brand they're cultivating has a freshness the industry could benefit from right now. "The site will be a mix of photo shoots, tutorials, videos and reviews, [and will] feature a diverse group of innovators and up-and-comers from New York and beyond," says Rose. "With Hannah's expertise and my comedy background, the voice will not only be informative, but fun, casual and cool. Think hanging out with your best friend — to put it in 'Mean Girls' terms: If most beauty blogs are The Plastics, we want to be Janis and Damian."
Fashionista caught up with the pair ahead of Beauty Dummy's launch to discuss finding inspiration from "Clarissa Explains It All," the importance of seeing diversity as more than just a box to check and why this cultural moment seems like the perfect time to be launching a chill beauty blog. 
Tell me about yourselves and how you started working together.
Hannah: I've always been very into makeup and playing with my appearance. I went to beauty school right after high school as a way to make money and ended up falling in love with it. It kind of came naturally to me since I'm a visual artist. Cutting hair is like making a sculpture.
Kathryn: Hannah and I met in our hometown of Raleigh, North Carolina. We had mutual friends and I was a bit of a chameleon — never wanted to have the same look for long. She started coloring my hair in the bathtub of her apartment, and we've been close ever since. This was almost 10 years ago.
H: Part of what I really enjoy about this industry is educating people and giving them information they wouldn't have access to without a gateway. The beauty realm as it is now is somewhat secretive, putting the stylist on a pedestal. I prefer to share ideas with people on a more personal level. That's just always been my style.
Why did you decide to start Beauty Dummy?
K: I studied film and writing in college and after graduation was just looking for a way to express my overflowing opinions on... everything. That's when I started blogging and doing comedy. Hannah and I both moved to New York in 2012, and after taking multiple unpaid internships, I was desperate for money. Since Hannah was working as a hairdresser, she got me a job in management at a salon. I found it fascinating.
H: Working together, we were constantly talking about beauty and hair, and then we'd get dressed up and go party.
K: We noticed the way people talk about beauty on the internet is so different than the way we talk about it in real life.
What's your vision for Beauty Dummy, and who do you hope will read it?
H: Our main goal with Beauty Dummy is to be inclusive and accessible. As a hairdresser, I've always found it weird that our industry has so many "secrets" that the average person doesn't know. We speak in an entirely different language, and it shouldn't have to be that way.
K: As a comedian and all-around goofball, I find myself looking at beauty blogs like, "Why so serious?" Beauty for me is all about play. It's about feeling good with your friends and experimenting with a fearlessness you have around the people who know you the best. We want our readers to feel that comfortable with us.
H: We're not really trying to appeal to any specific type of person. Maybe it's a huge task, but we want to be the kind of beauty blog that can appeal to everyone. If you have skin and hair on your body, you're who we're looking for.
K: We're hoping our readers will end up looking like our group of friends: diverse in race, cultural background, sexualities, gender identities and hair and body types, and open-minded. We may be two more white women in the beauty blogosphere, but that's not what our world looks like.
How did you come up with the name and aesthetic for the site?
K: We really wanted to come up with a name that represented our playful approach to beauty. Also, I don't know nearly as much about beauty as Hannah does. I kind of just fuck around until I get it right. You could say I'm the "dummy."
H: I don't know about that. You were pretty handy at cutting your hair with safety scissors when I first met you. There's also the pun of a "dummy" being a test subject or a mannequin.
K: Except we're like... really loud. In terms of aesthetics, we're still obsessed with Tumblr even though it's an Instagram world these days. We've found a lot of inspiration there.
H: Part of why we chose our colors and aesthetic is that it's calm and relaxing, but still bold and not overly "feminine." It's reflective of our personal styles.
K: Girlie, streamlined, but not afraid to take up space. A lot of awesome brands are playing with minimalism and femininity in a cool way right now, design-wise.
Were there any other brands you were inspired by when you were thinking about the design?
K: Media sites like Nylon and Broadly. Less is more. It's modern and strong. Also, our font colors are very "Clarissa Explains It All," who's one of our main style icons.
H: Her and Sailor Moon. '90s television in general.
How do you plan to seek out and curate the people, brands and trends you'll be featuring?
H: We're starting with our friends and the influencers we know and love. There are so many people in the community that inspire us, and so many products we already believe in. That to us is the perfect place to start.
K: Our goal is to feature not just beauty professionals but comedians, club kids, artists, poets... anyone breaking barriers and presenting themselves in a confident, inspiring way.
H: The brands we feature have to reflect our philosophy, too. We won't arbitrarily collaborate or promote anything.
What made you want to take a more subversive approach to beauty blogging?
K: I mean, look at the majority of beauty blogs out there. Even in 2017, almost all of them are run by and cater to white, straight, cis, wealthy women. At best, that's boring. And at worst, it's exclusive and offensive.
H: We've just seen a lot of the same thing for a long time, and it's obviously not working for everyone. Why does it have to be a rarity to see trans folks or people of color in the mainstream beauty conversation? It's time for the beauty industry to be more accessible. We want to be part of that movement.
Why was now the right moment for you to launch Beauty Dummy? Was there something about this time in history or just the cultural moment we're experiencing that made you decide to make this happen?
K: You can't deny that safe, inclusive spaces are harder to come by these days with our current government situation. [The Trump administration has potential to] cause harm to women, people of color, the LGBTQ community, immigrants and generally everyone we think makes America amazing.
H: That said, we weren't seeing equal rights or representation even before the election. We've been talking about starting a blog for years, and we finally put Beauty Dummy into action because we were tired of the same old shit.
Why is it so important to you that diversity and inclusivity are present throughout the content you'll be creating?
K: For us, diversity isn't just a box to check to keep up with the times. This is what our community looks like. 
H: And it's funny, the industry behind the scenes has always been home to a diverse group of professionals. 
K: It's the marketing that's homogenous. As readers and creators, we wanted more inclusive, inspiring content.
Can you tell me about the basic logistics of what went into the launch and how you plan to operate going forward? Do you plan to approach advertising partners?
K: We really cared about this idea so we didn't want to just throw up a Wordpress and slap together some JPEGs and call it a day. We're pretty detail-obsessed, so it was important to us to build a bit of content before we announced ourselves to the world.

H: In terms of balance, we're best friends so we already spend a lot of time together outside of our day jobs. I think the key has been merging our social time and work time into one and just making it happen.
K: We do both work full-time, so sometimes we've just got to stay up late. But when you love doing something, it doesn't feel miserable. If we end up making money from this someday, that would be great. But that's not the objective right now. We don't want to compromise our vision with too many promos. It would have to be the right fit.
Anything else you want future Beauty Dummy readers to know?
K: Part of Beauty Dummy's mission is to never be snobby. We believe beauty is a form of self-care, not a standard to be achieved.
H: What's great about beauty is that it's not always as perfect as it's portrayed. It can be messy and fucked up in real life. It's an adventure.
K: We just want people to have fun with us!
Homepage photo: @beautydummy/Instagram
Sign up for our daily newsletter and get the latest industry news in your inbox every day.