How Artist and Model Arpana Rayamajhi Landed Gigs With Victoria's Secret and L'Oréal
Being a jewelry designer without training and a model without an agent hasn't slowed her down.
Arpana Rayamajhi has the kind of resume that would make any fashion-loving multi-hyphenate envious. As a jewelry designer, she's been commissioned to make pieces for the Victoria's Secret Fashion Show and landed editorial placement in international editions of Vogue; as a model, she's represented beauty and fashion brands like L'Oréal and Urban Outfitters; as a style icon, she's attracted the attention of Man Repeller, The Cut and V Magazine — not to mention a little publication called Fashionista, where she was scouted for her street style back in 2013.
But what's perhaps most amazing is that Rayamajhi has made all of the above happen without help from a team of agents and PR professionals. She still personally hand-makes every piece of jewelry in her line — including each of the elaborate pieces worn on the Victoria's Secret runway — and all of her modeling gigs have come about organically, usually through people finding her on Instagram.
So, how did the former art student from Kathmandu, Nepal become such a sensation in New York? She attributes her success to a balance between hard work and lucky timing.
"I'm really fortunate," she says. "I do my part, but there's a lot of things life just offers you. I've learned to accept them."
Having grown up in Nepal, Rayamajhi got her start in New York as a student at Cooper Union, where she studied painting and sculpture. But the heady mix of art history and academic criticism she encountered in class made her hungry to return to the things that had drawn her to art in the first place — namely, that it was "fun and it felt good." Shortly thereafter, she began making her own earrings and necklaces. Besides providing her with a way to source beautiful pieces for her own outfits, jewelry-making satisfied Rayamajhi's instinct toward creative work without all the ideological baggage of traditional fine art.
That unique starting point has continued to inform how Rayamajhi designs, and it's clear that the 29-year-old still thinks of herself more in art terms than fashion ones. Her concept-driven pieces incorporate unusual materials like synthetic neon hair from wigs and pencil erasers, in addition to beads she sources from her travels around the world. Each piece is one of a kind, and Rayamajhi sometimes displays them in gallery settings as one would a collection of paintings. One of her best customers has even told her that they purchased an intricate Rayamajhi piece for the express purpose of hanging it on the wall rather than wearing it.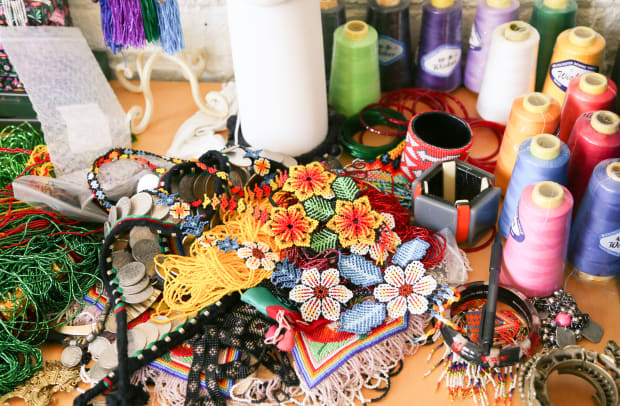 "Jewelry and studio art-making are obviously different disciplines in some ways, but for me they collide. I'm somewhere in between art and design," says Rayamajhi.
She's also somewhere between being a maker and a muse. While Rayamajhi didn't set out to be a model and claims she doesn't have the "physicality for modeling" — she's a very petite 5'4" — her appearance has been a boon for her jewelry business. While she often got stopped on the street when she first moved to New York in 2008 to ask whether she was represented by a modeling agency, it wasn't until she lost her mother to cancer and graduated from Cooper Union at age 27 that she really considered modeling.
"I began understanding that I don't know how long I have to live, I don't know what's going to happen with my life," she says. "I thought, 'I might as well do as much as I can to share my work with people.' That's when I started putting myself out there on social media. Initially, it was just to show my work."
While the response to her jewelry was enthusiastic online, Rayamajhi also found that the response to pictures of herself were just as positive. As her colorful personal style and striking features continued to rack up likes, Rayamajhi found herself getting invited to model for a variety of projects.
Never one to waste an opportunity to promote her design work, Rayamajhi brought some of her jewelry to her first editorial shoot, which was with London-based 10 Magazine. While she didn't have an elaborate business plan or a manager helping her to promote herself, that simple action turned out to be one of the most strategic decisions she could've made. The magazine's founder Sophia Neophitou-Apostolou also happens to be the the creative director of the Victoria's Secret Fashion Show. When she saw Rayamajhi's designs, she immediately asked her to consider making pieces for the show.
"The next day, I was in the Victoria's Secret office signing contracts," says Rayamajhi.
The pieces she designed for the lingerie giant ended up being worn by Kendall Jenner and Adriana Lima as part of the show's "The Road Ahead" segment, and helped Rayamajhi attract attention that led to numerous interviews and even a coveted spot on The New York Times' "30 Under 30" list. And while big modeling gigs like the L'Oréal campaign she appeared in alongside the likes of Hari Nef and Blake Lively can't be directly traced to her involvement at Victoria's Secret, the extra exposure certainly didn't hurt.
While Rayamajhi has come to enjoy modeling, she's perhaps most excited by the way her jewelry has taken off. Having lost a parent while still young has made her hesitant to get too attached to longterm plans — "I don't even know if I'll be alive in five years," she claims — but she does hope to eventually hire others to work on the brand with her, maybe even employing specialized artisans from around the world.
"I'd love to someday collaborate on jewelry for brands like Gucci, Hussein Chalayan or Alexander McQueen," she says.
Still, the fact that she still sees herself first and foremost as an artist means she's open to exploring other mediums, too. Expressing her strong opinions on everything from cultural appropriation ("we should focus on systematic oppression by addressing the issue as exactly that, not by creating a symptomatic problem like cultural appropriation") to animal rights ("human beings are not the center of this planet; we share this planet with animals and we are totally destroying it") is important to Rayamajhi and will undoubtedly show up in whatever kind of work she makes in the long run.
"I'm just trying to work with jewelry right now and see where that takes me," she says. If her recent history is any indication, we're betting it will take her far.
Sign up for our daily newsletter and get the latest industry news in your inbox every day.