Balenciaga Expands Upon Demna Gvasalia's Brand Signatures and Eveningwear for Fall
These are not everyday or red carpet looks for the faint of heart.
Demna Gvasalia took creative lead at Balenciaga just over one year ago, but the designer (and Vetements co-founder) has already injected plenty of his subversive, countercultural and clever perspective into the storied couture house. From off-kilter outerwear that's often massively oversize, asymmetrical or structural to retro daywear that borders on tacky (like neon stocking boots and smock dresses in floral prints with clashing colors), showgoers have some idea of what they can expect each season when it comes to new brand signatures. For Fall 2017, Gvasalia expanded upon what has proven successful for him on this front and ventured further into eveningwear — specifically, the couture silhouettes for which the label is known — albeit with his own twist.
Much like the house's fall menswear collection, Sunday's show in Paris had a corporate slant, focusing much on the idea of what's "office appropriate" — silk blouses, pencil skirts, plaid overcoats and large leather tote bags, for example. But since this is Balenciaga we're talking about, nothing was taken at face value, and the conventions of these classic staples were flipped on their heads: There were futuristic, high-waisted skirts that resembled rubber car mats; carabiners filled with keys fashioned into necklaces; trousers with stripes up the sides like track pants; cuff bracelets that recalled fine china; and leather belts that could double as car safety restraints, hinting that Gvasalia had a bit of a transportation fetish this season. (Further proof? The carpet that doubled as the runway was striped with the Balenciaga logo.)
While Gvasalia has presented takes on formalwear in seasons past, Fall 2017 was his most ambitious outing yet, and he looked to the Balenciaga archives — filled with balloon- and cocoon-like shapes, major volume, Spanish-inspired ruffles and more — for a finale heavy with evening gowns. From a classic black number adorned with a giant bow to a halter-style white look done up head-to-toe in feathers, these are not pieces for the faint of heart. They are, however, perfectly on-brand for the too-cool designer who is singlehandedly driving many of the industry's biggest trends, and we're interested to see if his impact will trickle onto the red carpet in the year ahead.  
See every look from the Balenciaga Fall 2017 collection in the gallery below.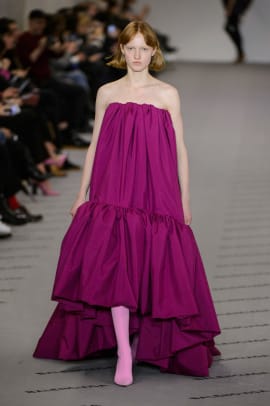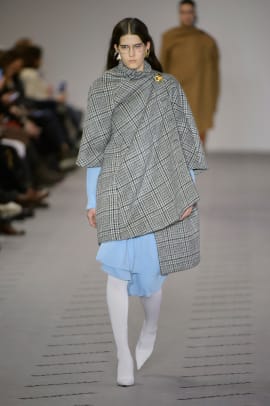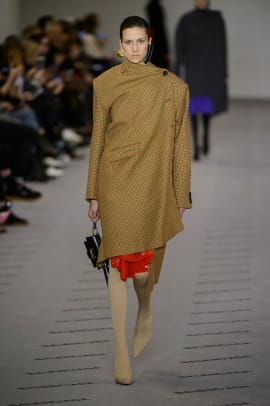 Never miss the latest fashion industry news. Sign up for the Fashionista daily newsletter.