Balmain Does '80s Metal Groupies With a Tribal Slant for Fall 2017
Welcome to the jungle?
Have you heard? The '80s are way back — and we're not just talking strong shoulders, power suiting and sexy, sparkly club wear. On Thursday afternoon in Paris, Olivier Rousteing clearly looked to the hair metal days of early in the decade, when he sent a whopping 80 looks down the runway to classics like "Rock You Like A Hurricane," "Rock the Night" and "Holy Diver," leading us to envision his Balmain Army banging their heads inside a sweaty, trashy Los Angeles nightclub. (However, the soundtrack also included '90s Nirvana and '70s Aerosmith, which was a bit of a referential head-scratcher.) Rousteing is not one to be subtle, so he threw a whole new layer of inspiration into the mix: A heavy-handed tribal motif pervaded the collection — from croc and python skins, to fringing and beading, to tiger stripes and wolf graphics — and it was perhaps the most literal interpretation of "Welcome to the Jungle" we could imagine.
There was a lot going on here, and while much of the collection was cohesive, it could have benefitted from a pretty large edit. One blanket descriptor for the looks would be expensive: exotic animal skins were fashioned into cutout dresses, thigh-high boots, belts and jackets; outerwear was luxe and oversize with blanket fringe and shearling; eveningwear was maximally embellished with grommets, gold chains, studs and embroideries in the shape of wild animals; and several of the finale looks were done up in head-to-toe leather, with Sasha Luss and Kendall Jenner appearing to be wearing at least one full crocodile a piece. 
As for what will trickle down into the mainstream (aka the millions who follow both Balmain and its creative director on Instagram, and/or various members of the Kardashian/Jenner/West family), the ironically '80s wolf T-shirts — not dissimilar to the ones "Napoleon Dynamite" made famous — are likely to become A Thing again. Just remember, you have Rousteing to thank for that.
See the full Balmain Fall 2017 collection in the gallery below.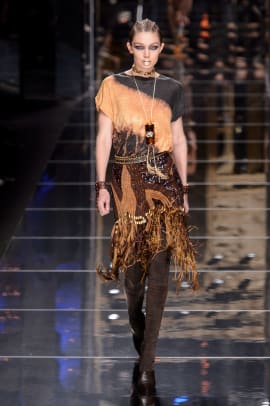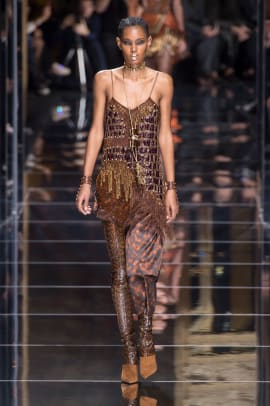 Want more Fashionista? Sign up for our daily newsletter and get us directly in your inbox.