The Instagirl Presence Is Strong at Moscow Fashion Week, Too
Russian designer Bella Potemkina knows the power of social media.
Well before the start of Bella Potemkina's Fall 2017 runway show, cameras were flashing and selfies were in full swing throughout Moscow's Manege, the official venue for Mercedes-Benz Fashion Week Russia. On Monday evening, Potemkina's collection was one of the more anticipated events of the week, so digital proof of one's attendance was key. (Pics or it never happened, right?)
"Social media is very important for me because new media is, right now, on point," says Potemkina, the Russian dancer-turned-designer, while backstage. "The glossy era is a cool image, but it can't influence anybody. Social media is the first one." For many fashion shows, from New York to Paris and also Los Angeles, casting Instagirls can certainly — instantly — pay off online in terms of expanding brand awareness. And although Potemkina has been applying this practice to her celebrity-driven namesake brand for a few years now, Fall 2017 was her most ambitious showcase yet. Her collection, which was inspired by these very Instamodels, says Potemkina, mixed streetwear with elegance. Not only was she looking to Russia's own Instagirls to fuel her designs, Potemkina notes Rihanna and Kim Kardashian (naturally) as influences as well.
Opening the show was Russian actress and singer Nastasya Samburskaya in a black-and-white minidress and thigh-high sequined, glittery boots. Her runway walk drew an applause among the audience, as did the appearances of actress-slash-model Natalia Rudova, who wore a sequined party dress with a full-length faux fur coat in hot pink, model Anatasia Reshetova in a glossy black puffer coat and two-piece, as well as pop singer Hanna dressed in a white hooded faux fur coat and a patent leather bra top with matching shorts and lace-up, thigh-high boots. The latter look could easily mix with the wardrobe of any Hollywood "It" girl, like Hailey Baldwin, Sofia Richie and Kylie Jenner.
"These girls are Insta-influencers," says Potemkina, who, with her Kardashian-like features and eye-catching pink hair, is a highly followed socialite in her own right. "I was inspired by their sporty-chic style, outstanding profiles and outstanding points of views."
Masha Minogarova, a blogger and finalist from the first season of Russia's "Top Model," debuted two distinct outfits for the Bella Potemkina brand, including a club-ready look with a blunt bob wig and an evening gown in pink and white that closed the runway show. After the finale, the five Instagirls remained on the catwalk for plenty of photo opps. Backstage, nearly every audience member with celebrity status took pictures with Potemkina, while offering her bouquets of flowers and roses, a congratulatory custom at Fashion Week in Russia. 
It's interesting to note that before Potemkina's runway show, the designer played a lengthy video highlighting her team and the craftsmanship that goes into her designs. According to Potemkina, she presents these videos every season. "It is important for me to be grateful to my team," says Potemkina. "My brand is not just a name, but it's also extremely hard work." And while the gesture was surely thoughtful, it became only a sliver of a memory after her runway spectacle, as well as a stark contrast to the clothes and dance-worthy show music. (The video was backed with the type of music you'd likely hear during a heartfelt infomercial. I almost expected Sarah McLachlan to show up.)
As Mercedes-Benz Fashion Week Russia continues, Potemkina's influencer strategy is still in full effect. Bloggers Kristen (@voguediary) and Maryana Ro, both of whom were both spotted front row, wore the designer's looks straight off the runway to attend Tuesday's lineup of shows, which served as prime street style material. (Ro also took over the Bella Potemkina Instagram account on Monday, posting ahead of the runway show.) Models immediately posted their own photos on Instagram, too, along with similar captions that promoted the clothes hitting stores soon. "All things are about to go on sale in @boutique_bellapotemkina," wrote Minogarova. "'See now, buy now,' as they say, so do not miss it!"
See Bella Potemkina's Fall 2017 collection in the gallery below.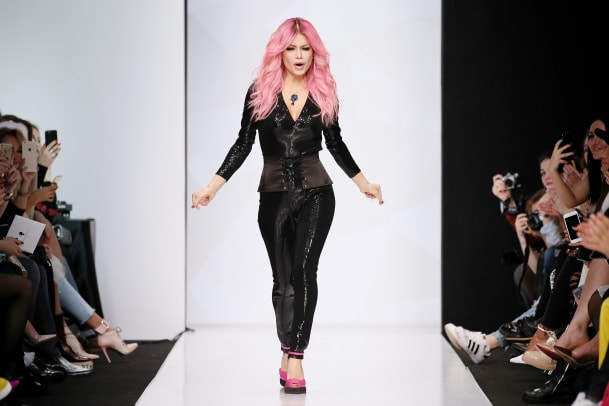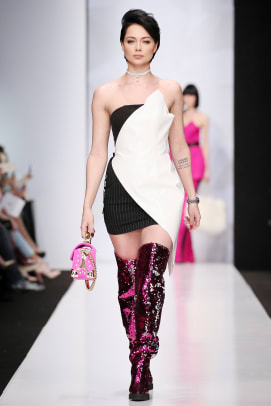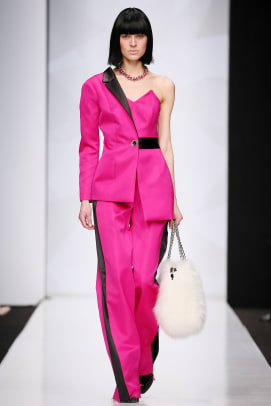 Disclosure: Mercedes-Benz Fashion Week Russia paid for my travel and accommodations to attend and cover the event.
Want more Fashionista? Sign up for our daily newsletter and get us directly in your inbox.