Celebrities Wore Their Finest — What Else? — Chanel to Chanel's Fall 2017 Show
And some (ahem, Cara Delevingne) paired theirs with Supreme.
There was a lot going on at Chanel's Fall 2017 show in Paris on Tuesday morning; the very fact that a literal rocket launch occurred in the middle of it should be proof enough of that. And the celebrity turnout as just as impressive as the event's over-the-top space theme, from those helmet-y hairstyles to the glitter-and-metallic-laced collection. Chanel's front row is always packed full of A-listers and industry icons, and this season was no exception: Attendees included Pharrell, Lily-Rose Depp, Jasmine Sanders, Sofia Coppola, Amandla Stenberg, Lottie Moss and a bleach-blonde Lily Allen. 
Speaking of bleach-blonde, Cara Delevingne and her new platinum hair also made an appearance. What's more — because she's Cara Delevingne and that means she can — she paired her Chanel with Supreme. The brand's signature thick red logo waistband peeked out from Delevingne's slouchy white pants. Her look also included a Chanel-logo choker (so she got both brands in!), a cropped button-down cardigan and round sunglasses.
Click through the gallery below to see the celebrity-packed front row from Chanel's latest runway show.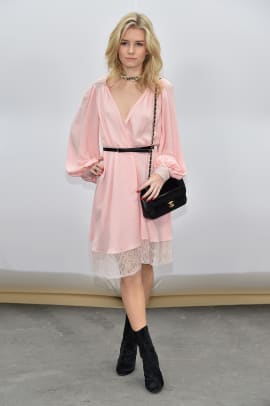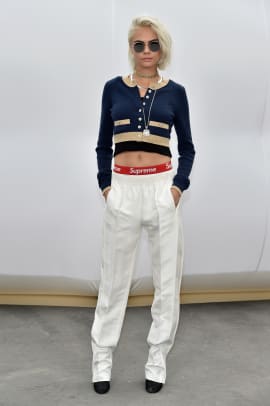 Sign up for our daily newsletter and get the latest industry news in your inbox every day.