Chanel Literally Launched a Spacecraft in the Middle of Its Fall 2017 Show
If you thought Chanel Airlines was a lot, Karl Lagerfeld just outdid himself — again.
Chanel's Fall 2017 show invitation featured an image of a Chanel-branded (and, OK, slightly phallic) spacecraft, so we arrived at the Grand Palais Tuesday morning expecting some sort of outer-space theme and maybe a fake rocket somewhere. We did not expect said fake rocket to actually function, but more on that later.
Models traversed a white, maze-like runway path that wove around the rocket "launch site," various light-transmitting apparatuses and a round, white structure that perhaps was meant to look like the moon? As far as the clothing, the space-suit inspiration was there, but subtle, seen more in the color and structure of the clothes — all of which were classic Chanel — than the style. Some necklines were reminiscent of that of a space suit before the helmet goes on, for instance, and white and metallic silver were used heavily. There was a definite, almost "Jetsons"-like '60s mod vibe, though some looks felt more akin to the way certain aspects of '60s fashion came back around in the '80s — fashion's favorite decade this season — seen in the shift dresses, Jackie O-esque suiting, bold beauty look and footwear. 
Speaking of which, the piece we'll be seeing in all the street style photos and print editorials come fall is the go-go-esque, knee-high, cap-toe glitter boots. Glitter wasn't only used on the footwear: Thick, sparkly headbands held back the Texas-level teased hair (I swear I could smell the hairspray from my seat) and sparkles featured prominently on jewelry, tights and were woven into many garments themselves.
Once models (including all the big names) and a solo Hudson Kroenig had completed their hike (on the moon?), the music started to get really fast and intense, as if we were meant to be in suspense about something that was going to happen and, honestly, I was concerned, because what was going to happen??? We were inside the Grand Palais! Smoke had been coming out from the top of the "rocket" since much earlier, and it was beginning to billow from the bottom as models encircled the "launch pad" and Karl Lagerfeld took his bow alongside Kroenig. What appeared to be flames became visual from below the shuttle, as they do when a real shuttle launches. "Who does Chanel even know that can build spacecrafts," I wondered, questioning the safety of the whole situation. Then, the music stopped and a very serious-sounding countdown began and the tall, metal "service structure" reclined as the ship actually took off into space.
Just kidding, all that happened was the bottom part of it ascended to the top and then came back down, but it was really, really cool and only a little scary. As Elton John's "Rocket Man" began to play, the fashion finale began and models walked through clouds of smoke to rapturous applause.
I mean, was this the spectacle to end all spectacles? It made Chanel Airlines look like an intimate presentation, and was definitely one of those moments that makes physically attending a fashion show worth it; and, like every Chanel show, left us wondering: what the hell could Lagerfeld possibly do to top this? Maybe fly us all to the moon and stage a runway show there? Honestly, after this, I wouldn't put it past him.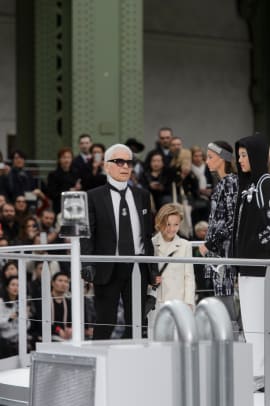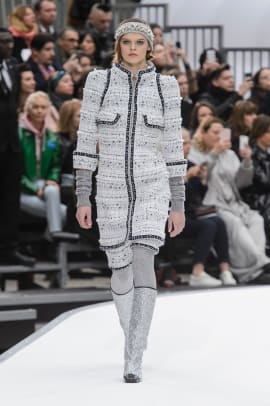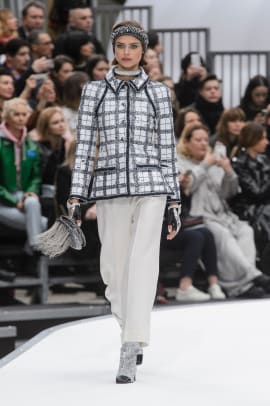 Want the latest fashion industry news first? Sign up for our daily newsletter.
Homepage photo: Pascal Le Segretain/Getty Images