Ahead of Her Costume Institute Exhibit, Comme des Garçons' Rei Kawakubo Challenges Our Idea of Fashion
It's no wonder the Metropolitan Museum of Art chose her.
At every Comme des Garçons show — especially over the past five years — the point has never been the clothes themselves or about trends, but rather, each show posed a question about what fashion is, or what, exactly, clothes can be.

Without a doubt, one can call multiple giant bubble cylinders wrapped around a flared, knee-length dress "clothes" since it is worn on a model, but there wasn't much commercial viability to see at the nightclub Elysee Montmartre. Rei Kawakubo asked her audience to fundamentally look at, and perhaps re-see, the very basics of fashion itself — the forms and silhouettes and the materials, especially familiar fabrics like wool, cotton, silk and leather.

The models walked slowly around a light pink runway, at times barely avoiding collisions, as if to suggest that if we slow down the pace of fashion just a bit, we might be able to understand the basics a little better. Prime examples included an off-white plaster shell of a oddly shaped sheath dress and a sleeveless frock with exaggerated and unevenly placed chest and hip curvatures made of a seemingly solid filling materials for construction. On the models' feet were white Nike Flyknits customized with either a black bow at the front or as black booties. These limited-edition items will undoubtedly cause a multiple-blocks wait line at Dover Street Market come fall.

As we've seen at many of the shows so far in Paris, designers across the board — from big brands to out-of-the-gate startups — have been playing it safe. Paris should be the capital of innovative fashion; instead, in recent years Paris has become much more commercial and thus less of a place where avant-garde ideas or unconventional notions may gain footing and traction.

It is because of the primacy she places on challenging fashion that the Metropolitan Museum's Costume Institute devotes this year's exhibition to Comme des Garçons, the second time the museum has done so with a working designer, opening this May. The audience sat and applauded at the end of the show for over five minutes knowing full well that Kawakubo would never come out to take a bow. The ideas on display have always been more important than the show itself, or the person behind it.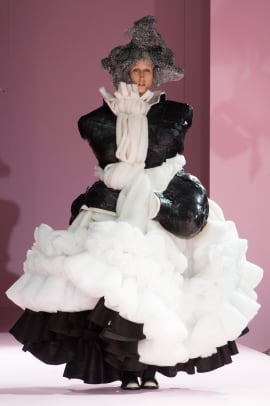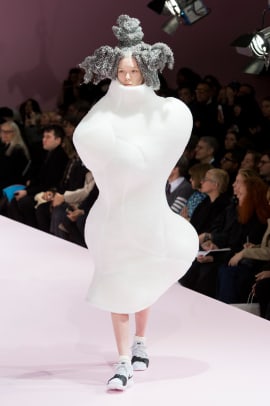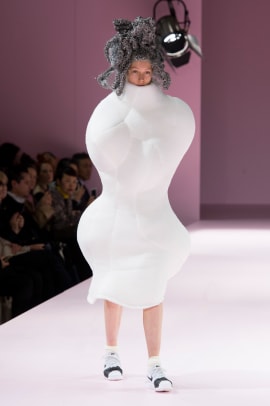 Never miss the latest fashion industry news. Sign up for the Fashionista daily newsletter.