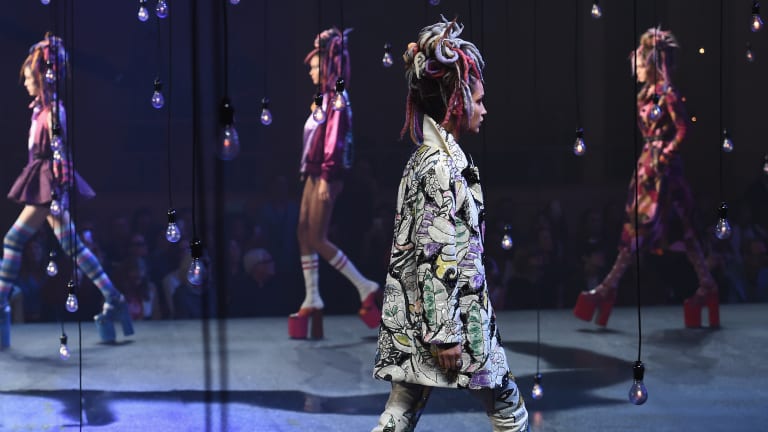 What Responsibility Do Models Have When Faced With Cultural Appropriation on the Job?
From runway shows to magazine editorials, hired models are often put in a tricky spot — or kept in the dark until it's too late.
For a business that is theoretically predicated on the talents of forward-thinking creatives, the fashion industry sure does spend a lot of time apologizing for cultural insensitivity. It's so common for a designer to do something like, for example, style the hair of white models in Bantu knots or cornrows — or both, if they're especially ambitious in their shortsightedness — that a clear, well-tread PR strategy for dealing with the ensuing online backlash has emerged: Appropriate someone else's culture, intentionally or not, issue an apology via social media to "anyone who may have been offended," rinse and repeat.
That is part of the reason why Vogue's silence relating to their latest misstep — a notably egregious spread in the March 2017 "Diversity Issue" that features acknowledged Caucasian supermodel Karlie Kloss in yellowface as a Japanese geisha — feels particularly deafening. As of press time, Vogue has not issued any public statement about the photo shoot, even as the reaction to the story spread around the internet, eventually taking up bandwidth on sites not known for their interest in cultural issues pertaining to marginalized demographics, including Breitbart News. (A rep for Vogue did not respond to our request for comment; we didn't ask anyone at Breitbart.)
Kloss, however, did release her own statement via her personal Twitter account the day after photos from the story appeared online. "These images appropriate a culture that is not my own, and I am truly sorry for participating in a shoot that was not culturally sensitive," she wrote, adding that she will ensure her "future shoots and projects reflect" her mission to "empower and inspire women." Kloss, a champion of many other social causes, has issued an apology surrounding cultural appropriation before, when she appeared in the 2012 Victoria's Secret Fashion Show dressed in suede lingerie and a Native American-inspired headdress. In that instance, Victoria's Secret also apologized.
Kloss's mea culpa about the Vogue spread — and the magazine's zipped lips — brings to light an interesting question about the responsibility of models who are faced with acting out the questionable vision of a designer or an editor. Successful models, once seen as little more than silent, beautiful, malleable human hangers, now often leverage their own points of view, spread via social media, to build their careers. In an ecosystem that frequently measures success in terms of likes and page views, a model with a strong Instagram following has tremendous value to brands and magazines alike.
The reciprocal benefit, aside from payment, is that the models also have the glossy, high-end fodder needed to keep their own personal content machines churning. This makes it tempting to view their participation in runway shows and photo shoots as a quid pro quo collaboration. Unfortunately, that is typically not an accurate assessment of how the unbalanced system works.
Sara Ziff, the Columbia-educated model and founder of The Model Alliance, a nonprofit advocacy group that protects fashion talent, says models are often excluded from any preliminary conversations about fashion shows or photo shoots. "You're put in a position where you often have little information going in," she says. "It's not like being on a film set, where you're given a script, and you know what to expect. There are a lot of instances where models are put on the spot and only see what they're participating in after the fact."
Despite the illusion of models having greater control over their own image, the process for booking talent is generally a negotiation between agent and client, without the model. "Everything is mediated by the agency," Ziff says, including inquiries about the content and themes of photo shoots. "It's really on the agency, if they're a good agent, to ask those questions."
To that end, April Chin, an agent with Wilhelmina's Men's Direct board, says she and her colleagues regularly request mood boards before agreeing to send any of their models out for jobs. "We have no problems asking questions," she says. "It's almost common sense. We don't want to set anyone up for disaster." (IMG, the agency that represents Kloss, declined to comment for this article.)
Both Ziff and Chin agree that Kloss's industry clout gives her more power on set than a new face. "She would likely know more going into a shoot, and her agent would be in a better position to make demands of the client," Ziff notes. Still, she maintains that the system is set up in such a way that even high-profile models aren't treated as equal creative partners. "It's really difficult even for established models to speak out or make demands and feel like they're a truly active participant in the process," she says.
If a model were to arrive on set or at a runway show and feel uncomfortable, contacting their agent is the most obvious course of action for them to take. "They would tell us immediately," Chin says. "We would probably then call or email a producer on set — whoever was arranging it — and we would state, 'This was not discussed. Something needs to change.' We definitely would be an advocate to voice that opinion right then and there."
Ziff agrees that contacting the agent is the best recourse for a model in that position. "That person should be your first line of defense," she says. However, she notes that the prospect of future work looms heavy over intervention. "So often, the agency is more interested in maintaining a good relationship with the client; they are not willing to stick their neck out or express any kind of concern or dissatisfaction with what's happening on set," she adds. "That dynamic between the model, the agency and the client is very telling, because it shows that even though an agency is supposed to be representing a model's best interests, often that's not the case."
In that scenario, a model would be left without an ally or an advocate to tell them their comfort is worth forfeiting a paycheck — a portion of which goes directly into their agent's account.
Whether Kloss knew in advance that she'd be photographed wearing a kimono-like robe while carrying a basket of cherry blossoms remains a mystery. It will be interesting to see if she is able to live up to her pledge to take a more active role in the themes of the photo shoots in which she participates in order to avoid having her likeness associated with culturally insensitive content moving forward. Unfortunately, that's a stance very few other models are positioned to take as well as she is.
"When it happens to a high-profile model like Karlie, it makes headlines," Ziff says. "But this happens to people all the time."
Homepage photo: Dimitrios Kambouris/Getty Images
Want more Fashionista? Sign up for our daily newsletter and get us directly in your inbox.