Delilah Hamlin (Lisa Rinna's Daughter) Is Signing With IMG
We caught up with the budding model, who says she's working with "Vogue" and planning a move to New York.
Fashionista was among the first to predict that Gigi Hadid was poised to make her mark in the modeling world after tidbits of her career beginnings were documented on "The Real Housewives of Beverly Hills," on which her mother (and former model) Yolanda Hadid starred for several seasons. And next in line to complete the "RHOBH" offspring-model career trajectory is no doubt Delilah Hamlin, in spite of any Munchausen-related pot stirring that may have caused a rift between her mother, Lisa Rinna and Hadid's. (Rinna and Hamlin actually denied there being any bad vibes between the two young models on a recent episode of "Watch What Happens Live.")
On the show's most recent season, we saw Hamlin and Rinna fly to New York for Tommy Hilfiger's first Tommy x Gigi runway blowout; we also saw them meet with CR Fashion Book, one of the first publications to feature Hadid in its pages, interestingly enough. Since then, she and her sister Amelia both walked in Dolce & Gabbana's fall 2017 #DGMillennial runway show, and thus, the whole family attended Thursday night's #DGMillennial party at the brand's Rodeo Drive store in Beverly Hills, where Hamlin revealed to Fashionista the next crucial advancement in her modeling career: she's in the process of signing with big-time agency IMG. Yes, the same agency both Hadids are signed to. (A rep for IMG has not responded to our request for further comment. She was previously signed with Elite.)
With a respectable 255K Instagram followers and an undeniably model-like physicality, the 18-year-old beauty may truly be the next Instagirl to watch. Read on for our chat about being a #DGMillennial, her modeling career goals, what she's working on with Vogue and her plans to go to college — most likely in New York.
The Dolce & Gabbana show in Milan looked insane — was it fun to do?
It was so much fun because we all stayed in the same hotel and I knew so many of the people, so we all just hung out all the time and it was probably my first show where I knew the majority of the people.
That probably makes it more comfortable?
The show itself was really fun because I just love the clothing. It was amazing when I just walked into this room and all the shoes and bags lined up. I was, like, trying not to have a heart attack. It was so nice, just a really fun show, really fun music, Austin Mahone was singing.
How is your career going otherwise? I know you walked in a Tommy Hilfiger show which was major.
Tommy, Sherri Hill and then Dolce. I don't even know if I'm allowed to say this yet but I'm signing with IMG right now. IMG is the future.
Congratulations! That's perfect. What do you hope to accomplish next in your modeling career?
Obviously the cover of Vogue or something Vogue. I'm actually working with Vogue right now in different aspects, but the cover would be amazing. Victoria's Secret. I think the Chanel fashion shows are so cool, the sets are so amazing. CR Fashion Book.
Are you working on anything right now that you can tell us about? Editorials? Ad campaigns?
I don't know if I can say but maybe.... Exciting things.
Are you planning to stay in L.A. or move to New York eventually?
I might go to college in New York. I got into a few schools in New York. I'm thinking about that, but definitely still model and still go to school. I also sing, so it's a lot.
Do you know what you want to study?
I don't know where I'm gonna go yet but I want to study psychology... or business or fashion. I like fashion and I'm into the fashion industry and I might want to do my own line, so I think that would be cool.
Since this event is all about millennials, what does being a Millennial mean to you?
I think it's cool being in a time when new trends are starting and a new era is being generated, so I think that's really cool to be in the midst of it; I think fashion's really cool right now so it's just all really exciting to me. 
See more Millennials in the gallery below.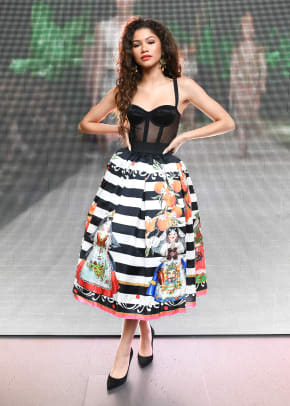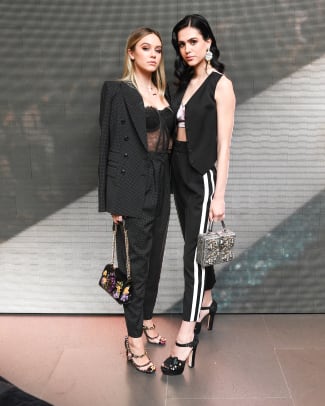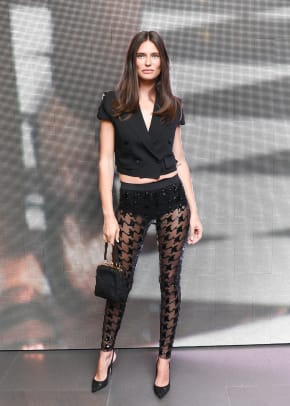 This interview has been edited for clarity.
Want the latest fashion industry news first? Sign up for our daily newsletter.