Maria Grazia Chiuri Presented a Much, Much Moodier Collection for Dior This Fall
The house's artistic director worked almost exclusively in inky shades of navy.
What struck us most immediately about Dior's Spring 2017 collection — Maria Grazia Chiuri's debut — was how deliberately it had positioned itself for a more millennial-friendly customer. Working primarily in airy whites, creams and grays, Chiuri's first range for Dior went so far as to incorporate graphic tees and near-literal sportswear opposite the floaty evening gowns she so masterfully creates. Now, for fall, Chiuri appears to have taken on a bit of a pivot, trading in the previous season's color palette alongside those more on-trend motifs that are reflective of fashion's current case of logomania.
Instead, Dior's Fall 2017 show, held in Paris on Friday afternoon, was darker, moodier and less overtly commercial. Gone were the "J'adior"-branded bralettes and briefs in favor of more wearable (and, interestingly, office-appropriate) garb: ankle-length maxi skirts and billowing pleated trousers played with plaids, knits and a whole series of denim looks. (It seems, this season, that Canadian tuxedos were about as "hip" as Chiuri was willing to go.) Blue must have been on Chiuri's mind: Nearly every look featured some use of an inky, robust navy, which popped on the lighter blue runway. In that regard, Vogue noted that Chiuri drew inspiration from Monsieur Christian Dior, who wrote in "The Little Dictionary of Fashion": "Among all colors, navy blue is the only one which can ever compete with black." It's a nod to Monsieur Dior, albeit a subtle one; this season, Chiuri must have put a heightened priority on Dior's legacy and, more literally, decades-old house codes. 
See every look from Dior's Fall 2017 collection, just in from Paris, in the gallery below.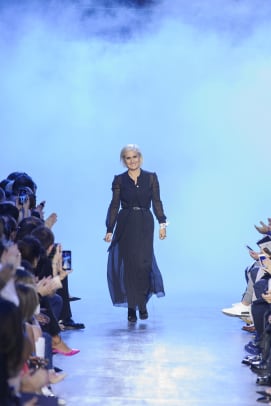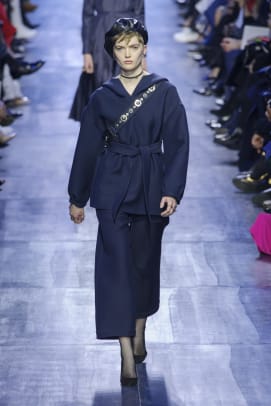 Never miss the latest fashion industry news. Sign up for the Fashionista daily newsletter.