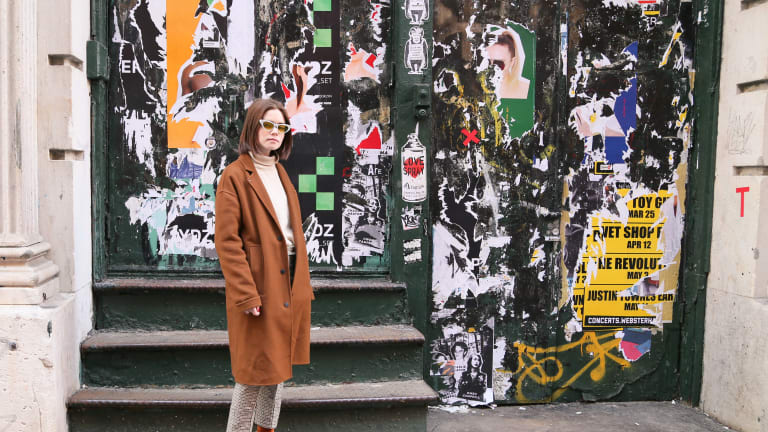 How I Shop: Reese Blutstein, Also Known As @double3xposure
The Atlanta-based, 20-year-old style star shares her love of thrifting, her favorite small brands and planning outfits for her Instagram account.
We all buy clothes, but no two people shop the same. It can be a social experience, and a deeply personal one; at times, it can be impulsive and entertaining, at others, purpose-driven, a chore. Where do you shop? When do you shop? How do you decide what you need, how much to spend, and what's "you"? These are some of the questions we're putting to prominent figures in the fashion industry with our column, "How I Shop."
If you haven't heard of Reese Blutstein, chances are you've seen her signature blunt bob and killer outfits on Instagram. The 20-year-old student and blogger has been attracting a massive following under her handle @double3xposure, which currently totals a fan base of 103K. Mainly known for her understated style and penchant for mixing thrifted goods with small-brand names, Blutstein's ensembles are coveted but attainable, which is just one reason why we're so obsessed with her. (We even named her one of the 18 fashion influencers to watch in 2017.)
We hopped on the phone with Blutstein, who's based in Atlanta, to learn more about her love of thrifting, her favorite labels at the moment and planning outfits for her Instagram account. (And then, while she was visiting New York City, we took a stroll with her in Soho for this fun shoot.)
"In middle school, my mom gave me $30 to shop for something and I went to Neiman Marcus to buy a little bottle of gold Coco Chanel nail polish. My mom was like, 'Are you sure you want to spend $30 on this?' and I was very sure. That's one shopping memory that I remember the most. 
My shopping habits now involve a lot of thrifting, which started during high school mostly because I didn't have any money but I wanted different clothes to wear to school. I love going to Goodwill and we have antique shops, like Highland Row Antiques, that have really cool clothes but are more expensive. We have this giant warehouse, called Last Chance; it's huge and kind of overwhelming. Whenever I go, I always have something in mind because it's really hard if you don't. I go into thrift stores and I try to look at everything. If you skim over stuff, you'll miss something good. 
I feel like I don't shop that much online, but when I do, I like Need Supply and ASOS. I don't buy that many things, either. I try to buy things that I know I can wear multiple ways. Let's say it's a pair of pants, I'll make sure I can dress it five different ways. I don't like how on Instagram, you wear it one time only, or I can only wear it one way. If you really like something and can style it a couple different ways, then I feel like you should buy it. 
I follow so many people on Instagram. I think that's where most people get inspiration. I always look at @alwaysjudging. She's amazing; her photos kill me every time I look at them. @lifeofboheme, Marta, is really really cool, and @alyssainthecity is adorable.
I find a lot of small brands on Instagram, definitely. I'll see someone like something, and then I'll see that person in something and it goes down the list from there. I'll have companies I've never heard of email me and if I like it then I'm like, 'Oh wow, I'm so glad I know about them.' LOQ shoes approached me when I had a small following. Every single shoe that comes out, I'm obsessed. Other brands that I'm really into right now are Jesse Kamm — her sailor pants, I love them; Paloma Wool, Collina Strada, Nanushka from Budapest and shoes from Grey Matters.
I guess my closet is more jam-packed now, but I feel like I don't have that many clothes compared to a lot of people. It definitely has grown since I have people send me stuff. One week I'll get a few, maybe three packages, and some weeks I'll get seven. But I'm not going to wear something that I kind of like or because I'm getting it for free. I have to genuinely like it. You've already worked on a trust with your followers. If you're posting things for an ad or just because you were given it for free, then no one can trust you. 
My personal style is never the same. Some days I dress more girlie and some days I dress more masculine. But I guess I always wear the same types of clothes, like wide-leg pants, so I guess that's a style I always have. But I constantly change what I wear because I don't want to stick to one thing and have that be my style because then you can't really branch out. I'm trying to work a button-down lately. I like to wear it in different ways but wearing it normally is what I always have a hard time with. For things I can't pull off I try really hard so that I actually can wear it.
On Instagram, I do not plan my outfit posts out at all. On Tuesday and Thursday I go to school for most of the day, then I wait for my boyfriend, who takes my pictures, to be done with work. There are certain places in Atlanta that I like to take pictures and during the week, we have really bad traffic, so I try to plan outfits and take a picture really quickly. 
I probably take about 40 pictures at a time. I just constantly move and keep taking them. I usually like the in-between photos of me moving. Then I post on Instagram within the hour. I do it every single day and it's usually what I wore or what I came up with right then. It's very not planned out!
I definitely think about how clothes will appear in photos when I go shopping. You can pose a certain way to always make something look good on the camera, but you want it to actually look good in real life, too. 
I'm mostly drawn to patterns, textures or colors people are wearing than certain pieces, if that makes sense. It's not really like, 'I like that shirt.' But I do want some Céline shoes. They're ballerina flats with a thick heel. They've been around for a while and I've always wanted them, but I can't afford it so it's always on my radar. Anything Céline really is always on my radar."
This interview has been edited and condensed.
Want more Fashionista? Sign up for our daily newsletter and get us directly in your inbox.