Dries Van Noten Casts Iconic Models For an Epic 100th Runway Show
The designer showed an amazing assortment of clothes that every woman (and several men) surely wanted to rip off the models' bodies.
Last season, Paris Fashion Week saw the debuts of two female designers at two of the biggest houses that show here, and while that female perspective and influence was more than welcome in an industry largely overseen by men, that's not to say there aren't a few men who really know how to dress and appeal to women. There are few better examples than longtime industry favorite Dries Van Noten, who gave his many fans a major treat for his 100th runway show Wednesday afternoon.
First, each guest received, in addition to a front-row seat, a substantial booklet with their name written on it featuring a selection of Van Noten's favorite prints from throughout his career — an item that felt way more special than a press release and that I honestly might keep forever (or until it no longer brings me joy, per Konmari). For the show, the Belgian designer revisited all of these prints in a collection that felt a bit like a retrospective, but also was just a really amazing assortment of clothes that every woman (and several men) surely wanted to rip off the models' bodies. But what got attendees even more excited and jolted out of their day-two jetlag stupor was the models. The designer cast a slew of iconic faces whom he'd employed at one time or another between now and 1993. That included Nadja Auermann (who seemed to inspire the most glee), Amber Valletta, Guinevere van Seenus, Alek Wek, Carolyn Murphy, Liya Kebede, Trish Goff, Cecilia Chancellor, Erin O'Connor and many more.
In addition to a range of beautiful prints, the collection included several generously cut, classic coats and jackets, laid-back suiting and trousers, cozy knits, straight-cut denim, colorful, luxurious fur stoles and truly lust-worthy footwear.
Despite the throwback intentions, the collection felt fresh and modern; perhaps that owed in large part to the cast, made up of a range of races and ages and "looks." It felt like real women, wearing clothes they would wear in real life. And despite having a stripped-back set and no Instabait elements or front-row millennials, it was one of the most epic, exciting shows I've seen in a while
See Dries Van Noten's fall 2017 collection below.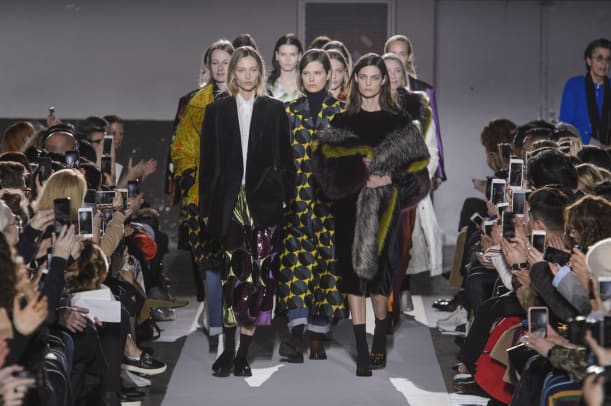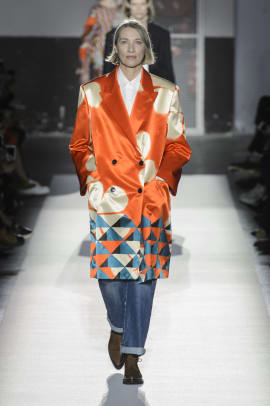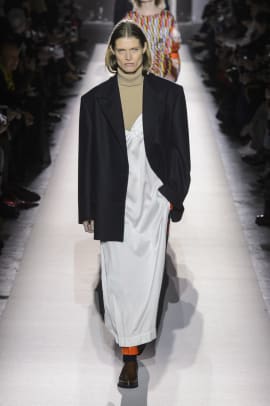 Want the latest fashion industry news first? Sign up for our daily newsletter.