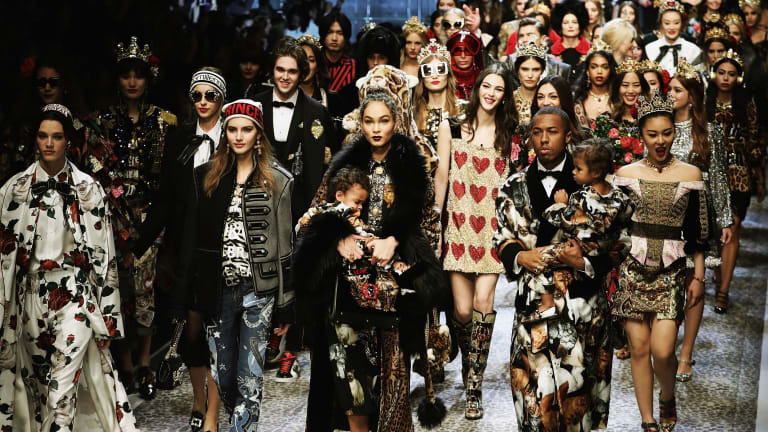 Did Brands' Fashion Month 'Instabait' Strategies Actually Work?
A few of the industry's most blatant plays for millennial engagement may have backfired this season.
We're a full week out from the conclusion of Fall 2017 fashion month, and while we're still exhausted from the late nights, the travel, the trend tracking and the never-ending stream of content that the shows provide, we've finally been able to take a step back and get some perspective on the season as a whole. Aside from the improvements in runway diversity — and some shocking revelations about the treatment of models in Paris — the biggest stories of the month surrounded shows that made a splash on the "Instabait" front, thanks to brands' awesome venue choices, calculated model castings, supersize sets and more. Frequently, these theatrical elements both detract from the clothing and cost fashion houses a lot of money. But does the investment pay off? Not always.  
According to new data from Instagram that's tied to the Fall 2017 season in New York, London, Paris and Milan, a few of the industry's most blatant plays for millennial engagement on the platform may have backfired. Dolce & Gabbana is perhaps the best example: The Italian house, known for its maximalist, opulent collections each season and lavish annual Alta Moda trips, did not crack the list of Instagram's top five shows that got the most play in Milan (Gucci, Moschino and Fendi nabbed the top three slots, respectively). D&G went out of its way to target millennial shoppers for fall, going so far as to include Justin Bieber T-shirts on the runway. The cast was a Who's Who of celebrity offspring and social media stars, including Sofia Richie, Lucky Blue Smith (who walked hand-in-hand with his pregnant girlfriend, Stormi Bree), "Real Housewives of Beverly Hills" star Delilah Belle Hamlin and blogger Aimee Song, and Austin Mahone performed live. Despite the fact that the show was essentially a sentient Instagram feed, it failed to get people really talking. Perhaps the official #DGRinascimento was too difficult to spell?
A pair of social media-friendly shows failed to make Instagram's list of shows in Paris — Balmain, Dior, Chanel, Haider Ackermann and Off-White were the top five — although each one seemed to have all of the elements required for success. H&M Studio, which opted for a "see now, buy now" collection for the first time, not only featured a surprise performance by The Weeknd, but Bella Hadid walked the runway hand-in-hand with her sister Gigi while it happened. As the Victoria's Secret Fashion Show proved in November, that's internet gold; but as they say, lightening never strikes twice. The Fenty Puma by Rihanna show, which was streamed on Facebook Live, was conspicuously absent as well, despite the designer's 50.7 million followers, a cheeky detention-themed collection set in a library and an Instagirl-heavy cast of models.
This is not to say that some brands' extravagant displays weren't successful: New York Fashion Week's most egregious play for social media attention came from Philipp Plein, who managed to top Instagram's list of shows for the week. (Plein was followed by Michael Kors, Ralph Lauren, Calvin Klein and Jeremy Scott.) Pandering to all of pop culture's biggest trends at once (rappers! Viral internet sensations! A Trump!), Plein had insiders rolling their eyes, but he managed to dominate the mainstream conversation. Not bad for a NYFW first-timer. Chanel's literal rocket on the runway provided plenty of Instagram fodder; the house's photo of Cara Delevingne and Pharrell was the top-liked designer photo of PFW as well, with over 205K likes. Tommy Hilfiger's Tommyland would have surely earned a spot on the month's list, but because it took place in Los Angeles, it was not included in Instagram's data.
So, what exactly can we glean from this information? That's the tricky part. Of course, Instagram engagement is largely a numbers game, so it's not entirely surprising that household name brands like Calvin Klein, Ralph Lauren, Burberry, Fendi, etc. topped their cities' lists without major Instabait moments. Industry buzz (Gucci) or a "celebrity designer" (Balmain, Moschino/Jeremy Scott) does not hurt, either. But one element that is becoming non-negotiable if you want your show to be talked about? Instagirls. Kendall Jenner, with 76.3 million followers, had the top-liked model photo in all four cities this season; a self-portrait she posted with the caption "cool, now i need a vaca" after PFW ended has 2.3 million likes and counting. According to Instagram, Jenner led the charge of models with the most likes and comments throughout the month, followed by Gigi then Bella Hadid, Cara Delevingne (who didn't walk a single show; she just sat front row), Hailey Baldwin and five Victoria's Secret Angels: Taylor Hill, Josephine Skriver, Sara Sampaio, Romee Strijd and Elsa Hosk. So much for the "social media model" bubble bursting anytime soon. 
Homepage photo: Vittorio Zunino Celotto/Getty Images