Giambattista Valli Threw Some Nike Leggings Into His Otherwise Sweet, Ultra-Feminine Fall Collection
But why?
While it's always great to see a collection filled with relatively practical looks that you actually want to wear — whether at Dries Van Noten or Isabel Marant or Lemaire or Céline — it's also fun to see a collection that's unabashedly pretty, formal and unsuitable for most of our everyday lives. (Especially when it's not like you can afford either.) For the most part, we got that fantasy at Giambattista Valli's fall show at the Hotel Potocki, a chandelier-filled palace.
Of course, this wasn't couture, so the dresses were primarily cocktail-length, but still adorned with any number of frilly embellishments: dramatic ruffles, tulle, bows, tiny corsets, fluttering sleeves and stunning embroidery of crystals, florals, strawberries and cherries that quite literally made the collection even sweeter. Many dresses were partially sheer, but still looked tasteful thanks to the aforementioned embellishments.
But that overt femininity hit a major break about halfway through the show, when a model came out wearing an embellished jacket (with the letters G and V) with a pair of basic black Nike leggings. The leggings were also shown shortly thereafter with a structured black blouse and then a dramatic tunic with voluminous sleeves. Front-row editors were unable to hide the confusion from their faces.
Initially, we thought it might be some sort of surprise collaboration announcement à la Alexander Wang x Adidas, but we're told Valli simply wanted to include leggings in the collection, and "no one does it better than Nike." It was meant to illustrate a Parisian woman throwing on a great jacket and stiletto boots after her workout, like a more elevated version of the bomber jacket-legging combo you might see on an off-duty Hadid. In fact, he went so far as to suggest it could be today's version of the little black dress, according to a statement from the brand.
Yes, it was a cool modern touch, but it was also jarring. Designers far and wide have caught the athleisure bug over the years, but we thought Valli would likely be immune.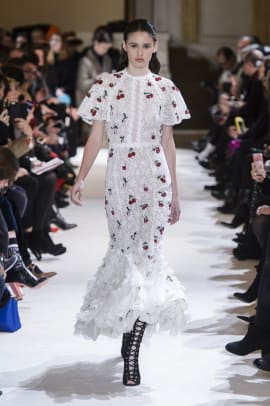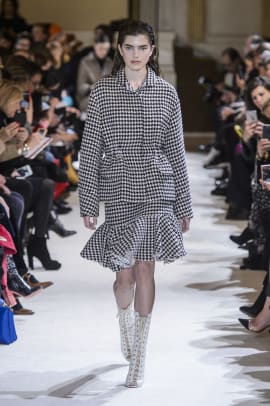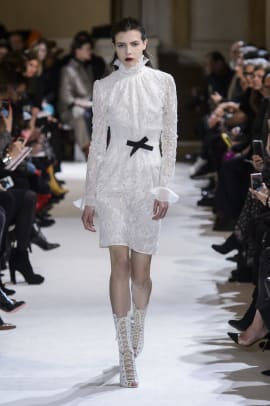 Want the latest fashion industry news first? Sign up for our daily newsletter.