H&M Hops on the 'See Now, Buy Now' Train With a Diverse Runway Show & The Weeknd Performance
And some Bella Hadid "drama" of course.
In February of 2013, H&M Studio began showing during Paris Fashion Week, and each event has been bigger and more star-studded than the last — though, each year we struggle somewhat to understand why, exactly, the Swedish fast-fashion chain feels the need to hold a runway show alongside French fashion houses even though it isn't French and its direct-to-consumer business model doesn't really require showing clothes to press and buyers in advance.
Enter the "see now, buy now" phenomenon, which H&M identified as something to try. "We've been talking about it [since] a year ago but then we just waited a bit to see what everybody else was doing," explained H&M Creative Advisor Ann-Sofie Johansson backstage before the show. "I think it's just a matter of being a little closer to our customers, because I think some of them are really impatient and have a hard time waiting a half a year to buy it after they see it, so I think this is a try-out."

While recapping last season's "see now, buy now" shows at New York Fashion Week and trying to think of successful examples, H&M's designer collaboration launches immediately came to mind. They always involve a horde of celebrities and Instagirls, a live performance, a party and, often, an area to shop the accessibly priced collection — in addition to a blowout supermodel-filled runway show. And, unsurprisingly, that is exactly what H&M's first "see now, buy now" show Wednesday delivered.
Front-row VIPs included Nicki Minaj, Alexa Chung, Charli XCX, Sasha Lane and Brandon Lee. The show included a mix of Instagirls (and boys) and fresh faces that, like last year, was refreshingly diverse — from the Hadids and Luka Sabbat to Winnie Harlow, Imaan Hammam, Adwoa Aboah and Mayowa Nicholas. Amber Valetta, fresh off that afternoon's Dries Van Noten runway, also walked. In lieu of a traditional finale, models skipped hand-in-hand down the runway as surprise guest The Weeknd — who is a current face and collaborator of H&M — began performing. And instead of going backstage, they stopped to "dance" in front of the stage — yes, even Bella. It was the Victoria's Secret Fashion show all over again.
Then, guests realized they could join the models by the stage; champagne was passed around as he played his set and guests were able to shop the collection in a special pop-up inside the venue. Simultaneously, consumers could shop the clothes online.
Of course, it didn't seem like guests were quite as eager to scoop up this collection as they might an exclusive designer collaboration. But that's not to say the clothes weren't desirable: Initially inspired by a Cuban ballet school discovered by H&M's design team, according to Johansson, the range had an athleisure vibe that felt fresh thanks to a cool, slightly frilly femininity employed throughout. My favorite look was a white Comme des Garcons-esque pinafore dress paired over a lacy sheer white tank top with a frilly trim. The short anorak jackets, lace blouses and ballet-inspired flats were also definitely appealing. Several items also feature the word "love." "I think we all need love now," said Johansson, "Sometimes it feels weird to print 'love,' it feels a bit cheesy sometimes, but now it felt really... it's a strong word and a positive message."
A few items are currently sold out on H&M's website. But is that enough to recoup the costs of hiring The Weeknd and and paying Bella Hadid enough to stomach another runway show with him? This, only H&M knows.
See the H&M Studio spring 2017 collection below and shop it here.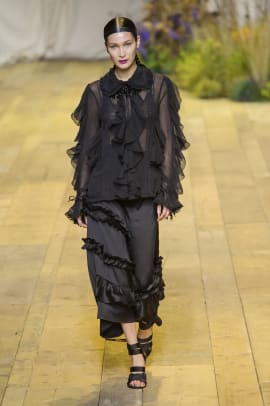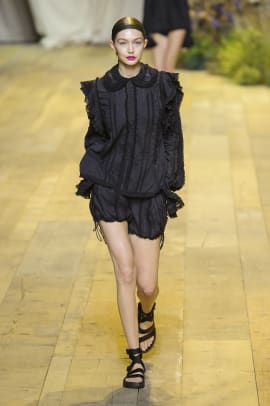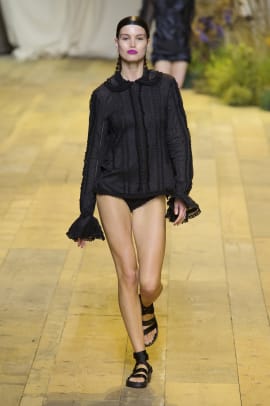 Want the latest fashion industry news first? Sign up for our daily newsletter.