Isabel Marant Excels at Casual, Commercial Glamour Once Again for Fall 2017
With, yes, a few more '80s vibes.
Isabel Marant was a pretty early adopter when it came to the '80s trend that designers seem to be getting seriously on board with this season; her Fall 2016 collection was a very literal throwback to the decade of excess. For Fall 2017, the reference was less in-your-face, but certainly there and more in line with the later part of the decade. The vibes this time around were more Sloane Peterson compared to last year's "Heathers" aesthetic. They also, generally, felt more classically Isabel Marant.
With this covered-up, slouchy (but chicly) layered assortment, Marant delivered on the casual glamour at which she so often excels. Dresses and skirts were loose-fitting, hit below the knee and were often belted; pants were generously cut and high-waisted; tops covered about every inch of skin they could, with wild prints or rich fabric; outerwear was oversize and denim was skinny and bedazzled. That may sound over-the-top, but the effect was more casually bold — like that girl who can put on something that, on you, would be noticeably "dressed up," but on her reads as perfectly on-brand for an ordinary day.
As is often the case with Marant's collections, there are many cool-girl styling tricks to be gleaned even if you don't plan on buying these pieces next fall, from belting dresses and pairing them with slouchy over-the-knee boots to pulling off "big" pants and making everything look cooler with a pair of statement earrings. Conversely, if you're not into the styling, there are many individual pieces that you're sure to find appealing.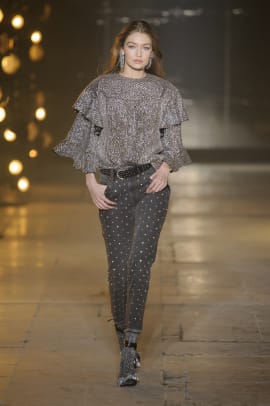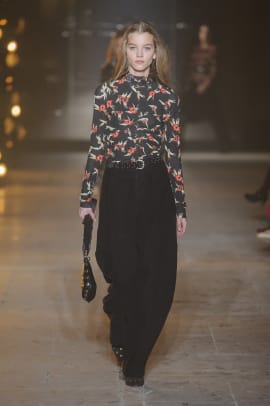 Never miss the latest fashion industry news. Sign up for the Fashionista daily newsletter.