Lord & Taylor Hopes To Lure Customers To Its Store With the Largest Dress Floor In America
The department store created The Dress Address to capitalize on the fact that today's shoppers are more likely to spend on experiences than products.
If Lord & Taylor was synonymous with dress shopping before, it's about to be even more so — or at least that's what the department store hopes. On Thursday, the brand officially launched The Dress Address, a retail space devoted solely to dresses at its Fifth Avenue location. With a renovated cafe and dressing rooms designed to attract millennials, the luxury retailer is trying to create in-person experiences that can rival the ease and convenience of online shopping.
It's not the first attempt that Hudson's Bay Company, the conglomerate that owns Lord & Taylor, Saks Fifth Avenue, Gilt and more, has made at reinvigorating one of its department stores in a tough retail climate. As shopping online and at a discount continues to be the norm for millennial consumers, creative actions — from selling Bieber merch to opening concept shops — have been taken by a host of department stores that are trying to prove their relevance in a new age. 
Lord & Taylor hopes that The Dress Address will help cement it as the ultimate shopping destination for dresses and designed the 30,000-square-foot floor to encourage groups of bridesmaids or prom-dress seekers to enjoy shopping there together. "Lord & Taylor has always focused on dresses; now we're just verbalizing it," the store's vice president and fashion director Stephanie Solomon tells Fashionista. 
The newly redesigned space features more open sight lines than the old floor and is broken down by sections according to occasion, rather than by designer. The selection of dresses being offered includes more than 50 new vendors, which were scouted from Los Angeles, New York, London and more. Progressing through the floor from the escalator, customers will encounter dresses aimed at a younger demographic before moving towards designer options in everything from cocktail party to evening gown levels of fanciness once they reach the opposite wall. With price tags ranging from under $100 to over $9,000, Lord & Taylor executives hope the floor will be a place that any shopper can find a dress that suits their budget.
"We're trying to accommodate every woman, and by every woman, I mean every woman who wants to be the prettiest girl at the party," Solomon says. Near the back of the floor is an area that will hold rotating pop-ups (another popular department store strategy lately) in the future. While representatives didn't reveal much about what might occupy the space moving forward, the opening act is a range of vintage designer dresses curated by Cameron Silver, known for his L.A. boutique Decades. The current selection includes vintage gowns from Versace, Balenciaga and more.
While there is an e-commerce component to the initiative, making it possible to shop dresses extensively online and easily sort by price as well as occasion, the most significant emphasis on Lord & Taylor's part seems to be creating an in-person shopping experience. To that end, the café on the floor was renovated, as were the spacious dressing rooms. Each dressing room has multiple light options shoppers can toggle between to get a feel for how they'll look in sunlight versus evening light, and dressing room mirrors have built-in phone holders for getting the perfect selfie.
The sales associates' training is also meant to facilitate shoppers' enjoyment. "If you think you're a size two and you're really a size eight, they're going to help you through that, and they're going to give you a glass of champagne to ease that experience," laughs Solomon. "We want to bring back the sense of being pampered to the shopping experience. When you're investing in a dress, you're probably going to one of the important moments of your life, and we want to recognize that."
Click through the gallery below to see more of the new space.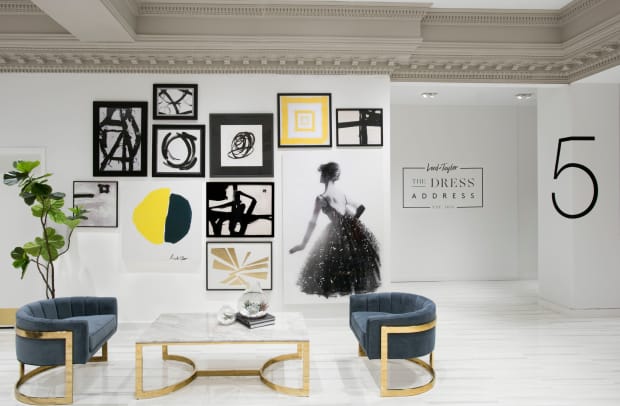 Want more Fashionista? Sign up for our daily newsletter and get us directly in your inbox.