Maison Margiela's Fall Runway Featured Feathers as Makeup and Handbags as Hair Accessories
The beauty look was certainly a departure from the "models looking like themselves" trend.
With a parade of unexpected textures, silhouettes and styling, the Maison Margiela runway show is never a boring affair — and those qualities apply to both the pieces themselves and the hair and makeup that accompany them. John Galliano's Fall 2017 collection for the label held true to form, as did Pat McGrath's visionary makeup and Eugene Souleiman's multimedia approach to the hair.
For the makeup, McGrath put careful attention toward creating unique looks for every single model; the procession began with simplicity — bleached brows, glowing skin and a hint of white eye shadow. But throughout the show, the looks grew progressively more intricate, incorporating graphic shapes and bright colors rimming the eyes, as captured below.
As in Margiela's Spring Couture show, where McGrath incorporated bits of yarn into her makeup, the makeup artist again relied on unusual mediums. She placed colorful feathers on some models' lashes, resulting in a striking 3-D faux lash effect.
For the hair, Souleiman took multimedia to new levels with elaborate hair pieces and accessories: Some models wore slick styles with peacock feathers protruding at random angles; another wore shiny silver clips all over her head for an effect reminiscent of hair being set in rollers. Souleiman often works with fabrics and threads in the hair (he was behind the gray suiting that created a highlighted effect in models' hair at the Thom Browne show in New York), and so the braids woven with colorful threads (as seen on the model above) were a trademark touch.
But the most noteworthy headpieces weren't headpieces at all; Alexis Roche, who styled the show, fashioned the Margiela 5AC bag into a hat, having two models wear it open and overturned on their heads, holding on to the strap that hung down in front of their faces. 
Click through the gallery below to get a close-up glimpse at the beauty looks from the Fall 2017 Maison Margiela runway.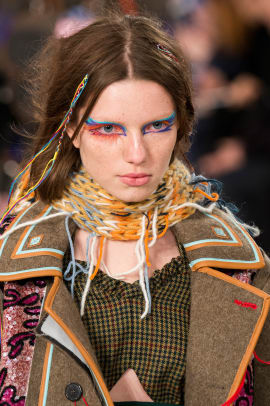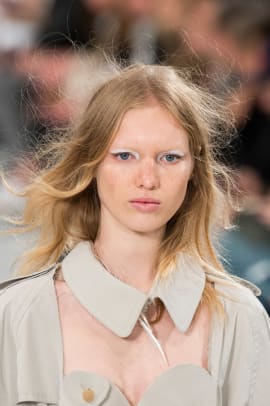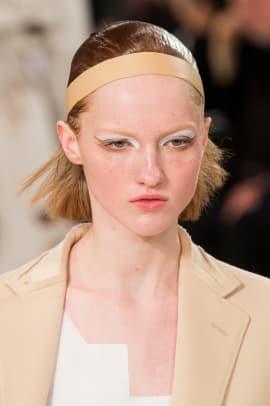 Sign up for our daily newsletter and get the latest industry news in your inbox every day.