Virgil Abloh's Elevated Fall Off-White Show Provides Some Hints About Those Givenchy Rumors
LVMH higher-ups were among the powerful front row taking in the designer's excellent Fall 2017 collection.
A 9:00 p.m. show (that will inevitably start closer to 9:30 or 9:45 p.m.) is a tough proposition for the fashion crowd after an exhausting day of shows and presentation that started at 10:00 a.m. and wouldn't end yet with several parties on the docket. It's even tougher when you have to fight your way through a mob of crashers (yes, there are French fuccbois) trying to strong-arm their way into the Palais de Tokyo. Also nearly impossible: trying to find your seat when the venue is intentionally completely dark (to protect the identity of "important" front row guests, perhaps?) and covered in dead leaves and precariously floating tree branches. Luckily, it was all pretty much worth it, and everyone wanted to see what perennially buzzy designer Virgil Abloh had in store for his latest Off-White collection.
As the lights came up, the runway looked like an eery forest — Abloh erected a similar set for his latest menswear show and pre-fall lookbook — providing a theatrical backdrop for his most elevated and cleverly romantic collection yet called, as promised, "Nothing New." Abloh seemed to take Simons's GQ comments to heart, beginning the show with a voiceover of British artist David Shrigley offering pieces of advice, like,  "If you make good work, you'll probably be a successful artist. Don't think about anything else, just think about the work." Abloh also told Vogue Runway that he used Simons's critique as a "launchpad to think about what I am doing and why I am doing it."
Bella Hadid opened the show in a cropped jacket, high-waisted pencil skirt with a slit that hit that perfect not-indecent-not-too-conservative height and slouchy over-the-knee boots — all in a houndstooth plaid pattern used throughout the first part of the collection on crop tops, outerwear, a dress and suiting, all done in classic shapes, but cut in a flattering, modern, subtly sexy way. Denim was a highlight, including a pair of reworked vintage Levi's with the word "handmade" placed on the back waistband in Off-White's signature white font, and some very appealing cropped jackets. Cropped hoodies were also covetable, but that was as casual as things got. Instead of the usual logo T-shirts, "Off-White™" was placed on romantic sheer lace tops and lace-and-silk gowns towards the end, when things started to get intriguingly formal and romantic. 
Expanding upon the eveningwear he introduced last season, ethereal silk dresses with ruffled sleeves and deep-V necklines, a cropped jacket and ankle-length dress covered in sparkling black paillettes and a sheer dress with two paillette doves (one covering a boob) were more French luxury house than streetwear star. So...does this mean Abloh is heading to a French luxury house? Aside from reports that he was in talks last month to replace Riccardo Tisci at Givenchy, and the fact that he's declared his intention to one day head up a luxury brand, there were some other clues in the front row Thursday night.
Namely, (in addition to Anna Wintour) some higher-ups at LVMH, which owns Givenchy along with Louis Vuitton, Fendi, Dior, Celine and more). We identified CEO Bernard Arnault's 24-year-old son Alexandre Arnault, who is often seen by his father's side and is currently co-CEO of luggage brand Rimowa and a self-described "geek at heart"; Kim Jones, Louis Vuitton's artistic director of men's ready to wear; and, next to him, Michael Burke, CEO of Louis Vuitton.
Could this mean that the luxury conglomerate could be eyeing Abloh for Vuitton, not Givenchy? Perhaps: There have also been rumors that LVMH has been looking for a replacement for Nicolas Ghesquière, and LVMH flatly denied that it had approached Abloh about Givenchy. Other possibilities: LVMH's intends to invest in Off-White, or the company is just checking in on him after the 2015 LVMH Prize, for which he was a finalist.
Either way, this was a promising outing for the designer, who is no doubt on an upward trajectory, even if it doesn't involve one of the most illustrious houses in French fashion — though, we kinda feel like it does.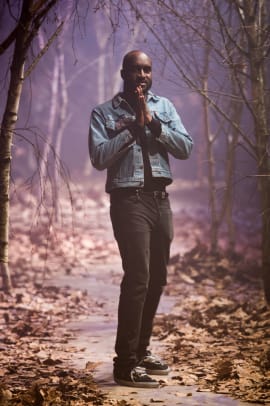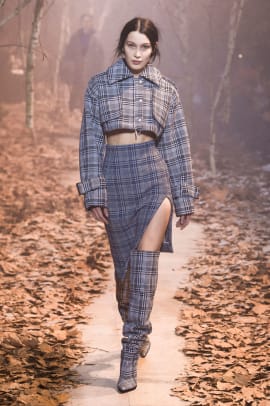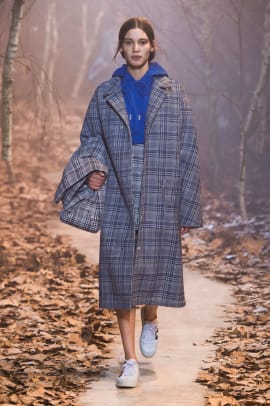 Want the latest fashion industry news first? Sign up for our daily newsletter.