Pamplemousse, a Whimsical Line for 'Real Women,' Is a Label to Watch
The made-in-New York label launched two years ago and has been picked up by Net-a-Porter and Shopbop.
"Where does the brand name come from?" It's a question that Pamplemousse founder and head designer Danica Zheng probably gets a lot, but it's one she's more than happy to field. "It's a fun word," she tells me over coffee one afternoon. "I was trying to think of a name [for the brand], and my husband is French. We both love grapefruit, so just one day I asked him, 'What is 'grapefruit' in French?' And he said 'pamplemousse'. I just loved the way it sounded, the way you pronounce it, everything. It's perfect for what I wanted to show with this brand."
Zheng grew up in Singapore, in a self-professed heavily academic environment. "In middle and high school, I was probably one of the nerdiest kids, just studying all the time," she says. However, in middle school, Zheng was accepted into an art scholarship program offered by the Singapore government, which over four years would change course for her. "It just opened up this design [side]," she says. Zheng eventually traveled to the United States for college, beginning her education at The University of Southern California studying architecture — a "safer" alternative to a fashion design degree. 
One year later, she transferred to Parsons School of Design to pursue fashion design, completing internships at Carolina Herrera, Michael Kors and Narciso Rodriguez along the way. "I learned a lot about fabrics, managing time, making decisions," says Zheng of her time as an intern. Directly after graduating, Zheng took a design position at Calvin Klein Collection, a role that she describes as her "dream job."
"[Working at Calvin Klein] was more about problem-solving," says Zheng. "They have a lot of tricky, challenging design concepts, and it's all about making it work and how to realize the design that you have in your mind."
Nearly a year later, at just 23 years old, she decided it was time to launch her own brand. "It started really small," explains Zheng, who began by sewing garments at home. "I had this idea that I wanted to do something for myself and create things that were a voice for myself." And when it comes to her design philosophy, Pamplemousse maintains an aesthetic that's as lighthearted as its name. "Pamplemousse is all about being fun, quirky, feminine, a little whimsical," says Zheng. "Just be easy and not take things too seriously." A look at the brand's recent collections reveals a mix of prints, ruffles, lace and brocade fabrics. "[There's] definitely a lot of influence from art history, but also, just the immediate surrounding; we live in such a great city with so many different kinds of people everyday," she says. "I'm [also] inspired by what I see happening around me, what's happening right now."
In keeping with the label's young, effortless vibe, Zheng regularly gravitates towards natural fabrics like silk, cotton and wool, which also tend to have less of a footprint than synthetic textiles. "I always keep that in mind... and try to be responsible, but I wouldn't say I'm a zero-waste, strictly sustainable designer." However, keeping her production facilities local (she produces everything here in New York) means that she knows exactly where each garment has been and how the workers are treated. 
As for Zheng's aspirations for the brand? "To see as many real women wearing it! I want to give this easy [way] to make women feel comfortable, but at the same time, beautiful when they wear it," she says. "And confident — it's more about feeling confident enough to show who you are as a person."
See every look from the Pamplemousse Fall 2017 collection in the gallery below.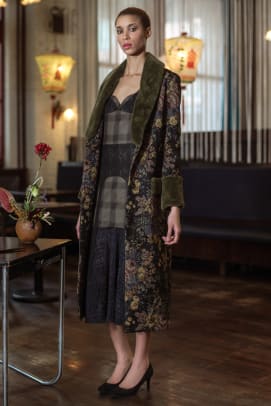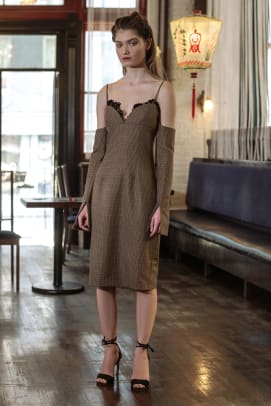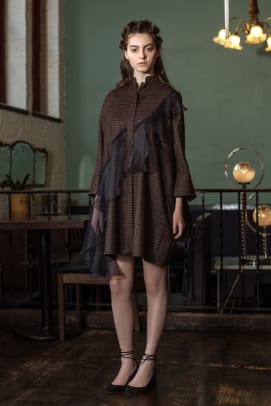 Never miss the latest fashion industry news. Sign up for the Fashionista daily newsletter.