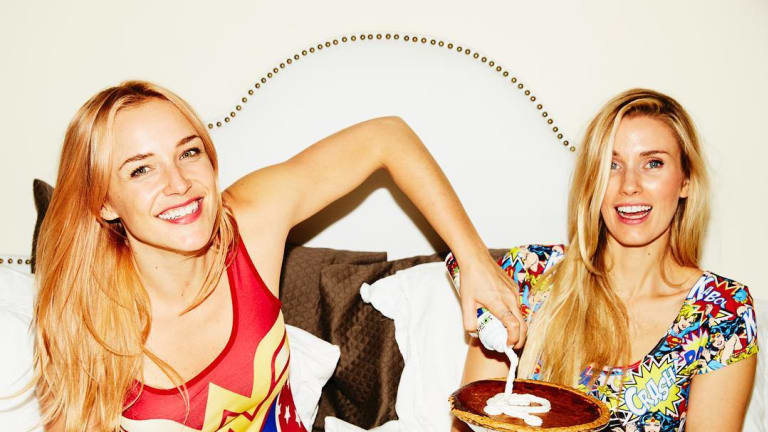 How Sakara's Founders Are Marketing to The Fashion Crowd By Making Healthy Eating Instagrammable
Danielle DuBoise and Whitney Tingle's brand has found fans in Gwyneth Paltrow, Lily Aldridge, Amber Valletta and Lena Dunham.
Danielle DuBoise and Whitney Tingle started Sakara Life, a plant-based healthy food delivery service, in 2012, after becoming fed up with the culture and their own experiences surrounding healthy eating as young women living in New York City. "I had been thinking of food as the enemy for so long," says DuBoise, who was working as a model at the time, which meant she'd tried every form of restrictive diet imaginable. "For me, the transformation was really around thinking of food as nourishment, so you have to start worrying if you're getting enough every day, rather than that you're eating too much. It was a complete 180-degree change once I realized that, and it changed my body and my entire relationship to food."
DuBoise and Tingle grew up together in Sedona, Arizona, which Tingle describes as a "small, New-Agey hippie town in the desert; it's really beautiful, with big red rocks — and it's very spiritual." The pair then moved to New York City for college and began careers after graduation (DuBoise in modeling and acting; Tingle on Wall Street). They were busy young women who prioritized healthy eating but weren't totally sure how to go about doing it, especially given the time constraints of their schedules. DuBoise had a historically complicated personal relationship with food and dieting, and Tingle had struggled with years of cystic acne. So the duo decided to change things and put the focus on nourishing, hydrating, nutrient-rich, plant-based foods — and then, not long after, Sakara was born.
"We started this just for ourselves, cooking for ourselves and cooking for each other. Danielle would cook for me and I'd take it to work," says Tingle of Sakara's origin. And when they noticed friends taking interest in the foods they were eating, the pair decided to do something about it and turn it into a business. "We didn't have any money at the time, so we threw a dinner party and invited our friends and charged for tickets; at the end of the night, we had raised $700, and with that we bought our domain name. We printed marketing cards and just got going," says Tingle. She and DuBoise would leave cards at local cafes and yoga studios, and gradually through that style of grassroots marketing and word of mouth, Sakara began to draw in customers.
"We started out just cooking ourselves in our kitchens and delivering on bicycles," says DuBoise. "It was kind of like an early startup; we still had other jobs, and then when [Sakara] started to take off, it got to a point where we couldn't handle all of the orders ourselves anymore and we had to start hiring employees and delivery people. It really just started to grow." That was in 2012. And then Gwyneth Paltrow endorsed the company on GOOP. "This was in 2013. We didn't have any PR or anything at the time. Gwyneth was just looking for something like this for herself and they said, 'Hey, we want to do a feature on you,' and we said, 'Great!' We had no idea what that meant at all or what type of power it had," says DuBoise. "We had to scramble to hire more people; we were just learning how to build our business on the fly, basically learning as we went along."
All of that fashionable food doesn't come cheap. Like plenty of GOOP-approved services, Sakara isn't necessarily intended for those on a budget. A five-day meal plan (which includes breakfast, lunch and dinner, as well as waters and teas) runs $420, including the price of delivery. Individual items from the company's "Clean Products" online shop — various waters, teas, salad dressings, bars, granola and snacks like watermelon jerky and probiotic chocolate — can run for between $11 and $54. 
But for DuBoise and Tingle, Sakara is about transforming your lifestyle and your relationship to food. "Dieting really teaches you that food is the enemy, and it's about calories and restrictions. Sometimes if they're restrictive enough, they get you weight-loss results, but it's not a lifestyle solution. You can't live on the Master Cleanse forever. I tried," says DuBoise. She studied nutrition and Eastern wellness as a basis for developing the Sakara program. "Sakara is about counting nutrients instead of counting calories... And it's really about a lifestyle, not a diet," she says, noting that they don't emphasize weight loss in the brand's marketing. "We really focus on getting you as healthy as you can be, and with that, you'll get great results like a flatter tummy, more energy and brain clarity," she says.
Four years after receiving the GOOP stamp of approval, Sakara now has more than 80 employees, a second kitchen in Los Angeles and distribution that ships to the 48 continental states. DuBoise and Tingle have been written up by Vogue and The New York Times; appeared on the 2016 Forbes 30 under 30 list; and forged partnerships with wellness brands like SoulCycle and Tata Harper. Sakara also recently branched out into content creation in the form of a digital magazine, The S Life Mag. 
Sakara has also infiltrated the fashion world — likely due in part to its trendy, Instabait aesthetic and messages of promoting beauty through wellness — and now counts Lily Aldridge and Amber Valletta, not to mention hordes of editors and stylists, as devoted fans. "I think people who work in fashion as their career — especially models — are always searching for what is the best, what really works, what is going to make them feel good and look good," says Tingle when asked why she thinks the fashion crowd has been so receptive to the brand. "They want to have energy, they don't want a food coma before walking out on the runway... So I think that's why we became so popular. They were searching for something like this. It works for them, and they share it." 
In addition to Aldridge, who Tingle credits with referring Sakara to multiple model friends, designer Jeremy Scott is also a big fan. He uses Sakara to cater backstage at his shows and has put the brand's Beauty Bars on the audience's seats. I can attest that fashion people seem to love it. When Sakara caters backstage at runway shows, models and the hair and makeup pros alike flock to it (I recall spotting a table of the company's waters and snacks at the spring 2017 Rag & Bone show and thinking just how shocking it was to see so many people actually eating). 
But the packaging — trendy prints and minimalist type — is thoroughly fashionable, too. And that's intentional. "When we grew up in Sedona, we didn't mind discovering these very hippie brands. But coming to New York, people were turned off by granola-crunchy types of brands. We wanted to be the bridge between a kind of organic, hippie lifestyle and the bleak city fashion lifestyle," says Tingle. In order to get the aesthetically minded interested in their products, she and DuBoise draw inspiration from fashion itself. "If I'm looking for inspiration, I'll go walk around Soho, and walk through some of the stores and see what colors or patterns are people using," she says. Though Sakara now has an in-house creative team, Tingle emphasizes that it's a collaborative process. "We just want to create products and branding and creative assets that inspire us. And hopefully, if we feel inspired, they'll inspire other people as well."
In addition to getting fashionable people interested in Sakara, an effect of the pretty packaging is also that it practically begs said fashionable people to share it on social media. "Because we're such a visual brand, Instagram is a great platform for us for people to get a feel for our aesthetic; I think it's going to continue to be bigger and bigger and to have closer communication with our clients," says DuBoise. Though the brand doesn't put much cash behind influencer or celebrity marketing right now, the founders do count Instagram as a valuable marketing tool nonetheless. 
Another way Sakara appeals to the fashion industry is through a relationship with the beauty world. According to the company's founders, that aspect evolved naturally. "We're both big fans of clean beauty products," says Tingle. "We look at beauty from the inside out, and then also what you put on your skin is absorbed into your body, so you want to make sure you're putting clean ingredients into your body and on your body." Twice a year, Sakara runs an "Eat Pretty" program, during which clients who order food can also receive beauty products. This April, the beauty brands featured will include RMS Beauty, W3ll People and Vintner's Daughter.
As far as what's next for the company, Tingle and DuBoise don't seem to be slowing down their mission to spread their healthy eating Gospel to the fashion crowd anytime soon. In addition to working on new product and meal offerings, Sakara will also soon be releasing supplements. The duo will also focus on growing brand awareness, in part through continuing to ramp up the aforementioned original content on S Life. "It's important for us to keep people inspired to eat this way," says DuBoise. "Through our content, we educate and inspire people. We always have to remind people why it's important to eat your vegetables; we're like your Sakara moms — except a lot sexier."
This interview has been condensed and edited.
Homepage photo: @sakaralife/Instagram
Please note: Occasionally, we use affiliate links on our site. This in no way affects our editorial decision-making.
Sign up for our daily newsletter and get the latest industry news in your inbox every day.